Luxembourg
Information about Luxembourg
Political system

Luxembourg is a parliamentary democracy in the form of a constitutional monarchy. It is the only Grand Duchy in the world.
Luxembourg's institutions are organized according to the principle of the separation of powers. In Luxembourg's institutional context, this separation is soft as there are many links between the executive power and the legislative power.
Legislative power is exercised by the Chamber of Deputies. Executive power is held by the Grand Duke, in his capacity as Head of State, although in practice this task is carried out by the government, headed by a Prime Minister.
For more information, please visit the following website: https://gouvernement.lu/en.html 
Geography and Population


Located between Belgium to the west and north, Germany to the east and France to the south, Luxembourg covers an area of 2,586 km². Its territory is divided into three districts (Luxembourg, Diekirch, Grevenmacher), twelve cantons and 116 communes.
It has a population of 626,108 inhabitants (01.01.2020). Its population density in 2020 was: 242 inhabitants / km².
The most widely practiced religion is Christianity (73%), followed by, Islam and Judaism (3%) and people that follow no particular religion (24%).
Three official languages are recognized: Luxembourgish, French and German.
For more information, please visit the following website: https://statistiques.public.lu/fr/index.html
There are several international institutions based in Luxembourg: The General Secretariat of the European Parliament; the Council of the European Union has meetings in Luxembourg every April, June and October; the European Commission has several offices based in Luxembourg; the Court of Justice of the European Union; the European Investment Bank, among other institutions.
Furthermore, there are more than 220 international banks with headquarters in Luxembourg, making it a major financial center in Europe.
For more information, please visit the following website: https://gouvernement.lu/en/systeme-politique/ue-organisations-internationales.html 
Mexico-Luxembourg Political Relations
Bilateral Relations Mexico-Luxembourg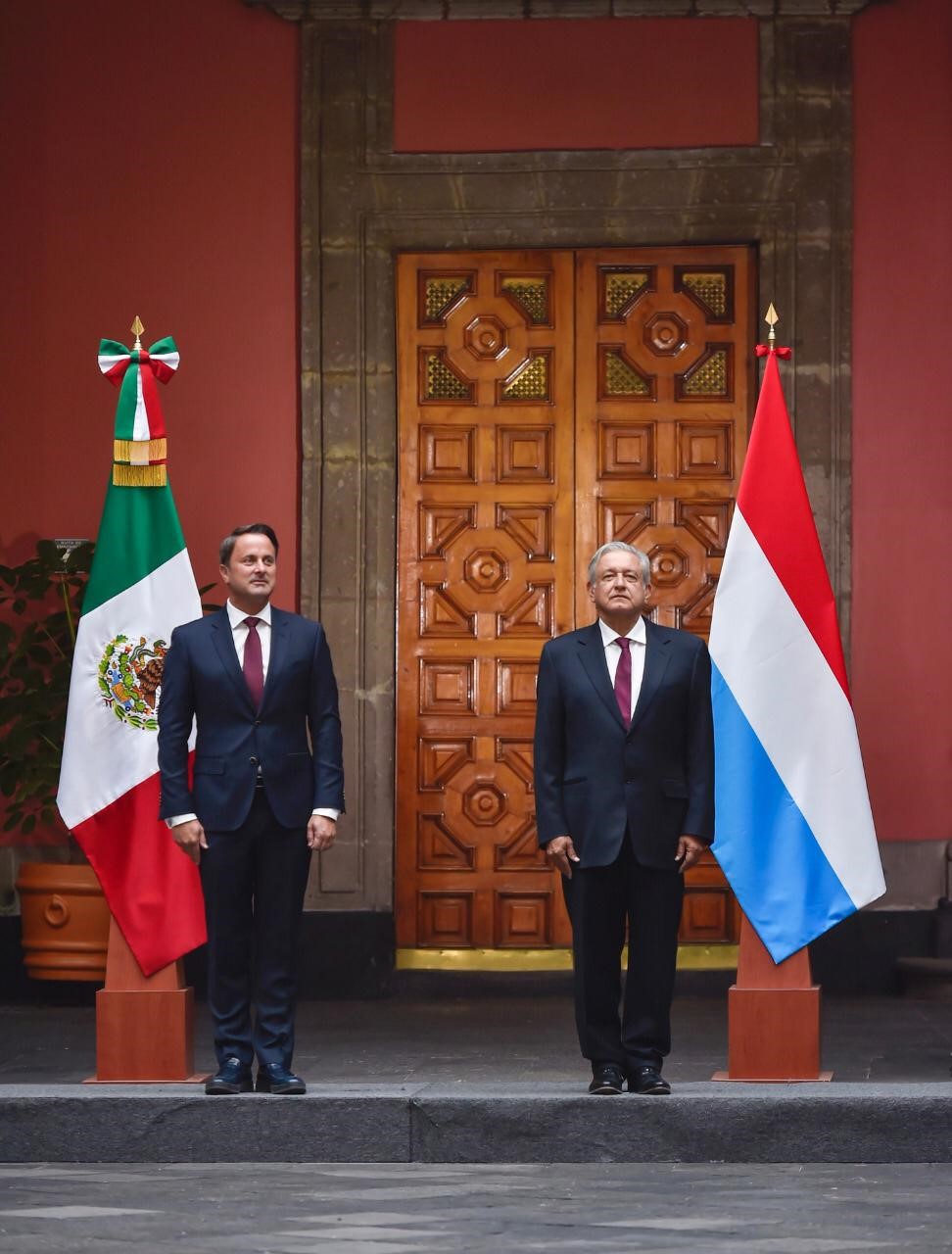 The relations between Mexico and Luxembourg are at their highest level. The Prime Minister of Luxembourg paid an Official Visit to Mexico in April 2019, marking the first visit to Mexico by a Luxembourgish Head of Government in almost 40 years. It was a very successful visit that strengthened the bilateral ties in many areas.
Hereunder is a historical overview of the relations between Mexico and Luxembourg:
Mexico and Luxembourg established diplomatic relations in 1947. From the beginning, bilateral ties focused mainly on economic issues. In that sense, in 1950, both countries signed a trade agreement within the framework of the Belgo-Luxembourg Economic Union (UEBL).
The Prime Minister of Luxembourg, Pierre Werner, paid a visit to Mexico in 1980, heading a delegation of businesspeople from the energy and steel sectors. In 1984, the countries signed an Economic Cooperation Agreement, establishing a Mixed Commission for Economic Cooperation. The first meeting of the Joint Commission was in 1990 within the framework of the visit to Mexico of Luxembourg's Minister of Foreign Trade, Pierre Urbain, who was accompanied by business delegation.
During the 1990s, there was an important political rapprochement between the two countries. In March 1991, the Minister of Foreign Affairs of Luxembourg, Jacques Poos, paid a visit to Mexico and in April of the same year, the Secretary of Foreign Relations Fernando Solana travelled to Luxembourg. In October 1995, Mexican Foreign Secretary José Ángel Gurría met Minister Poos. The highlight of this political rapprochement between the two countries was the State Visit to Mexico of Grand Duke Jean in March 1996.
The political dialogue continued in the new millennia. In September 2002, Luxembourg's Minister of Foreign Affairs, Lydie Polfer, visited Mexico, where she met her counterpart, Secretary of Foreign Relations Jorge Castañeda.
High-level contacts continued with the visit to our country, in October 2012, of Luxembourg's Minister of Finance, Luc Frieden, who led a business mission, mainly from the financial sector. He held meetings with the Secretary of Finance José Antonio Meade and with Mexican businessmen.
As previously mentioned, in 2019, the Prime Minister of Luxembourg Xavier Bettel paid an Official Visit to Mexico, leading a business delegation. Prime Minister Bettel was received by the President of Mexico, members of Cabinet, the Mayor of Mexico City and attended a solemn session in the Senate. It was the first visit of a Luxembourgish Head of Government to Mexico in almost four decades.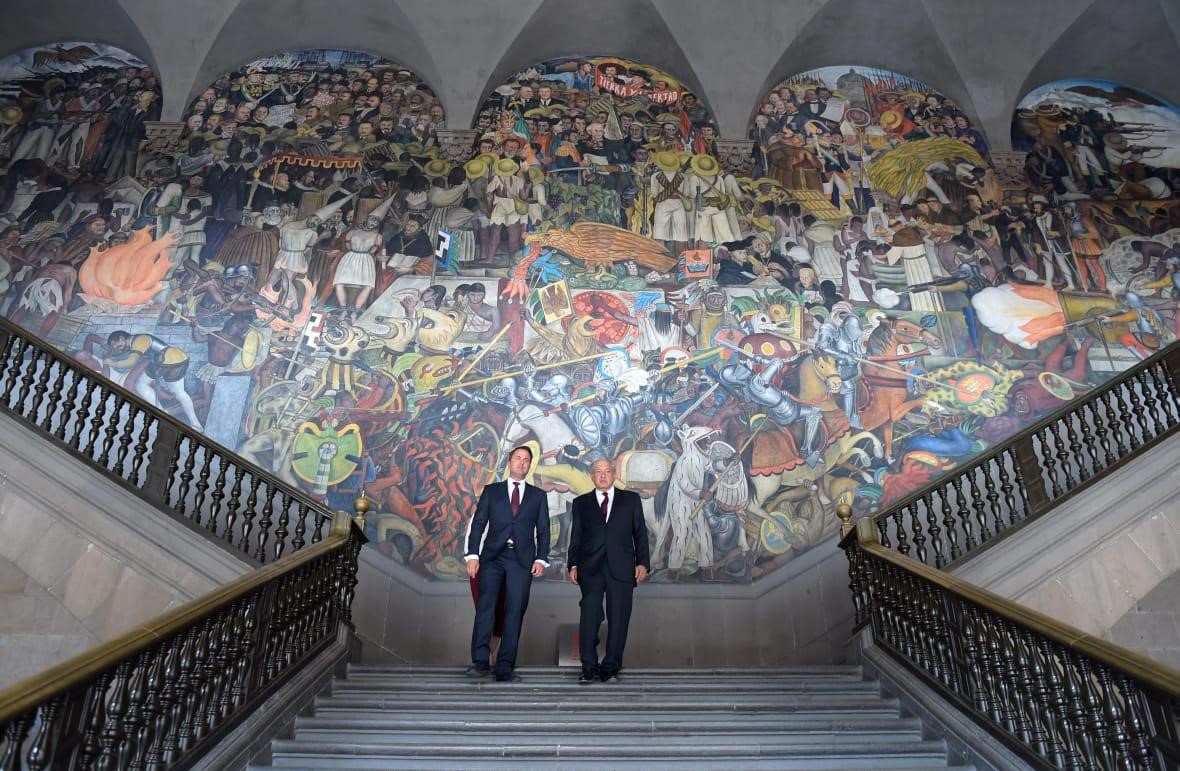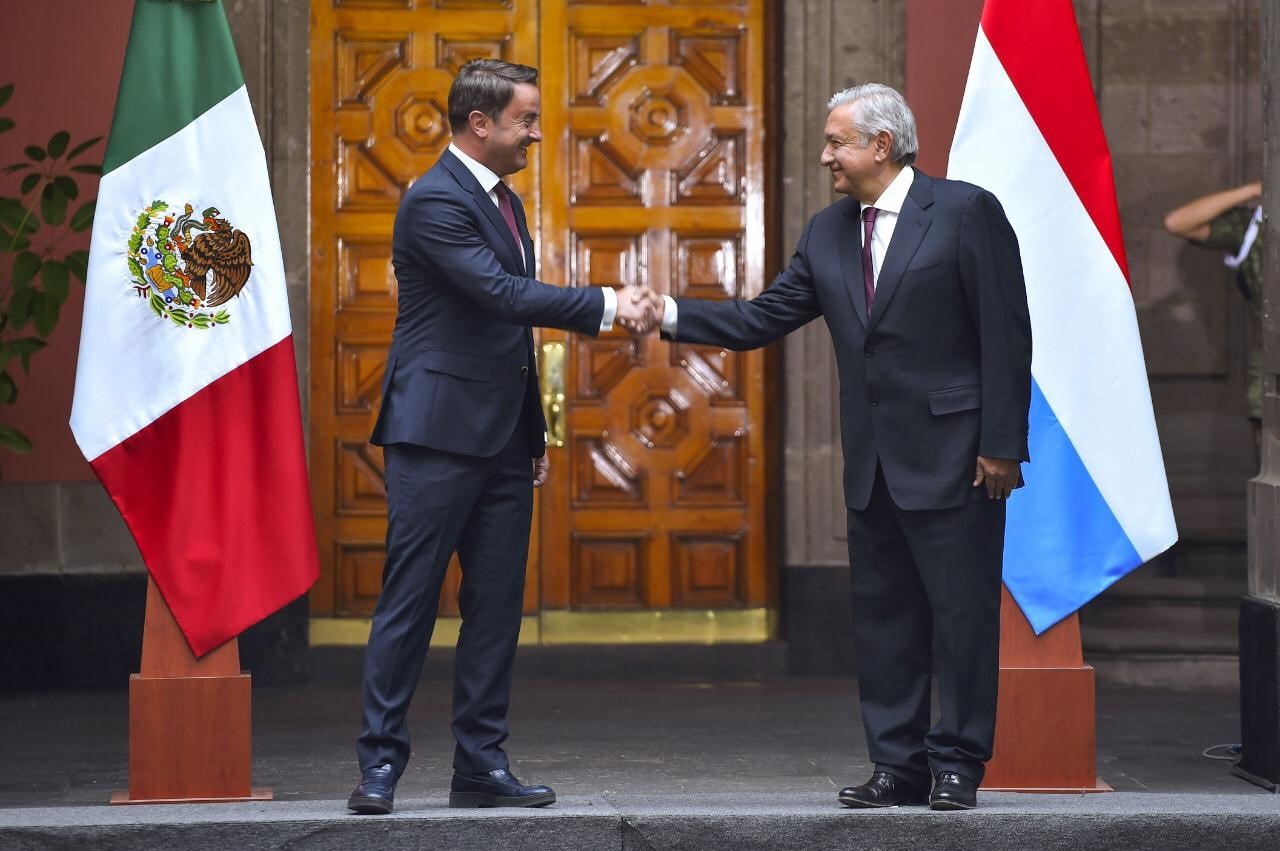 Pictures: Presidencia de la República: https://www.gob.mx/presidencia/galerias/visita-del-excmo-sr-xavier-bettel-primer-ministro-del-gran-ducado-de-luxemburgo 
Mexico-Luxembourg Economic Relations
Luxembourg Economy
GDP in 2019 (EC-IMF)
72nd economy in the world with a GDP of $ 69.5 billion dollars.
2.3% growth, less than the 3.1% registered in 2018. The dynamism of private consumption was the main driver of economic activity, however, the contribution of net exports to growth decreased notably amid weaker activity in international financial services, which are the key driver of exports in the services sector of Luxembourg.
Economy 2020 in the context of the effects of the COVID-19 Pandemic (ECB, EC, IMF, LTI, OECD, STATEC)
The first case of COVID-19 in Luxembourg occurred on 29Feb2020. The pandemic spread rapidly in March and reached its peak in early April.
On 16mar2020, the authorities advised against all non-essential travel to other countries.
Stores reopened on May 11, 2020 and restaurants reopened on May 29, 2020, taking the necessary precautions to protect their customers. On May 04, 2020, schools were re-opened, with children splitting school attendance and home schooling, in order to maintain social distancing. The COVID-19 Advanced Health Centers were closed on 08Jun2020 because they were no longer needed.
Economic impact
Economic activity in Luxembourg remained relatively stable during the first two months of the year, but declined sharply since March after the closure measures were implemented. In 1Q-2020, GDP contracted 2.9% compared to 4Q-2019.
Short-term indicators showed a rapid deterioration in the economic situation in 2Q-2020. Unemployment rose sharply in March and April, and the May business survey reported the lowest confidence level since the global financial crisis.
It is estimated that private consumption fell by around 16%. Non-residential and government fixed investment are estimated to have fallen by more than 21% in 2Q-2020.
The hardest hit sectors were those directly affected by a total or partial closure of their activity (construction, hospitality, retail trade) and / or where telework options were limited.
Measures to address the economic effects of the pandemic
On 25Mar2020, the government launched a massive economic stabilization program, which includes around 40 different measures totaling a budget of 8.8 billion euros, or more than 14% of GDP. This program, which has been rated as one of the most generous in the world, focuses on helping companies maintain employment and cash flow and facilitate bank loans. Several initiatives were also launched to support business start-ups.
The Ministry of Economy presented on May 20, 2020, additional support measures aimed at encouraging employment, supporting companies in the most affected sectors and promoting a sustainable economic relaunch.
2020 Economic Forecast
IMF: contraction of 4.9%.
EC: 6.2% shrinkage
Private consumption is estimated to decline notably, due to the pandemic and its associated containment measures and also due to a weaker labor market.
The shutdown is likely to have reduced both cross-border consumption of fuels and tobacco, as well as consumption of the large number of cross-border workers in Luxembourg. However, government measures are expected to mitigate the impact on overall consumption.
Net exports are expected to weigh negatively on growth due to the decline in international trade.
Short-term outlook (EC-IMF)
Growth 2021: EC: 5.5%; IMF: 4.8%
With policies unchanged and assuming that the measures taken to combat the pandemic will have only a temporary effect in 2020, an economic recovery is expected in 2021.
As uncertainty dissipates, investment should recover.
As a small open economy with strong commercial and financial links to international markets, Luxembourg is highly exposed to external risks. The uncertainty related to the end of the COVID-19 crisis, and any financial turmoil that may ensue, could prove less benign for its economy.
Mexico-Luxembourg Bilateral Trade
According to data from the Ministry of the Economy (SE), in 2019 Luxembourg was Mexico's 78th trading partner worldwide and 22nd among the countries of the European Union (EU)

Bilateral trade in 2019:
$ 123.1 million dollars in 2019, 34.7% less than in 2018 ($ 188.4 million dollars).
Mexican exports: $ 32.7 million dollars, 44.5% higher than in 2019 ($ 22.6 million dollars).
Imports of Luxembourgish products: $ 90.4 million dollars, 45.5% less than in 2018 ($ 165.8 million dollars).
Mexico's trade deficit of $ 57.8 million, lower than the deficit of $ 143.2 million registered in 2018.
Free Trade Agreement (FTA) period 2000-2019:
 With the Mexico-EU Trade Agreement, trade between our country and Luxembourg grew 675%, from $ 15.9 million in 1999 to $ 123.1 million in 2019.
Trade between Mexico and Luxembourg increased at an Annual Average Growth Rate (AAGR) of 10.8% in the reference period. Mexican exports grew 8.9% AAGR, going from $ 5.9 million dollars in 1999 to $ 32.7 million dollars in 2019, and imports increased 11.6% AAGR, going from $ 10 million dollars in 1999 to $ 90.4 million dollars in 2019.

Evolution of bilateral trade:
In 2019, there was a decrease in bilateral trade for the second consecutive year:
Imports contracted sharply due to lower purchases of medical, surgical, dental or veterinary instruments and devices; pharmaceutical preparations and articles, electric machines and apparatus with their own function, centrifuges and styrene polymers.
Mexican exports increased significantly, thanks to the rise in flat alloy steel products; machines for mounting electric or electronic lamps, tubes or valves; knitting fabric and ethylene polymers in primary forms.
In the last 5 years (2015-2019), bilateral trade registered a negative Average Annual Growth Rate (AAGR) of 13.5%, going from $ 254.8 million dollars in 2014 to $ 123.1 million dollars in 2019.
In this same period, Mexican exports decreased by 25.1% AAGR, from $ 138.4 million dollars to $ 32.7 million dollars.
While imports of products from Luxembourg decreased 4.9% AAGR, going from $ 116.4 million dollars in 2014 to $ 90.4 million dollars in 2019.
Main export products: iron or non-alloy steel; alloy steel flat products; machines for assembling electric or electronic lamps, tubes or valves; ethylene polymers, in primary forms and synthetic filament yarns.
Main import products: dates, figs, pineapples, avocados, guavas, and mangoes; automatic instruments and apparatus for regulation or control; strawberries, raspberries, blackberries, currants and other edible fresh fruits; media prepared for recording sound or recordings; machines and electrical appliances.
Business opportunities
According to data from the International Trade Center (ITC), the products with the greatest export potential from Mexico to Belgium are vehicles and their parts (motorized vehicles; vehicle parts and accessories; automobiles for the transport of goods; bodywork parts and accessories; spark ignition engines); medical devices (needles, catheters, cannulas and the like for medical use; medical, surgical / veterinary instruments and apparatus); medications (for therapeutic / prophylactic uses); agro-food (banana, coffee); machinery (sets of cables (for spark plugs) for means of transport; parts of air conditioners; panels and cabinets, for control / distribution of electricity); electronic equipment (televisions; car stereos; automatic machines for data processing / processing; apparatus for the transmission / reception of voice, images, other data); various manufactures (parts of seats) and chemical inputs (ethyl acetate).
The best diversification options for Mexico in the Belgian market are turnip / rapeseed, fresh / dried pistachios and input from the paper industry (chemical wood pulp).
For Mexico it is easier to sell sweet potatoes than potatoes.
Turnip / rapeseed is facing the greatest potential demand in Belgium.
Luxembourg in Mexico
According to information from the Ministry of the Economy, Luxembourg is the 16th investor in Mexico worldwide and the 8th within the European Union. The accumulated FDI of Luxembourg in Mexico between 1999 and June 2020 is $ 3,462 million dollars. In Mexico there are 98 companies with capital from Luxembourg.
In Mexico there are 98 companies with capital from Luxembourg.
In the five-year period 2015-2019 FDI flows totaled 97 million dollars. This figure represents an important recovery when compared to the divestment of -9 million dollars in the previous five-year period 2010-2014. Divestments were reported in the Professional, Scientific and Technical Services, Business Support Services, and Waste Management and Remediation Services.
Sectors
FDI reported as non-confidential and amounts to $ 95.6 billion is mainly in Real estate services and rental of movable and intangible assets; Trade and Information in mass media and manufacturing industries.
Investments by State (region)
Luxembourg's FDI in Mexico was mainly distributed in Mexico City (around 76%), Querétaro, the State of Mexico and Chihuahua.
Mexico in Luxembourg
According to information from the IMF, the 2018 stock of Mexico's investment in Luxembourg is reported as confidential