Belgium 
Information about Belgium
Political system 



Belgium is a federal state made up of three Communities (the Flemish Community, the French-speaking Community and the German-speaking Community) and three Regions (Flanders, Wallonia and the Brussels-Capital Region).
The main federal institutions are the federal government and the federal parliament. Their responsibilities include managing Belgium's foreign relations, national defense, justice, finance, social security, health and public security. However, Communities and Regions also have the capability of establishing international relations.
In addition to the federal government headed by the Prime Minister, Belgium is a constitutional monarchy. The King, in his capacity as Head of State, exercises a more limited function in political terms, but acts as a moderator and, above all, is the symbol of the unity of Belgium. In addition, the King fosters close contact with his citizens, in order to promote public and private initiatives that make a contribution to improving society. The King and Queen and the other members of the Royal Family also represent Belgium abroad on State Visits, Economic Missions and international meetings.
Communities and Regions have their own legislative and executive powers, excepting Flanders, where the Community and Regional institutions were merged. So in Flanders, there is one Parliament and one Government.
The Communities competences are based on the concept of language, as such, they have power over cultural matters, education, youth, sports and certain aspects of health policy.
The Regions have power on domains that are related to the notion of territory and economic interests, such as economy and foreign trade, public works, agriculture, labor, environmental protection and the international relations in those fields.
Belgium is further divided into 10 provinces and 581 municipal councils.
For more information, please visit the following website: https://www.belgium.be/en/about_belgium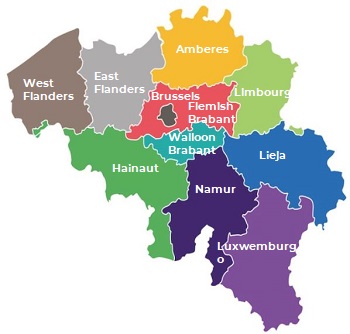 Geography and Population

Belgium is located in the north of Central Europe. It is bordered to the north by the North Sea, to the northeast by the Netherlands, to the east by the Federal Republic of Germany and the Grand Duchy of Luxembourg and to the west by France. It has a total area of 30,528 km².
Its population is 11,492,641 inhabitants (01.01.2020). 51% of the population are women and 49% men. In 2019, there was a population increase of 0.54%, equivalent to 61,235 people. The population density 374 inhabitants per km².
The official languages are: Dutch (spoken by 60% of the population), French (39%) and German (1%). The capital of the country is fully bilingual and represents 8% of the population.
The most widely practiced religion is Catholicism (75%), followed by Protestant-Christianity (11.5%), Islam (9.9%) and Judaism (3.6%).
For more information, please visit the following website: https://statbel.fgov.be/fr/themes/population 
There are several international institutions based in Belgium: the Council of the European Union; the European Commission; the European Parliament; the General Secretariat of the Benelux; the North Atlantic Treaty Organization (NATO); the World Customs Organization (WCO); among others.
For more information, please visit the following website: https://be.brussels/about-the-region/international-brussels/international-institutions-in-brussels?set_language=en 
Mexico-Belgium Political Relations
Mexico-Belgium Political Relations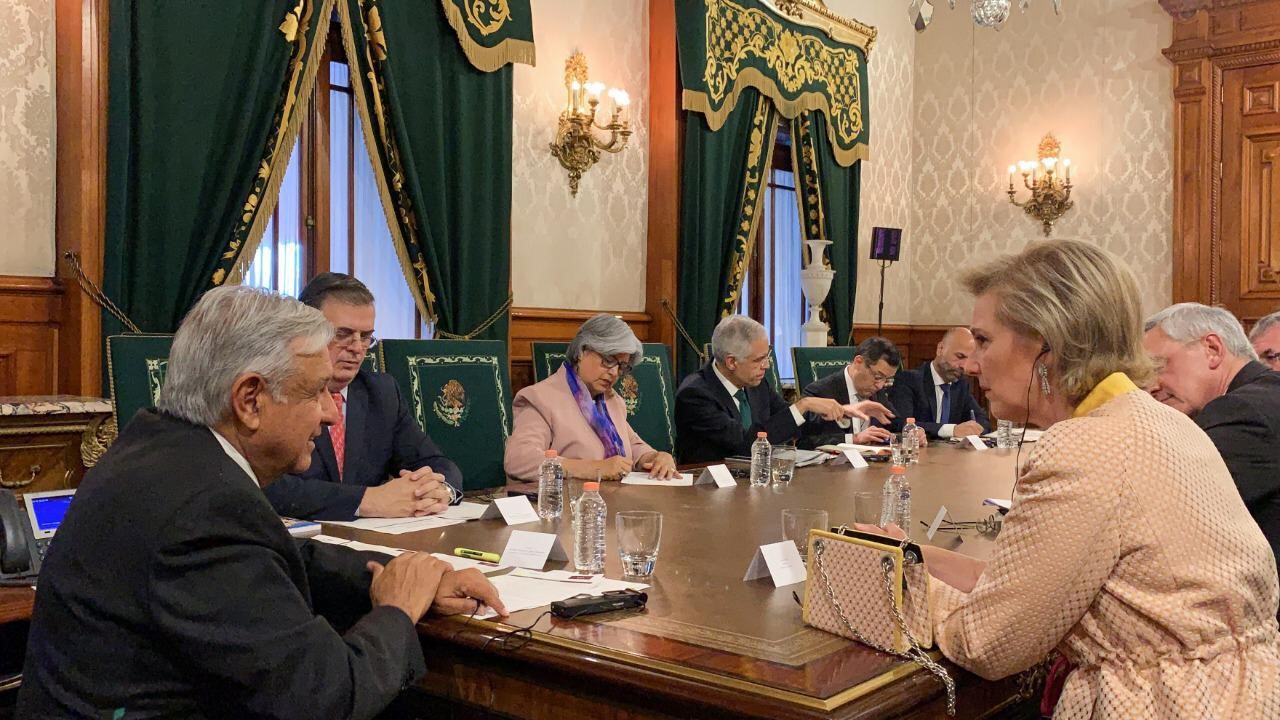 The relations between Mexico and Belgium are at one of their highest points. The visit of Princess Astrid to Mexico in February 2019, leading a business delegation of over 200 people, gave an important boost to the bilateral ties in all areas: relations were strengthened at the political level, the excellent economic and trade relations where highlighted and the academic ties between both countries were bolstered.
The Economic Mission headed by Princess Astrid was one of the most important business delegations organized by Belgium, considering the number of participants and the high level of the authorities, as well as for the number of events and meetings organized.
Further information on the history of the relations between the two countries is provided hereunder:
Relations between Belgium and Mexico date back to 1838, when independent Belgium sent a Minister Plenipotentiary to Mexico and, in reciprocity, Mexico sent a representative to Belgium in 1842. Both countries opened their respective embassies in 1954. In 1960, the Embassy of Mexico in Belgium also became the Mission to the European Economic Community (EEC), now the European Union.
During the second half of the XX Century, there was a constant exchange of high-level visits between the two countries. In 1965, King Baudouin and Queen Fabiola led the first State Visit of Belgium to Mexico. In return, the Presidents of Mexico Luis Echeverría, Miguel de la Madrid, Carlos Salinas, Ernesto Zedillo, Vicente Fox and Felipe Calderón made official visits to Belgium.
Similarly, Prime Minister Jean-Luc Dehaene traveled to Mexico in 1999, which was the first visit of a Head of Government of Belgium to our country. In 2002, Prime Minister Guy Verhofstadt also made an official visit to Mexico.
At a ministerial level, Secretaries of Foreign Relations of Mexico José Ángel Gurría, Rosario Green, Luis Ernesto Derbez, Patricia Espinosa and José Antonio Meade met with their Belgian counterparts.
In 1997, Mexico and Belgium established a Bilateral Political Consultation Mechanism. There have been seven meetings since then: 1999, 2001, 2003, 2007, 2014, 2016 and 2019.
King Philippe, in his capacity as Crown Prince, made trips to Mexico in 1998, 2003, 2009 and 2010, where he met with the President, members of Congress and government officials as well as business people from both countries.
As it was mentioned before, in February 2019, Princess Astrid, representing her brother the King, lead an Economic Mission to Mexico, that included events in Mexico City and Monterrey. With 283 participants, 200 of which were representatives of 130 companies, the delegation was almost twice as large as the last princely mission organized to Mexico 10 years ago. Princess Astrid was received by the President of Mexico, members of Cabinet, the Governor of the state of Nuevo Leon and by the Mayor of Mexico City.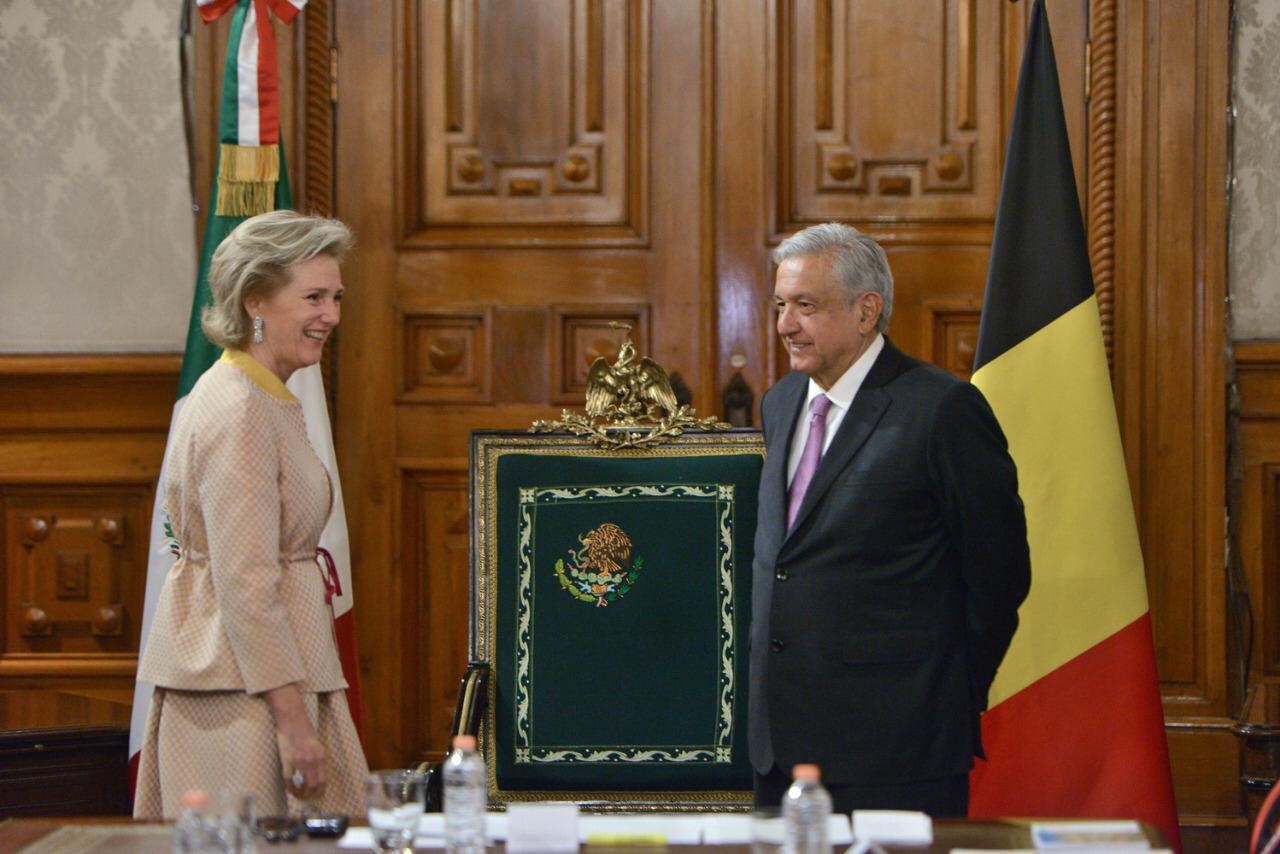 Pictures: Presidencia de la República https://www.gob.mx/presidencia/galerias/visita-de-la 
Parliamentary diplomacy is a fundamental tool of Mexico's foreign policy. In this sense, ties between Mexico's and Belgium's legislative bodies were strengthened with the visit to Brussels by a group of Mexican legislators in 2018. They held meetings with the President of the Senate, the President of the Federal Chamber of Representatives, as well as other senior officials and business leaders.
Mexico and Belgium have signed a number of agreements in several fields: extradition, culture and education, taxation, air transport, nuclear investigations, among others.
There are also inter-institutional agreements involving Mexican federal agencies and state governments such as SRE, SCT, Ministry of Culture, INAH, ININ and the government of Jalisco.
Belgium has Honorary Consulates in Cancun, Chihuahua, Guadalajara, Monterrey, Puebla and Veracruz. Mexico has Honorary Consulates in Antwerp, Bruges and Liege.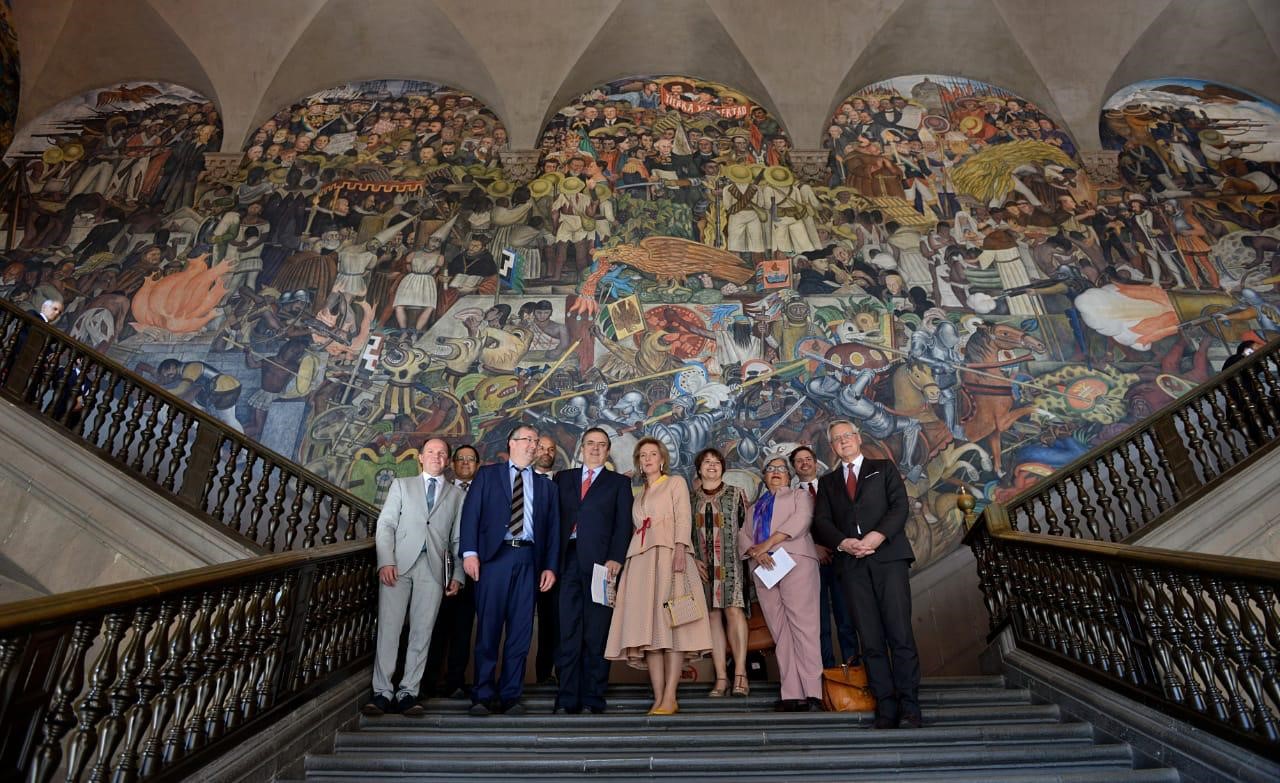 Mexico-Belgium Economic Relations
The Belgian Economy
GDP in 2019 (IMF)
25th economy in the world with a GDP of $ 517.6 billion dollars. 
1.4% growth, slightly less than the 1.5% registered in 2018. Economic activity was supported by strong domestic demand. The labor market also improved, with the unemployment rate falling to a record low of 5.4%. 
Economy in 2020 in the context of the effects of the COVID-19 Pandemic (ECB, EC, IMF, OECD) 
The first cases of COVID-19 were confirmed in early March 2020 and infections spread rapidly thereafter. The number of new confirmed cases peaked in Apr 2020. 
On 17mar2020 a temporary government was formed to face the coronavirus emergency. This new administration was given enhanced executive powers for a period of up to 6 months to take exceptional measures by decree to deal with the impact of the coronavirus crisis. 
The nationwide lockdown began to be lifted on May 4, 2020. By June, many of the restrictions had been lifted. Most companies resumed operations and international borders were reopened.
Economic Impact
Economic activity declined dramatically during the national shutdown period, estimated to be roughly 25% lower compared to the pre-Covid period. 
The drop in sales was especially serious in sectors such as the restaurant and hotel businesses, with drops of over 80%. 
¼ of all households suffered a loss of at least 10% of their income since the lockdown. 
Business confidence declined notably, mainly in the service sectors, while around 65% of companies postponed their investment plans.
Measures to address the economic effects of the pandemic
A fiscal allocation of between 8,000 to 10,000 million euros (about 2% of GDP) was announced for a series of measures such as improving support for the unemployed and deferring tax payments and social security for companies and entrepreneurs, as well as for new health expenditures to combat the COVID-19 crisis. 
Regional governments also announced additional measures, including guarantees and compensation plans for affected companies, and the suspension of utilities payments to the unemployed. 
2020 economic forecast 
IMF: contraction of 6.9%. 
EC: contraction of 8.7%. 
Economic activity is expected to begin to recover in 3Q-2020, after signs of acceleration in business volume in June 2020, after the lifting of the most restrictive measures.

Short-term outlook (EC-IMF)
Growth 2021:
IMF: 4.6%, EC: 6.5%
Measures to protect employment, family and corporate income, as well as measures to support the ECB's liquidity, are expected to support domestic demand from mid-2020 and boost economic recovery in 2021.
As a result of lower growth in world trade, the contribution of net exports to real GDP growth is expected to remain negative, as in the previous year.
The biggest risk to these forecasts is that the pandemic will resurface, leaving the already weakened Belgian economy less capable of containing another economic shock.
Bilateral Trade Mexico-Belgium
According to data from the Ministry of the Economy (SE), in 2019, Belgium was Mexico's 21st trading partner worldwide and 7th among the Member States of the European Union.

Bilateral trade with Belgium:
$ 2,814.9 million dollars in 2019, 15.3% lower than in 2018 ($ 3,323.3 million dollars).
Mexican exports: $ 1,586.4 million, 24.9% lower than in 2018 ($ 2,113 million).
Imports of Belgium products: $ 1,228.5 million dollars, 1.5% higher than in 2018 ($ 1,210.2 million dollars).
Mexico had a surplus of $ 357.9 million dollars, lower than the one registered in 2018 ($ 902.8 million dollars).
Mexico-EU Trade Agreement 2000-2019:
With the Free Trade Agreement between Mexico and the European Union, trade between the two countries grew 416%, going from $ 545.9 million in 1999 to $ 2,814.9 million in 2019.
Trade between Mexico and Belgium increased at an Annual Average Growth Rate (AAGR) of 8.5% in the reference period. Mexican exports grew 9.9% AAGR, from $ 240.7 million dollars in 1999 to $ 1,586.4 million dollars in 2019 and imports increased 7.2% AAGR, going from $ 305.2 million dollars in 1999 to $ 1,228.5 million dollars in 2019.

Evolution of bilateral trade
After 2 years of growth, during 2019 there was a significant decrease of 15.3%:
Exports registered an important decrease, in which the drop in sales of zinc minerals and their concentrates stands out; as well as inorganic or mineral coloring materials; passenger cars, acyclic carboxylic acids; and vinyl chloride polymers.
Imports registered a marginal increase, driven mainly by growth in malt; frames, panels, consoles; vegetables; flat products of iron or non-alloy steel; and faucet items.
In the last 5 years (2015-2019), bilateral trade registered an Annual Average Growth Rate (AAGR) of 1.3%, going from $ 2,642.3 million dollars in 2014 to $ 2,814.9 million dollars in 2019.
In this same period, Mexican exports fell 1.4% AAGR, going from $ 1,700.3 million dollars to $ 1,586.4 million dollars.
While imports of products from Belgium increased by 5.5% of AAGR, going from $ 942 million dollars in 2014 to $ 1,228.5 million dollars in 2019.
Mexico
Main export categories: passenger cars; microphones and their stands; centrifugal dryers; copper waste and scrap; and medical instruments and apparatus.
Main import categories: malt; medicines; air or vacuum pumps; propylene polymers; and mineral or chemical nitrogen fertilizers.
Business opportunities
According to data from the International Trade Center (ITC), the products with the greatest export potential from Mexico to Belgium are vehicles and their parts (motorized vehicles; vehicle parts and accessories; automobiles for the transport of goods; bodywork parts and accessories; spark ignition engines); medical devices (needles, catheters, cannulas and the like for medical use; medical, surgical / veterinary instruments and apparatus); medications (for therapeutic / prophylactic uses); agro-food (banana, coffee); machinery (sets of cables (for spark plugs) for means of transport; parts of air conditioners; panels and cabinets, for control / distribution of electricity); electronic equipment (televisions; car stereos; automatic machines for data processing / processing; apparatus for the transmission / reception of voice, images, other data); various manufactures (parts of seats) and chemical inputs (ethyl acetate).
The best diversification options for Mexico in the Belgian market are turnip / rapeseed, fresh / dried pistachios and input from the paper industry (chemical wood pulp).
For Mexico it is easier to sell sweet potatoes than potatoes.
Turnip / rapeseed is facing the greatest potential demand in Belgium.
Investment between Belgium and Mexico
Belgium in Mexico
According to information from the SE, Belgium is the world´s 7th largest investor in Mexico and the 4th among the Member States of the European Union.
Belgium's accumulated FDI in Mexico, between January 1999 and June 2020, amounted to $ 20,891.6 million dollars.
 

* / With information as of June 30, 2020. Millions of dollars (mdd). Prepared by the Mexican Ministry of foreign Affairs, with data from the Mexican Ministry of Economy.
There are 419 companies in Mexico with capital from Belgium.
In the five-year period 2015-2019, FDI flows totaled 4,415.4 million dollars, the figure is lower than that corresponding to the previous five-year period 2010-2014 when it reached a total of 14,986.8 million dollars due to high investment in the beverage sector (13,285 million dollars). This operation was the purchase of Grupo Modelo by the Belgian company Anheuser-Busch InBev.
Sectors
Belgium's FDI went mainly to the manufacturing sector (96.1%), mining (1.3%), and construction (0.7%).
Belgian FDI in the manufacturing sector, which totaled 20,078.1 million dollars in the period Jan1999-Jun2020, was located almost entirely (97.5%) in the beverage and tobacco industry.
Regarding Belgium's FDI in the mining sector, which totaled 265.2 million dollars, it was located entirely in mining of metallic and non-metallic minerals, except oil and gas.
The construction sector attracted a FDI from Belgium for 141.1 million dollars, which was located in the construction of engineering works (50.4%) and in buildings (49.6%).
States
Just over 50% of Belgium's FDI was distributed in the State of Mexico (13.9%), Mexico City (12.4%), Zacatecas (9%), Oaxaca (7.9%), and Jalisco (7.5%).
Three entities captured 16.5% of FDI: Guanajuato (7.4%), San Luis Potosí (5.4%) and Guerrero (3.7%).
Belgium FDI January-June 2020
However, in the first half of 2020, Belgium's FDI in Mexico decreased 76.5%, compared to the same period of 2019, going from 734.2 million dollars to 172.6 million dollars.
This result was influenced by a reduction in investment of 78.4% in the manufacturing sector.
Mexico in Belgium
According to information from the International Monetary Fund, the stock1 to 2018 of Mexico's investment in Belgium is reported as confidential.
1) Stocks of FDI, also called stocks or positions of FDI, indicate investment levels at a given time. They represent the value of the shares and other equity and debt instruments held by foreigners at the end of the reference period, usually one year.