Photography contest: #MyPicOfMexico2018 for Instagram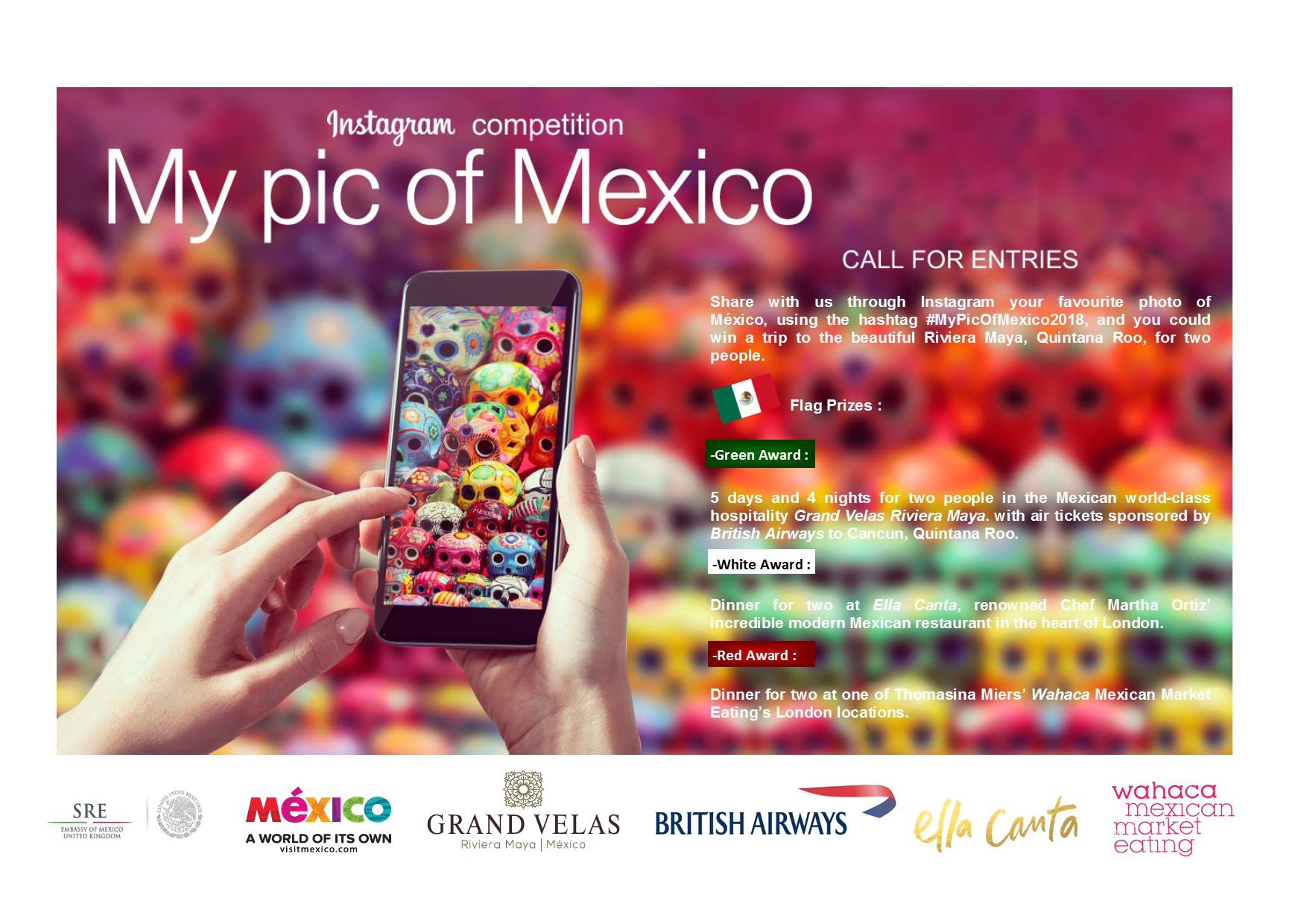 Concept:
Share with us through Instagram your favourite photo of México, using the hashtag #MyPicOfMexico2018, and you could win a trip to the beautiful Riviera Maya, Quintana Roo, for two people.

 

Tell us about what Mexico means for you through a single, powerful photograph that best expresses the profound cultural heritage, rich history, vibrant colours and lively traditions of the country. Let your photo inspire others to follow in your footsteps and discover the delights of Mexico for themselves.

 

Your photos can either have been taken while visiting Mexico or they can be of a Mexican experience in the UK (a meal, an art exhibition or a Mexican festival, for example) 
With almost 40 million visitors annually, Mexico is the 6th most popular holiday destination worldwide. The UK is Mexico's third-largest source of international visitors: more than half-a-million British tourists visited Mexico in 2017, a number only surpassed by Canada and the USA.
 Contest Rules for participants:
#MyPicOfMexico2018 is a photo contest open to British citizens, 18 years old and over, currently living in the United Kingdom with a valid passport to travel to Mexico between January and March 2019.

Participants must guarantee that their entries are of their own creation and do not violate the rights of any third party or any copyright.

Participants should upload their pictures (up to 5 per participant) to Instagram with an account set as public.

The uploaded photos should include the following:
1. - Year and precise location of the photo-shoot (Using geolocation);
2.- A title and a brief explanation describing its relevance to the competition's theme and why the image would make others wish either to go back to Mexico or to visit it for the very first time. All captions must be in English.
3. - Participants should follow the Embassy of Mexico's Instagram account  @embamex_gbr and the accounts of key partners @visitmexico @grandvelasmaya @british_airways and the sponsors @ellacantalondon & @wahaca, using the appropriate hashtag #MyPicOfMexico2018.

Criteria for uploading photos:
The topic of the picture should be in line with the contest's theme, i.e. portraying Mexican inspiration, diverse landscape, cultural heritage, ancient gastronomy, rich history, vibrant colours and lively traditions, as well as the hospitality of its people.

Creativity and originality.

Photos can be in colour or black and white.

They must not be digitally manipulated, but can be edited using Instagram filters and its creative tools.

Participants must retain a hard copy as proof of their authorship.

Photo captions must include the hashtag #MyPicofMexico2018. All captions must also include links to @embamex_gbr and the accounts of key partners @visitmexico @grandvelasmaya @british_airways and the sponsors @ellacantalondon and @wahaca.

 

The photos should be uploaded between September and October 2018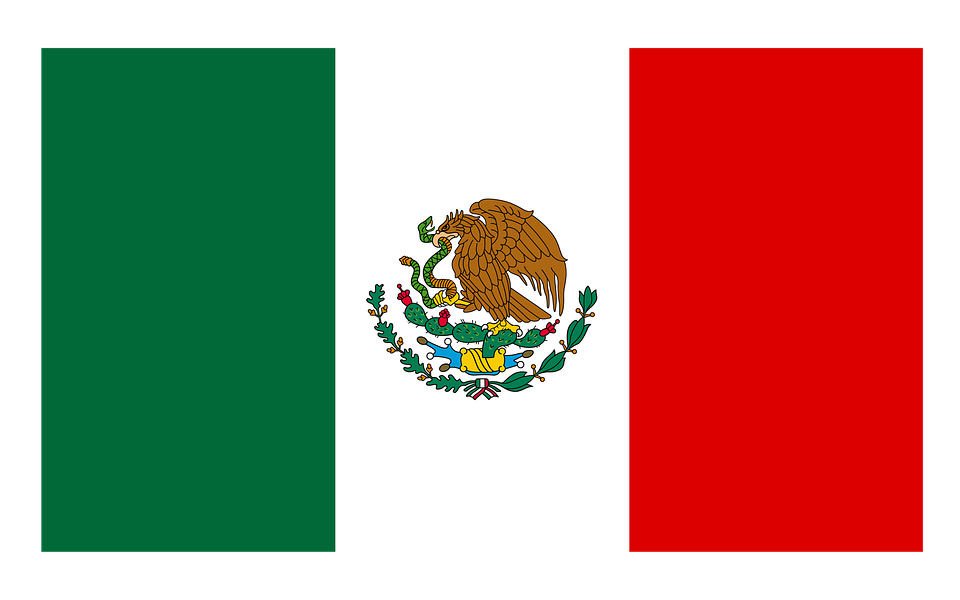 Flag Prizes :
 -Green Award: 5 days and 4 nights for two people in the Mexican world-class hospitality Grand Velas Riviera Maya. The trip can be completed anytime between 16th January to 15th March 2018 with air tickets sponsored by British Airways  to Cancun, Quintana Roo. (Terms and conditions will apply). *Airline tickets are non-transferable.
-White Award: Dinner for two at Ella Canta, renowned Chef Martha Ortiz' incredible modern Mexican restaurant in the heart of London.
-Red Award: Dinner for two at one of Thomasina Miers' Wahaca Mexican Market Eating's London locations.
*The winners will be announced at Mexico´s pavilion at the World Travel Market 5-7 November 2018.
How will the winners be chosen?
After the photos are uploaded to the participant's Instagram account, a panel of qualified judges will review the submissions based on a pre-selection from all the pictures that have met the above-mentioned criteria. After a careful review of the best photographs, the judges will select (with full autonomy) the three best submissions, based on:
·The creativity and originality of the photo
·The quality of the submission
·How the submission reflects passion and inspiration for Mexico
The winners will be notified through Instagram by @embamex_gbr on 2nd November 2018.
The judges´ decision is final, binding, and conclusive (without appeal) in all matters related to this contest and the awarding of the prizes.
Copyright
By uploading their photos to Instagram, participants accept the rules, terms and conditions of #MyPicOfMexico2018 photo-competition. Likewise, the participants guarantee that the photograph is their own original work and neither violates the rights of any third parties nor infringes upon intellectual property or any legal regulations. The contestant therefore accepts all legal responsibility for their participation in this competition, and obligations derived therefrom.
 The participant retains ownership and copyright of their photo. However, by entering this competition, the contestant consents to the uncompensated use, publication, reproduction and exhibition of their photo for informative and promotional purposes, in digital and printed media, as well as on web sites and the social network profiles of the organisers (Embassy of Mexico in the United Kingdom, Mexico Tourism Board and British Airways on sites such as Instagram, Facebook, Flickr, Twitter and YouTube.  Likewise, photos submitted may be printed to form part of an exhibition. In such an eventuality, the organisers pledge to recognise the source of the photos by using the name of the participant.
 Other terms and conditions: 
The organisers (Embassy of Mexico in the United Kingdom, Mexico Tourism Board, the Mexican world-class hospitality Grand Velas Riviera Maya and British Airways reserve the right to disqualify participants who do not comply with the competition's rules, infringe on third party rights, or provide false information.
 Photographs that do not comply with the requirements or that are considered offensive, obscene, discriminatory, or inappropriate will be immediately disqualified and reported.
 Participants will not receive any compensation for their images other than the prizes specified in the "rules" section.
The Green Award winner will be kindly asked to publish at least five photographs on Instagram whilst visiting Riviera Maya, using the hashtag #MyPicofMexico2018 and linking to the accounts @embamex_gbr @visitmexico @grandvelasmaya & @british_airways
Any circumstances not envisaged by the current set of terms and conditions will be resolved by the organisers at their discretion.
The personal data collected for this contest will not be used for any other purposes unless entrants provide explicit permission as indicated on the entry form, which will be send to the winners. The organisers will collect their personal information for the purposes of registration, program evaluation and to keep them informed about the prizes.
The organisers reserve their right, in their sole discretion, to modify, cancel, or suspend this contest if external circumstances arise, beyond their reasonable control. Moreover, they are not responsible for any errors or omissions in printing or advertising this contest. This contest will run in accordance with these Contest Rules, subject to amendment by the organisers who reserve their right to cancel, amend, modify or terminate this contest or the rules at any time in their sole discretion and without notice.
Neither staffers nor local employees from the Embassy of Mexico or from other institutions of Mexico´s government or workers or representatives from sponsors such as @visitmexico @grandvelasmaya @british_airways @ellacantalondon or @wahaca are entitled to participate in this contest.
 The Jury:
1- Alinka Echeverria: Alinka Echeverría is a Mexican-British artist, working in artist's film and photography.  She holds a Master's degree in Social Anthropology and Development from the University of Edinburgh (2004). She was recently selected as a nominee for the Prix Elysée, the Musée de l'Elysée's prize for mid-career artists. In 2017 she was selected for FOAM Museum's Talent award for Nicephora, a research project about the representation of women that she started during BMW's Art & Culture Residency at the Nicéphore Niépce Museum in 2015. In 2012 she was voted International Photographer of the Year by the Lucie Awards with her work Becoming South Sudan, and in 2011 was awarded the HSBC Prize for Photography with work about image and belief in Mexico: The Road to Tepeyac.  Recent commissions include the Swiss Foundation of Photography and BBC Four, for whom she presented a three part series: The Art That Made Mexico.

http://www.alinkaecheverria.com/
2. - Susannah Rigg: British freelance writer, Mexico specialist and founder of Mexico Retold.  Her work has been featured in Condé Nast Traveler, CNN Travel, BBC Travel and The Independent UK among others. She lives in Mexico City and is working on her first novel, set in the jungles of southern Mexico.
 3. - Manuel Díaz Cebrian: Former Director of the Mexico Tourism Board in the United Kingdom, currently owner and Managing Director of 110PerCEB Ltd., representing Los Cabos tourism destination in Europe and consultant through the Dual Year UK/Mexico in 2015. Diaz Cebrian was recognised in 2016 by the Miguel Aleman Foundation A.C. with the XXVII Excellence in Tourism Award.
https://www.instagram.com/110mdc/