MEXICAN NAVY DAY COMMEMORATED IN THE UK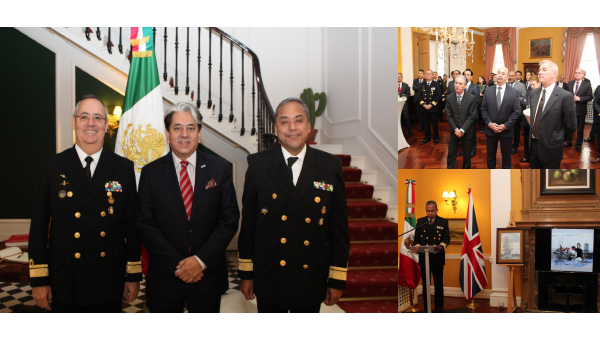 LONDON, United Kigndom, 23rd November 2016. - The commemoration of the Day of the Mexican Navy took place at the Official Residence of Mexico in London, with a formal ceremony led by representatives of the Secretariat of Navy of Mexico (SEMAR, for its acronym in Spanish).
Before representatives of the Secretariat of Communications and Transport of Mexico, ProMéxico, the Tourism Promotion Board, as well as dozens of guests including Naval Attachés, officials of the International Maritime Organization (IMO) and members of the diplomatic community, Rear Admiral Fidencio Vargas recalled that the Navy of Mexico was created in 1825.
He referred to the achievement which Mexican sailors -under the command of the Frigate Captain Pedro Sainz de Barranda y Borreyro- succeeded on 23rd November of the same year when they broke the maritime blockade held by Spaniard troops, consolidating in same date the Independence of Mexico, after 15 years of intense battle.
Minister David Najera, Charge d'Affaires of the Embassy of Mexico, ​​thanked the guests for their presence and underlined the contribution of the Navy of Mexico to the maintenance of peace and security of our country, in adherence to the principles and international treaties in the maritime sphere. "In times of uncertainty", he added, it is the strength of institutions and commitment to law enforcement the best tools to ensure coexistence among nations."
During the ceremony a video was presented http://bit.ly/2eIJUcS on the work of the Navy of Mexico and also photographs exhibited evoked the loyalty and the commitment of those who integrate the Navy of Mexico.
One of the images that most attracted attention was the sinking of the Potrero del Llano oil tanker, which, along with the attack by Faja de Oro, derived in Mexico's participation in World War II. At that time, the Mexican Navy and Mexican merchant navy joined forces to prevent fuel shortages in our country during the international conflict.
--oo0000oo—