Detalles

Visto: 9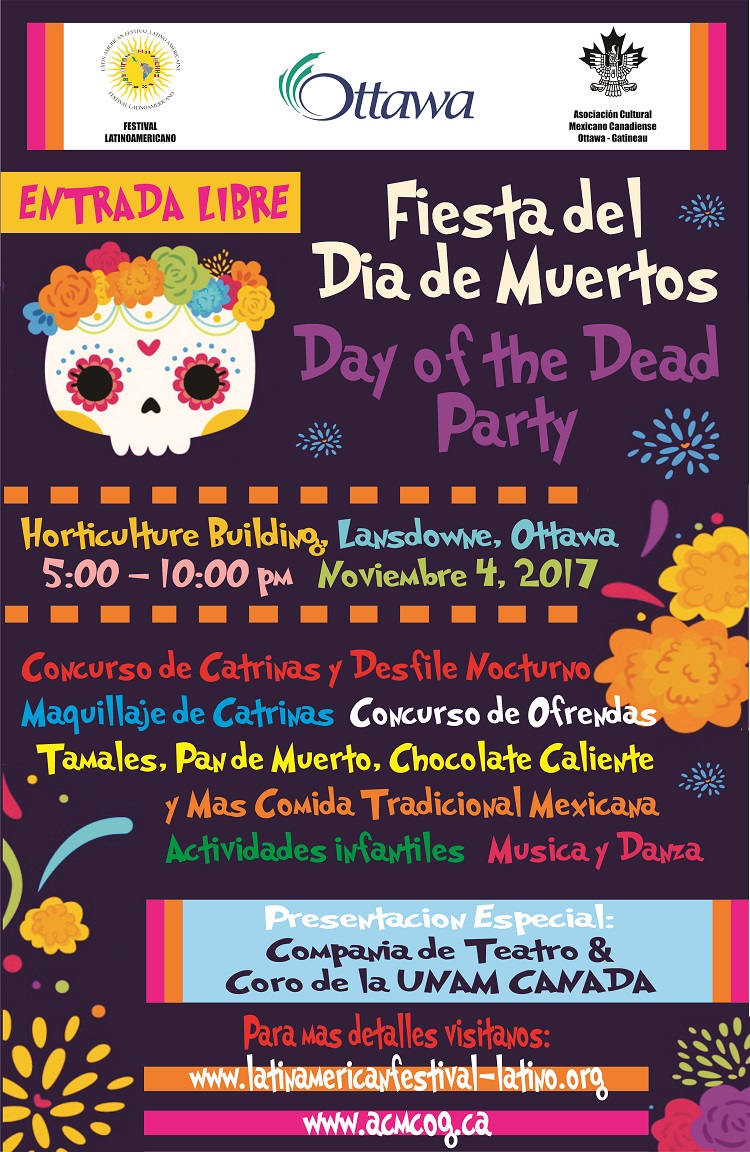 DIA DE MUERTOS FIESTA & DESFILE
Desfile: quieres participar en el desfile!!!!!!  visita esta página para mas detalles  https://latinamericanfestival-latino.org/day-of-the-dead/
Concurso de disfraces: El Catrín & La Catrina
Concurso Exhibición de Altares de Muertos
Maquillaje  El Catrín & La Catrina
Actividades para niños
Comida  tradicional de la ocasión
El coro y El grupo de teatro de la UNAM-Canadá "La Pandilla" Presentan "El banquete de los muertos" 6:30pm & 8:00pm  
Entre música y calaveras se revela el significado de la festividad mexicana del Día de Muertos. Durante el espectáculo se narra la leyenda de la flor de cempasúchil. También se representa una historia de amor en la que una calaca que piensa que su amado se ha olvidado de ella finalmente tiene un feliz reencuentro con su amado. Así mismo, podrás escuchar los Sones Jarochos La Bruja y El Coco.  
Detalles

Visto: 120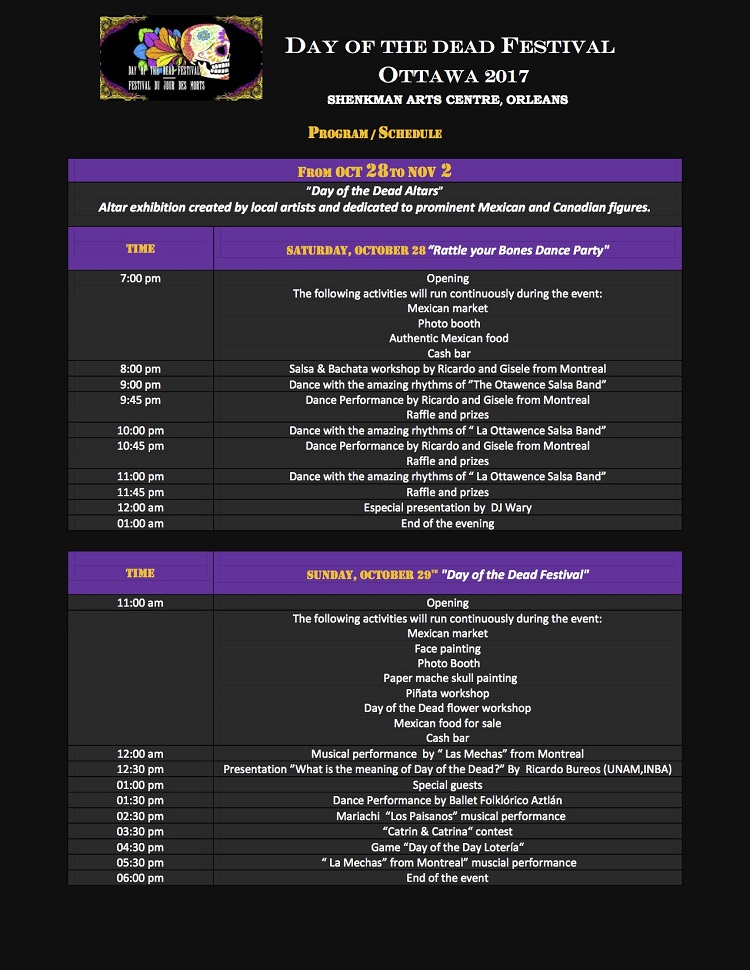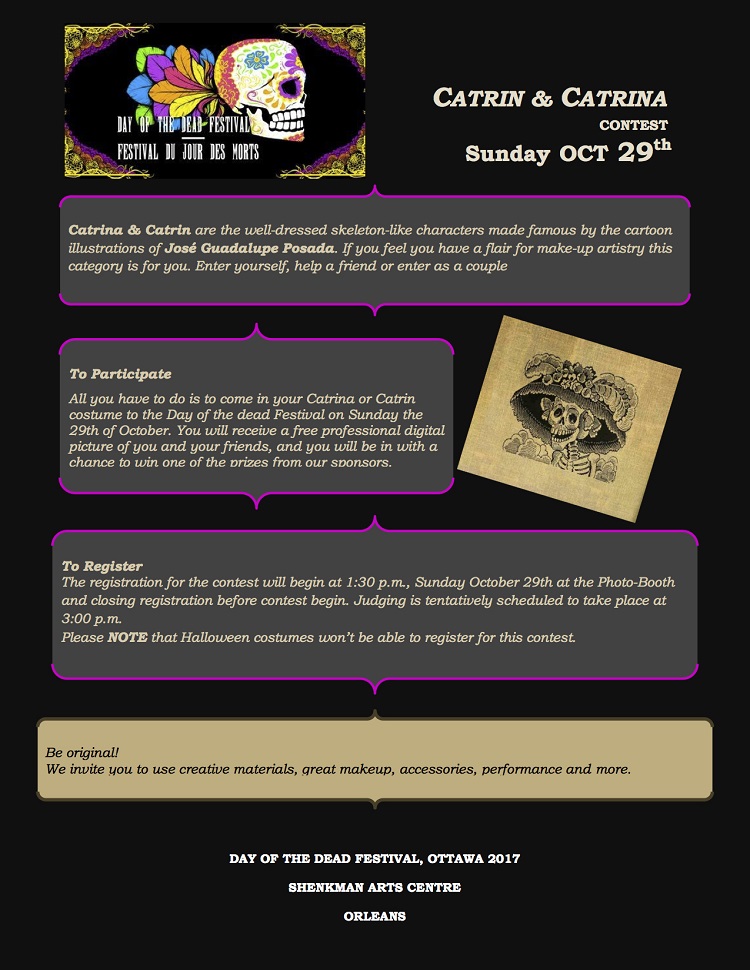 Detalles

Visto: 40
Detalles

Visto: 989

RACE FOR MEXICO & HELP MEXICO RISE
Fundraising event for the reconstruction efforts after the devastation caused by the September earthquakes in Mexico that impacted several states (Chiapas, Oaxaca, Morelos, Puebla, the State of Mexico, Guerrero and México City).
The Embassy of Mexico, along with a very reputable community organizations and business leaders of the Ottawa-Gatineau region are joining forces with the Running Room in organizing a run/walk event on Sunday, October 22, 2017 at 8:00 am at the Running Room located at 901 Bank Street in Ottawa.
No registration required
All ages welcome, various routes available
Free continental breakfast
You can help by donating to account "Race and Help Mexico Rise" #000260153710 at any Scotiabank location in Ottawa
All funds raised will be sent by wire transfer to the account:
"Fuerza México"
For more information: Esta dirección de correo electrónico está siendo protegida contra los robots de spam. Necesita tener JavaScript habilitado para poder verlo. (613) 789-5190
Come and join us!
---
Ten points to better understand the Trust #FuerzaMéxico
It allows for channelling donations aimed at reconstruction efforts to one single fund
People, agencies, organizations and businesses can contribute to the trust
It was created by representatives of the Private Sector, with the support of the Mexican Ministry of Finance
The trust was constituted at Nacional Financiera
The trust is formed by a committee of business leaders
This instrument will work in a coordinated manner with federal agencies
The trust complements the reconstruction actions being undertaken by the Federal Government
One priority is to focus aid quickly, efficiently and transparently
The Ministry of Finance has made a special authorization allowing registered donation recipients to subsequently channel donations to #FuerzaMéxico
Bank accounts available to channel donations to the trust are as follows:
In Mexican pesos (MXN)
Account holder: Nacional Financiera SNC (Fuerza México)
Account number: 0110975907
CLABE (Standardized Bank Code): 012180001109759075
In United States dollars (USD)
Account holder: Nacional Financiera SNC (Fuerza México)
Account number: 0110975915
CLABE (Standardized Bank Code): 012180001109759156