DOUBLE WORLD-RECORD HOLDING ADAPTED DIVER SHARES HIS STORY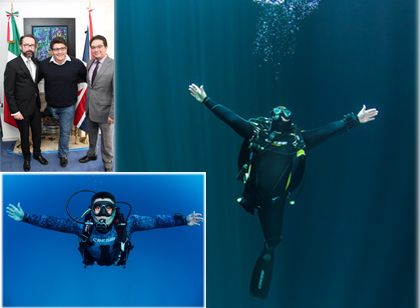 LONDON, United Kingdom., 18th February.- The Embassy of Mexico is proud to host today double world-record holding adapted diver Leo Morales as he shares his inspirational story to invited guests. Morales, a native of Mexico, made history in 2012 and 2013 for being the first disabled person to complete technical diving feats, and this year will be biding to break another record at the Cozumel Scuba Fest.
Eight years ago, Morales was diagnosed with an aggressive form of cancer that unfortunately neither chemotherapy nor radiation were able to treat. His only option was to have his leg amputated at the hip to prevent the disease from spreading. He was given a 20% chance of survival.
Leo overcame the odds to survive and vowed to return to his love of diving, a sport he discovered when he moved to Playa Del Carmen and fell in love with the ocean. It was this return to diving and the ocean that inspired him to become an example to other people affected by disability - overcoming his disabilities and achieving his dreams, with the motto: "disability is in the mind, not physical".
Morales grew up with the fantastic diving that Mexico has to offer – its coastline and caves, unwater habitats, and sea life. The country offers keen divers over 11,000km of coastline bathed by two oceans, the Pacific and the Atlantic, encompassing the clear waters of both the Gulf of Mexico and Caribbean Sea. The opportunities for divers are world renowned; even Jacques Cousteau christened Mexico's Sea of Cortez, 'the world's aquarium'.


--oo000oo--