CHEF MARGARITA CARRILLO PROMOTES MEXICAN GASTRONOMY IN THE UK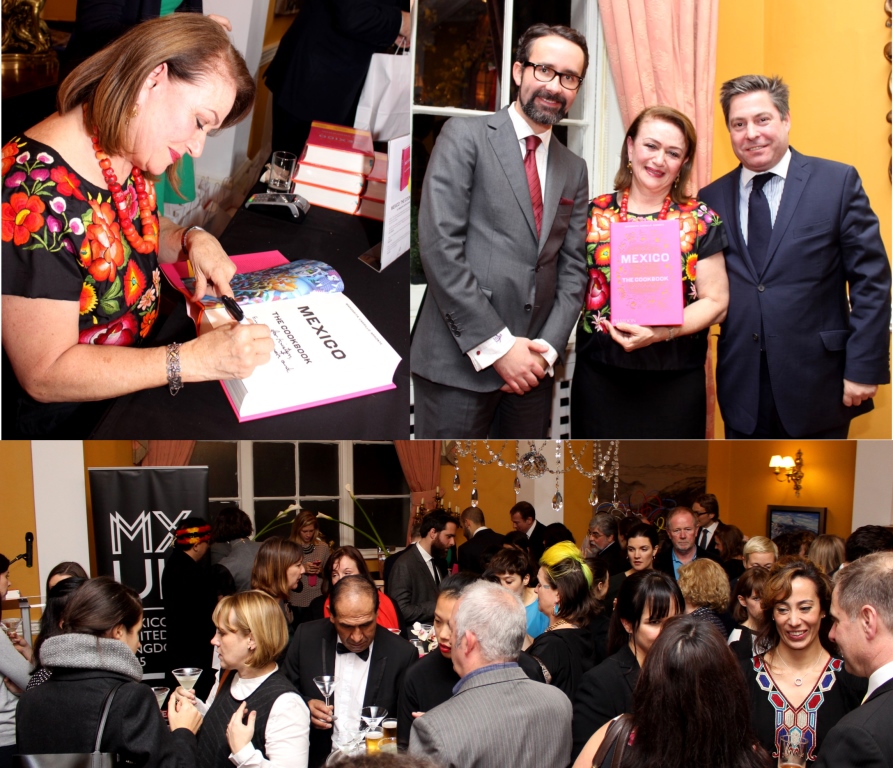 LONDON, United Kingdom., 21st November 2014.- Last  night it was presented in this city "Mexico: The Cookbook" written by Chef Margarita Carrillo, internationally recognized for her efforts to promote Mexican gastronomy.
On the 104th anniversary of the Mexican Revolution it began the commercial distribution of the compendium of 720 recipes from Margarita Carrillo, who was described as a "revolutionary" chef by James Booth-Clibborn, Managing Director of Phaidon Press, the company responsible for its publishing.
In the official residence of the Government of Mexico in London, Ambassador Diego Gomez-Pickering considered that Chef Margarita Carrillo is one of the people who most contributed to the recognition of Mexican Gastronomy as Intangible Cultural Heritage of Humanity by UNESCO.
The diplomat recalled that the Chef has dedicated an important part of her life to promote Mexico through its best healthy gastronomy, with quality and authentic flavours, based on a variety of products, many of them offered by Mexico to the world, such as maize, tomato, chili, cocoa, avocado, bean, squash, peanut and vanilla.
By her prestige, he said, Margarita Carrillo currently plays an international important role as an authentic "Ambassador" of Mexico, by promoting the authenticity of the Mexican gastronomic culture and showing how it has kept evolving due to its entire regional richness, cultural and even religious linkage, but never losing its essence or quality.
Margarita Carrillo was pleased to have been able to bring together thousands of recipes and then after a difficult process of selection, she managed to compile a useful publication for anyone who wants to try authentic Mexican food in England through original, luscious and easy recipes, accompanied by evocative images.
In the presence of hundreds of special guests, mostly related to the culinary area, as well as representatives of specialized media, the Mexican chef agreed with Ambassador Gomez-Pickering that Mexican food has been a perfect instrument to promote cohesion among families in Mexico and abroad, but also to achieve investment and tourism into our country.
---oo000oo---