MEXICO AND LIVERPOOL PLAN TO INCREASE THEIR LINKS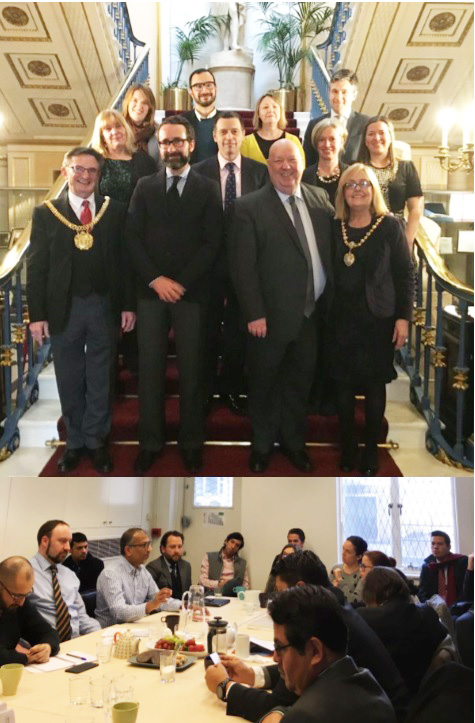 LIVERPOOL, England, 9th March 2016. - The Ambassador of Mexico to the United Kingdom achieved a working-visit on 4th March in order to explore new projects which can allow more Mexicans to get to know Liverpool not only as the city where The Beatles grew and flourished as a musical phenomenon, but as an ideal destination to promote business, enjoy world-class exhibitions and do postgraduate studies.
Attending an invitation by the Mayor Joe Anderson, the diplomat recalled that the city is a historical landmark for having one of the most important ports which used to be the connection between the Old and the New World, and most recently as host, in which were carried out several of the most important events of the so-called Year of Mexico in the United Kingdom, such as the Vamos MX Proyecta Festival in St. George's Hall.
He recalled that from 19th June to 18th October 2015, the exhibition "Mayas: Revelation of an Endless Time" was presented at the World Museum, showing to a record audience of 261,697 people a selection of 385 archaeological pieces of the Mesoamerican civilisation, attracting distinguished guests such as Their Royal Highnesses The Prince of Wales and his wife Camilla, Duchess of Cornwall, who expanded their knowledge of the ancient ballgame and its deadly consequences, as well as the complexities of the ancient Maya Calendar and the importance the underworld represented for this enigmatic civilisation.
Furthermore, under the Dual Year between Mexico and the United Kingdom, the exhibition "Surreal Landscapes" from the Mexican-British artist Leonora Carrington took place in Liverpool, as part of the 2015 spring season at Tate Museum Liverpool, which included more than a hundred tapestries, poems and watercolours.
This exhibition gave rise to a keynote lecture by the writer and journalist Elena Poniatowska about the book devoted to the life and work of Leonora Carrington, as part of the closing events of the London Book Fair, in which Mexico was the market focus.
During a working lunch, the Ambassador and the Mayor of Liverpool agreed on the need to maintain the presence of Mexico in the city during 2016, working in coordination so that a greater number of British from North West England would learn more about Mexico whilst this city receives a growing number of Mexicans interested in productive, cultural and academic projects.
During his visit to Liverpool, Ambassador Gomez-Pickering was also received by the Lord Mayor Tony Concepcion, visited the Walker Art Gallery and met with a team of representatives of the Liverpool Biennial to find out the details of the next exhibition by the Mexican artist Mariana Castillo-Deball.
--oo00oo--