SECRETARY MEADE KURIBREÑA UNDERPINS MEXICO'S ECONOMIC STRENGTH TO BRITISH INVESTORS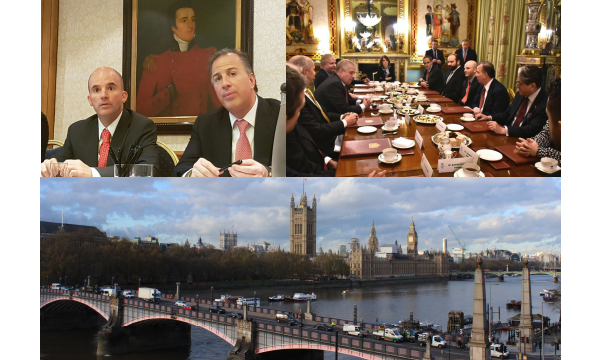 The Secretary of Finance underpinned the fast and efficient implementation of the structural reforms. Meade Kuribreña started a working visit to London on Thursday.
The Director General of Pemex, Jose Antonio Gonzalez Anaya, detailed to British investors the Business Plan of the State's productive company. 
LONDON, United Kingdom, 24th November 2016.- The Embassy of Mexico is glad to inform that the Secretary of Finance and Public Credit, Jose Antonio Meade Kuribreña, presented the economic plan implemented by Mexico to face the challenges of the current international situation to key British investors of the energy sector.

During the meeting, organised by HRH The Duke of York, who recently visited Mexico, Meade Kuribreña detailed the four pillars –tax and monetary policy, a solid financial system and the set of structural reforms- which provides strength to the Mexican economy.

Accompanied by the Director General of Petroleos Mexicanos (Pemex, for its acronym in Spanish), Jose Antonio Gonzalez Anaya, Meade Kuribreña presented the main features of the energy reform, a product of this administration which allows, amongst other aspects, the participation of private capital in different activities of this sector.

At the meeting, the Director of Pemex detailed the Business Plan of this State productive company as part of the strategy to generate better conditions of competitiveness.

Gonzalez Anaya spoke about the business opportunities offered by Mexico for British companies after the adoption of a new regulatory framework which rules the energy sector.

During this visit, Secretary Meade Kuribreña met with his British counterpart, Philip Hammond, with whom he addressed subjects related to the international situation, including the exit of the United Kingdom from the EU, and agreed on cooperation mechanisms to strengthen the economies of both nations in order to face future challenges.

Meade Kuribreña and Gonzalez Anaya started the working-visit in this capital city concluding it on Friday. Both officials will hold meetings with British analysts and investors.
---oo00oo---