THE AUTONOMOUS UNIVERSITY OF NUEVO LEON AWARDS
THE EMBASSY OF MEXICO IN THE UK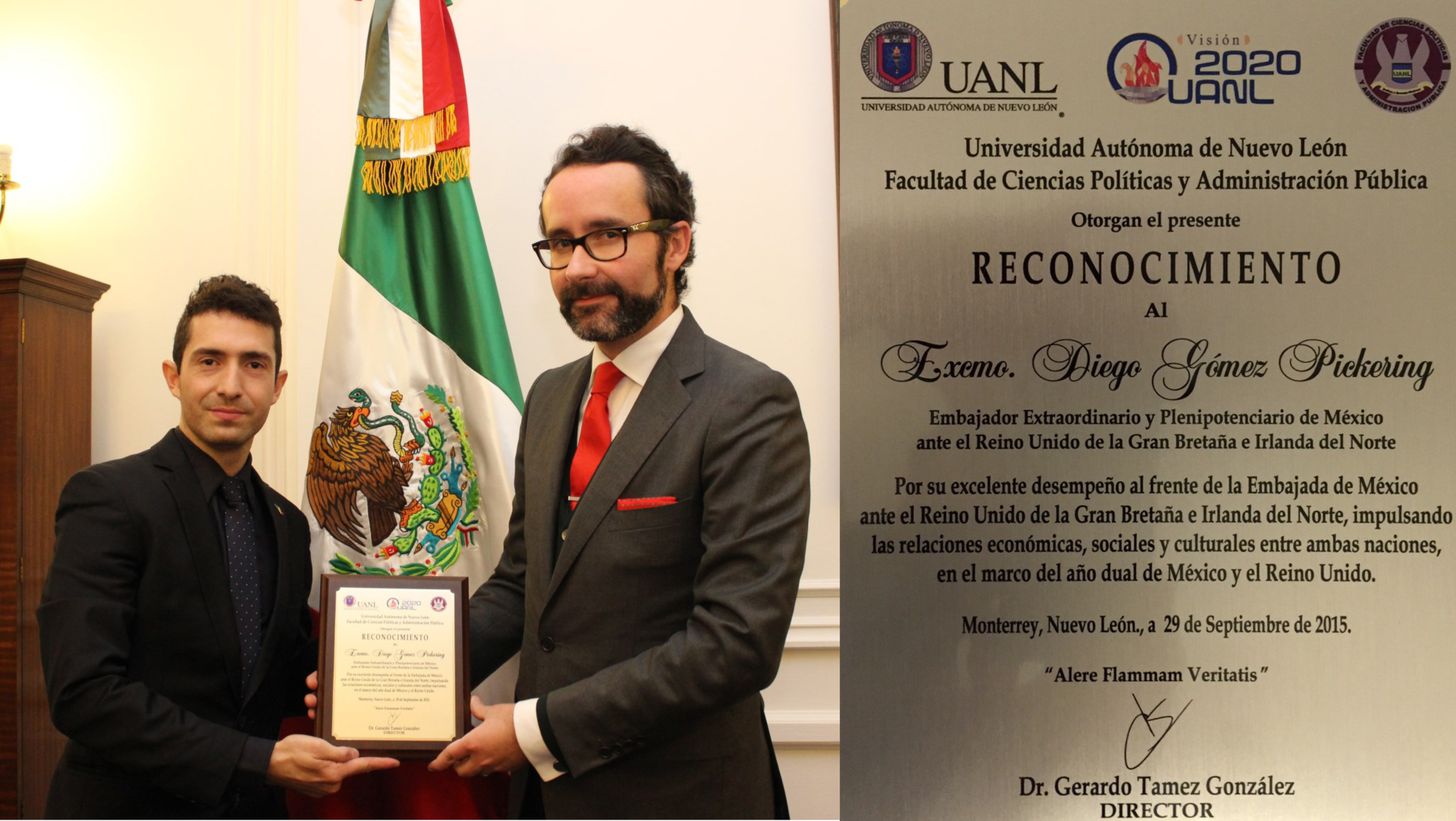 LONDON, United Kingdom, 20th November 2015.- The Autonomous University of Nuevo Leon (UANL, for its acronym in Spanish)  granted the Embassy of Mexico in the United Kingdom and Northern Ireland an award in recognition for the thrust it has brought to the bilateral, economic, political and cultural relation between the United Kingdom and Mexico, in the framework of the denominated Dual Year celebrated between both countries.
In name of the Faculty of Political Science and Public Administration, Hector Hugo Maldonado, Bachelor in International Relations, who's currently doing a Master's in Political Science at the UANL, formally delivered the award on-behalf of the University to the Ambassador of Mexico, Diego Gomez-Pickering.
Maldonado highlighted the effort that the Government of Mexico is doing to boost the bilateral relation and particularly for having achieved a higher level of cooperation in diverse areas of productive sectors.
The representative of the UANL congratulated the progress achieved by this diplomatic mission by concreting programmes and academic MoU's, which have positioned the United Kingdom for the first time ever as the number one international destiny preferred by Mexican students, surpassing the EE.UU.
On behalf of the Government of Mexico, the diplomat welcomed and thanked the award, and pointed that the Year of Mexico in the UK 2015 has allowed us to present to British society the diversity of the cultural heritage, historical richness and profound traditions and at the same time demonstrate the best business opportunities that Mexico has to offer as well as its role for trade and touristic issues.
---oo000oo---