AMBASSADOR DIONISIO ARTURO PEREZ JACOME FRISCIONE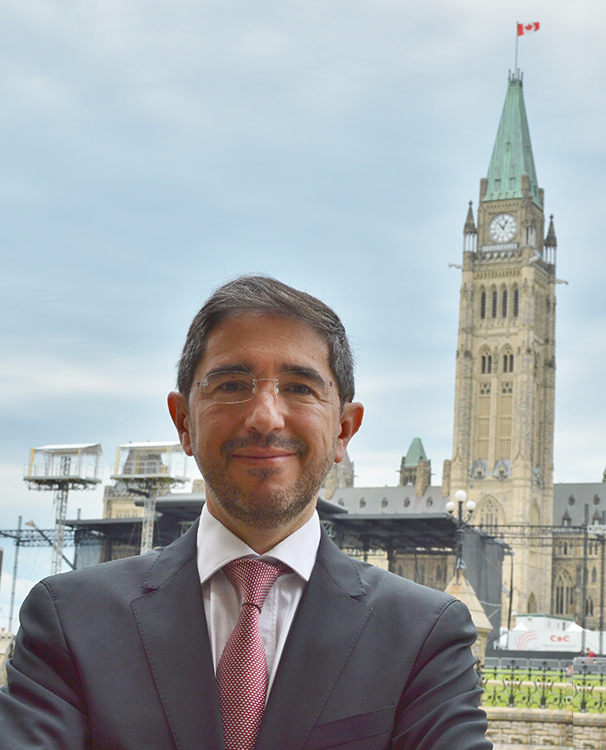 Ambassador of Mexico to Canada as of June 22, 2017
Prior to his appointment as Ambassador of Mexico to Canada, Mr. Dionisio Pérez Jácome served as Permanent Representative of Mexico to the OECD in Paris, France.
He has held various high-level positions within the Mexican government, including Secretary of Communications and Transport of Mexico (2011–2012), Undersecretary of Expenditures at the Secretariat of Finance and Public Credit (2008–2011) and Chief of Advisors of the President of Mexico (2007).
In the energy sector, Pérez Jácome served as President of the Energy Regulatory Commission (2000–2005), and held positions as Head of the Investment Promotion Unit and Executive Director of the State Executive Committee for the Capitalization of State-Owned Petrochemical Companies, within the Secretariat of Energy (1997–2000). He also served as Political Advisor on Social and Rural Affairs at the Office of the President of Mexico from 1995 to 1997.
Pérez Jácome began his public service career in the Secretariat of Agriculture, where he participated in the NAFTA negotiations and became Mexico's first Agriculture and Forestry Counsellor to Canada.
He also has considerable professional experience in the private sector. He was Director of Mercer Management Consulting in Mexico and worked as advisor at Consultores en Decisiones Gubernamentales (CDG) and McKinsey & Co.
He holds a Master's Degree in Public Policiy from the John F. Kennedy School of Government at Harvard, as well as a Master's in International Management and a B.A. in Economics from the Mexico Autonomous Institute of Technology (ITAM).
Pérez Jácome has been recognized for his work on various occasions: highlights include the Good Neighbor Award from the US-Mexico Chamber of Commerce (2012) and the Professional Merit Award from the ITAM (2009).
He has also taught courses in Public Policy, Regulation and International Trade at the ITAM, and has published articles on economics, energy and foreign policy.