• Structural Reforms generate high investment expectations in Canada
• Bancomext working to finalize agreements that seek to encourage Mexican and Canadian importers and exporters.
The Director General of Bancomext, Enrique de la Madrid, is heading a delegation conducting a working visit to Montreal, Toronto and Ottawa, Canada, to strengthen partnerships with like-minded institutions and companies and identify opportunities to reinforce bilateral trade flows and investment.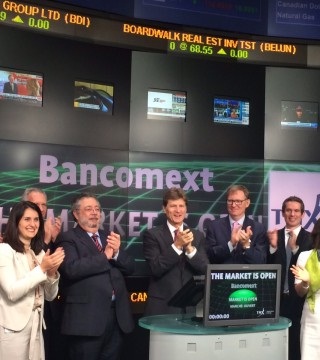 Today, they were invited by TSX President Kevan Cowan and Senior VP Ungad Chadda to sound the opening bell at the Toronto Stock Exchange. The head of Bancomext was accompanied by executives from Canadian companies that are listed on the stock exchange and have operations in Mexico, primarily companies from the mining, aerospace and automotive sectors.
During the visit, they met with senior executives from credit institutions, pension funds, clean energy firms, aerospace and infrastructure, such as William Downe, CEO of Bank of Montreal; Erik J. Ryan, Executive Vice President of Marketing, Strategy and External Relations at SNC Lavalin, one of the world's leaders in engineering, construction, management and infrastructure financing with presence in 50 countries; and Suzanne M. Benoît, President and CEO of Aéro Montréal, Quebec's aerospace cluster and a strategic centre created in 2006 to bring together all of the sector's decision makers, including companies, educational and research institutions, associations and unions.
Other prominent business leaders include Thierry Vandal, CEO of Hydro-Quebec, an energy-generating company of the government of Quebec, specializing in hydropower and sustainable technologies; Michael Sabia, President & CEO of Caisse de dépôt et placement du Québec, the second largest pension fund in Canada; politician Saul Polo, Parliamentary Assistant to the Minister of the Economy, Innovation and Exports for the region of Quebec; and John Pires, VP of Project Financing for North Land Power, an independent power producer that develops, builds, maintains and operates clean energy generating plants (natural gas, wind, hydro and solar power) with long-term sustainable value for investors and communities.
The delegation has also had the opportunity to speak with organizations that assist in defining public policies on foreign trade and Canadian investments abroad, such as the International Economic Forum of the Americas, chaired by Nicholas Remillard. This organization was created to promote the continent's role in major decisions related to the current international economic context, and its mission is also to facilitate agreements, offer investment opportunities and provide access to unique views of leading specialists on different topics. They were accompanied by a group of business leaders interested in new investment options offered by Mexico.
The delegation also participated in a round table organized by the Canadian Council for the Americas, considered one of the foremost nonpartisan discussion forums on political and economic issues in the hemisphere that are critical to Canada and particularly for Canadian trade and investment. The audience consisted of members of the Board.
The delegation attended a luncheon hosted by the Canadian International Council, an organization with a membership of a thousand entrepreneurs in the Toronto region. Enrique de la Madrid spoke with 50 CEOs and senior executives, as well as leading personalities from academia and research centres with a focus on business.
They held a working dinner with representatives of pension funds interested in learning firsthand about the new investment opportunities arising in Mexico.
In Ottawa, at a meeting sponsored by the Ambassador of Mexico to Canada, Francisco Suárez Dávila, and in the aim of identifying fields for attracting Canadian investment in Mexico, as well as areas that can support the internationalization of Mexican companies in Canada, the Bancomext delegation spoke with senior executives from the Canadian Chamber of Commerce; Export Development Canada; Canadian Manufacturers & Exporters; the Canadian Council of Chief Executives; the Canadian Commercial Corporation, and Susan Bincoletto, Assistant Deputy Minister for Innovation, Investment and Business Development and Chief Trade Commissioner. The attendees' associations represent over 300,000 Canadian exporters.
The Bancomext delegation will conclude this intense visit to Canada with a working meeting with Benoit Daignault, President of Export Development Canada (EDC) and his team, with whom they will review the collaboration instrument signed by two institutions this past February, which focuses on joint efforts to provide financing to Mexican and Canadian companies with business activities in both countries. The goal is to determine how to take the relationship to the next level. EDC is the credit support agency for Canadian exports through which the Government of Canada provides financing and risk management services.
"At Bancomext, we are already promoting the new tools afforded to us by the Structural Reforms, in order to fulfil the commitment made by President Enrique Peña Nieto and Secretary of Finance Luis Videgaray, to show Canada and the world the new opportunities that the changes promoted by the Government are generating to attract investment flows into our country," said Enrique de la Madrid.
In the coming months, Bancomext will continue working to consolidate the benefits of these meetings, by funding projects that create more jobs and more growth in the country's different productive sectors.