Ottawa, Canada, May 30, 2014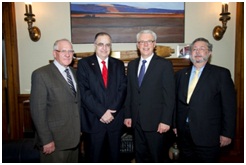 The Ambassador of Mexico to Canada, Francisco Suárez Dávila, led a delegation on a high-level visit to Winnipeg, Manitoba, from May 28-30. He met with the Lieutenant Governor, Philip Lee, as well as the Premier of Manitoba Greg Selinger, with whom an agreement was reached to deepen Mexico's relationship with the Province, an objective reflected in the Mexican government's decision to open a consular agency in the province's capital.

The visit included a working meeting with the Minister of Agriculture, Food and Rural Development, Ron Kostyshyn, to explore opportunities for agricultural cooperation, such as the exchange of best practices among producers and cooperation to develop corn varieties. The Ambassador also met with the Minister of Labour and the Economy, Theresa Oswald, at which time the officials underscored the success of the Mexico-Canada Seasonal Agricultural Workers Program, and discussed perspectives on boosting labour mobility with the province.

A working session was held with the province's most important business leaders, presidents of the Winnipeg and Manitoba Chambers of Commerce, and the province's Business Council, to present to them trade opportunities with Mexico in the agricultural, services, energy, infrastructure and manufacturing sectors. For the same purpose, the Ambassador visited the facilities of the companies Palister Furniture, MacDon Industries and Centerport Canada, the only tri-modal inland port (air, rail and road), and met with their respective presidents.

In the aim of increasing academic cooperation and exchange between Mexico and Manitoba, a meeting was held with the President of the University of Manitoba, David Barnard, in which the Ambassador proposed the establishment of a Mexico Chair, to enable the exchange of specialized speakers on topics of interest; the Ambassador also visited the university's Richardson Centre for Functional Foods and Nutraceuticals.
Ambassador Suárez met with leading professionals from the Mexican community and Manitoba's Mex Y Can cultural association, and presented an award to Jaime Vargas Vargas in recognition of his career as the principal dancer of the prestigious Royal Winnipeg Ballet.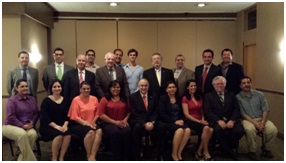 During the visit to Winnipeg, the Ambassador was accompanied by the Consul General of Mexico in Toronto, representatives of Mexico's Ministries of the Economy and of Agriculture, Livestock, Rural Development, Fisheries and Food in Canada; delegates from ProMéxico and the Mexico Tourism Board, as well as the Honorary Consul of Mexico in Winnipeg.

Mexico is Manitoba's third largest source of imports and fourth export destination, in addition to being its second tourist destination. With the opening of the consular agency in Winnipeg, there will be a total of six Mexican consulates in Canada, in addition to the Embassy in Ottawa, which consolidates Canada as the country with the largest number of Mexican Representations after the United States.