MEXICAN PROMOTER IN THE UK RECOGNISED WITH THE TOURISM EXCELLENCE AWARD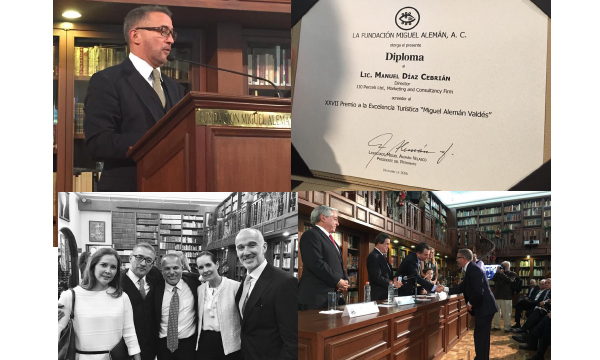 Mexico City, 15th December 2016. - The Miguel Aleman Foundation A.C. yesterday gave the XXVII Tourism Excellence Award to Manuel Diaz Cebrian, Director of 110PerCEB Ltd. Marketing & Consultancy, based in London, in recognition for his efforts as an international promoter of tourism and culture in Mexico.
In the event held at the library of the above-mentioned foundation, its president Miguel Aleman Magnani presented the corresponding diploma and medal, and recognised Manuel's personal contribution to the development of a national industry that only this year received more than 35 million international tourists, which led to revenues of more than USD $45 billion.
He referred that his performance as Regional Director of the Mexican Tourism Board (CPTM, for its acronym in Spanish) in the United Kingdom, coincided with the period in which the flow of tourists quadrupled from 100,000 to almost 400,000 visitors, placing the United Kingdom as the third most important market, in terms of number of visitors, only surpassed by our neighbour countries of North America.
Aleman Magnani said that fortunately this trend is being preserved, since 2016 will close having registered more than 530,000 British visitors to our country.
At the award ceremony, sponsored by the Mexican Secretary of Tourism and the Municipality of Acapulco, Diaz Cebrian was thanked for promoting the high-end tourism sector, through the ILTM Americas exhibition in 2011 and the creation of the famous tourist guide "Mexico Chic" which was translated into 4 languages and gave rise to what is now known as Chic Collection, which model has been replicated in several countries and two editions printed in 2004 and 2008.
Diaz Cebrian congratulated himself for having had the opportunity to the development of the strategy to link tourism to arts and culture, thus offering new possibilities to the most challenging visitors and having been able to work in the exhibitions: The Aztecs, (Royal Academy of Arts 2002); Tina Moddotti, (Barbican 2003); Frida Kalho, (Tate Modern 2005); The Mayas, (Stonehenge 2007); Moctezuma & The Day of the Death, (British Museum 2010), amongst others.
He recalled that in 2015, during the Dual Year celebrated between Mexico and the United Kingdom, which involved more than 170 events in the UK, he served as a consultant to the CPTM, receiving support from the Embassy of Mexico to promote tourism and gastronomy at Selfridges in London, a mechanism that would later be replicated at Eataly in Milan, Italy.
He was also co-producer of the London MeXFest in 2012 and 2013, which included cinema, art, music, architecture and gastronomy, in which he worked with institutions such as Victoria & Albert Museum, British Film Institute, Rich Mix. During these same years he began as curator and creator of Pinta Design, from 2012 to 2014, for Mexico and Latin America, in the framework of the only exhibition of Latin American art in London, PINTA.
---oo000oo---