THE EMBASSY OF MEXICO HONOURS A MEXICAN MODEL CITIZEN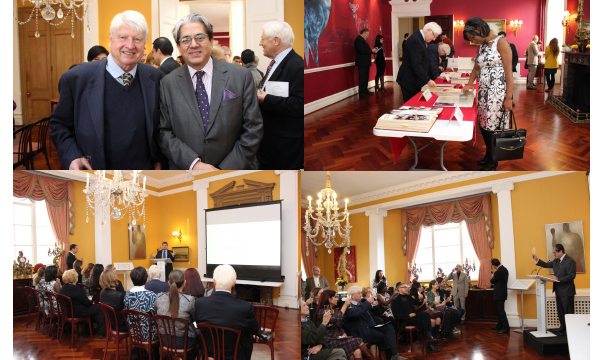 LONDON, United Kingdom, 3rd November 2016.- The Mexican diplomat Barbara Litwin was honoured today for serving with dedication for 42 non-stop years at the Embassy of Mexico in the United Kingdom.
During a reception organised at the Official Residence of the Government of Mexico, officials, diplomats, former colleagues and special guests recalled professional moments and activities after watching pictures of more than 4 decades brought together by Barbara Litwin, in more than 80 personal albums which she donated to the Embassy in order to contribute to the archive of the Secretariat of Foreign Affairs.
The photographic material gathers more than 40 years of the cultural and social life of the Embassy of Mexico which represents a documentary testimony on the daily basis for Mexican diplomats in London.
Due to her diminished health, Barbara (75) participated during her honour ceremony via a live satellite video connection, from her residence in Glebelands, England.
From there she had the opportunity to watch and listen emotional speeches from colleagues and superiors, who -due to the distance- sent recorded messages or greeted her from the Residence of Mexico, recognising and acknowledging her efforts and dedication. Former Ambassadors of Mexico, Andres Rozental and Santiago Oñate sent their video-congratulations to Barbara.
Also a video screening helped the invitees to recall her talent for languages and her ability for foreign affairs, which favoured the work of 14 Ambassadors of Mexico from 1964 to 2006.
Minister David Najera, Acting Ambassador of the Embassy of Mexico, was in charge of the honouring speech in which he recalled that Barbara's contributions to the bilateral relationship between Mexico and the UK were beyond her commitment and professionalism to the Embassy, going back to the time she harvested a solid friendship with Stanley and Charlotte Johnson -a British couple- who met her during their time as students in Oxford.
During a trip to Mexico, by Barbara's suggestion, 53 years ago, her father Boris Litwin, gave the Johnsons two first class tickets to fly to New York, so that Charlotte, who was 8 months pregnant, could avoid a long and uncomfortable bus journey.  In gratitude, the British couple named his first born Boris.
Boris Johnson, would lately be the Mayor of London and currently the Secretary of State for Foreign & Commonwealth Affairs.
The invitees, amongst who was Mr Stanley Johnson, were able to take a look to the photographic albums in which Barbara put together events, invitations and images which reminds us of historic moments such as H.M. The Queen State Visit to Mexico in 1975, and her visit to the pyramids of Teotihuacan, as well as the visits to the United Kingdom by Mexican Presidents Luis Echeverria, Miguel de la Madrid Hurtado and Ernesto Zedillo.
The photographs spans from different events which marked the agenda of the Ambassadors Antonio Armendáriz Cárdenas (1964-65); Eduardo Suárez Aranzolo (1965-70); Vicente Sánchez Gavito (1970-73); Hugo B. Margain Gleason (1973-76); Manuel Tello Macías (1976-79); José Juan de Olloqui y Labastida (1979-83); Francisco Cuevas Cancino (1983-86); Jorge Eduardo Navarrete López (1986-1989); Bernardo Sepúlveda Amor (1989-93); José Juan de Olloqui y Labastida (1993-95); Andrés Rozental Gutman (1995-97); Santiago Oñate Laborde (1997-2001); Alma Rosa Moreno Razo (2001-04); Juan José Bremer de Martino (2004-2006).
Barbara Litwin got her first job at the Embassy of Mexico in 1964, where she stayed the rest of her professional career. As member of the Mexican Foreign Service, her responsibilities went from personal assistant of the Ambassador, to the head of the Protocol Area and the Administrative Unit, just before her retirement in 2006.
At the age of 33 she was diagnosed with Multiple Sclerosis but she did not let that dampen her spirits or her sense of humour. She led a brave fight against this very debilitating disease and always tried to minimize the impact on her life.
For more information about multiple sclerosis, please contact Multiple Sclerosis Society https://www.mssociety.org.uk/what-is-ms.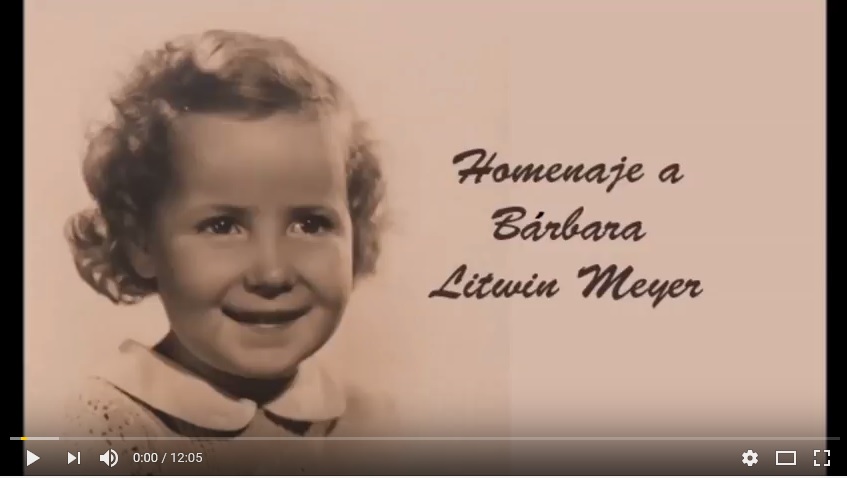 https://www.youtube.com/watch?v=vlB1evxb-bY
--oo000oo--