MEXICAN AUTHORS PARTICIPATE IN HAY FESTIVAL 2016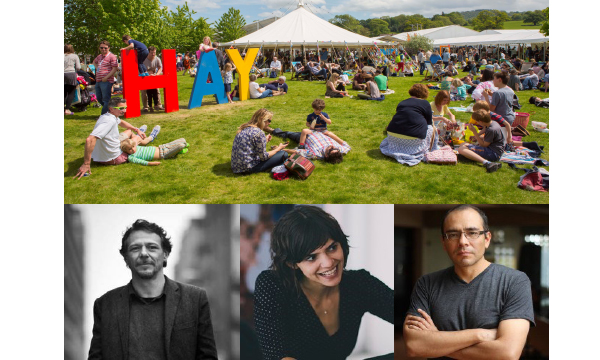 Wales, United Kingdom, 31st May 2016.- In order to share the best of Contemporary Literature of México, three Mexican writers participated as speakers in the 27th celebration of Hay Festival in Wales.
From 26th May – 5th the festival in Hay-on-Wye, Wales, promotes the exchange of information about new books and its authors, located in the middle of the Welsh shire with tents and open air stages, in which more than 700 activities are held with the participation of more than 200 speakers.
In this framework, on 28th - 29th May the Mexican writer Valeria Luiselli was presented as the author of the book "False Papers" (2010) and the novels "Faces in the Crowd" (2011) and "The Story of my Teeth" (2014). Her novels and essays have been translated to different languages and her work has been published in printed media such as Letras Libres, The New York Times and the magazine Dazed and Confused.
The same days, the audience had the opportunity to meet Yuri Herrera, Mexican writer of novels such as "Work of the Kingdom", which gave him in 2003 the Bi National Award of Young Novel "Border of Words" and which enhanced him as one of the most promising Latin-American writers. He is also author of "Signs Preceding the End of the World" (Periférica, 2009), which consolidated him as a relevant young Mexican writer. Herrera has published stories, articles and essays in El Financiero, Etcétera (Mexico), La Voz (Argentina), Border Senses, Rio Grande Review (El Paso, Texas) and Lucero (Berkeley, California), among other media.
The presence of Mexico was completed at Hay Festival on 30th May with the introduction of Alvaro Enrigue, born in Guadalajara, who presented his most recent novel in the UK "Sudden Death", winner of the Herralde Award in Spain, as well as the Ibero-American Novel Award "Elena Poniatowska" in Mexico, this novel has been recommended by The New York Times, Vogue, VICE and Enrique Vila-Matas, among others.
At the event it was confirmed that from 1st – 4th September 2016, the capital of the Mexican state of Queretaro will host for the first time ever Hay Festival, in which international, national and local writers and artists will come together to bring literature and art to people.
The main objective of the festival will be the dissemination of local and international literature through dialogue, lectures, academic and cultural exchange, as well as holding inclusive and accessible events with the collaboration of institutions, organizations and private, local and international companies.
--oo000oo--