MEXICAN ARTISTIC PRESENCE INCREASES IN THE UK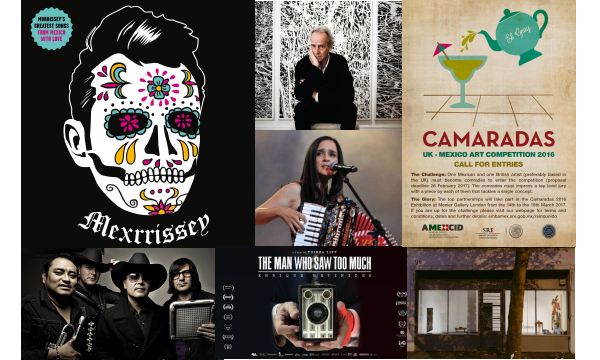 LONDON, United Kingdom, 26th January 2017.- Starting yesterday and until the first half of 2017, the presence of Mexican artists will have a considerable increase in the UK compared with last year.
A significant presence of Mexicans will be visible through several plastic art exhibitions in important galleries in this capital city, as well as multiple music concerts of young artists with international recognition.
Starting today and until the 18th February, the Dutch artist, Jan Hendrix –resident in Mexico for 28 years- will present his first UK solo exhibition entitled "Aeneid Book VI", which features works from The Aeneid Book VI, from the writer Seamus Heaney, the exhibition comprises books, lithographs, installations, paintings and big scale architecture projects and is presented at the Shapero Modern gallery in collaboration with the Embassy of Mexico.
As part of the graphic arts presentations, the Mexican photographer Enrique Metinides, will present, from 10th February – 24th March, the exhibition entitled, "The Man Who Saw Too Much" in the famous Michael Hoppen Gallery. The exposition shows images of wrecks and accidents that occur in Mexico City between 1948 and 1979, captured by Metinides camera.
Likewise, the Embassy of Mexico invites to the fourth annual edition of the competition "Camaradas" (Comrades), in which a Mexican and a British artists join in as a couple and develop an original artistic project, in order to promote cultural ties between both countries. The project has the sponsorship of the Mexican Agency for International Cooperation for Development (AMEXCID) of the Mexican Secretariat of Foreign Affairs, also the winning partners will showcase their work at the Menier Gallery from the 14th - 18th March, allowing great visibility and promotion for the winners amongst the British contemporary art scene.
In the music programme, the Mexican band Mexrrisey, will start a UK tour – 25th – 29th January - presenting the musical project inspired by the English musician Morrisey. This artistic venture is original and interesting because it takes Morrisey's songs translating its lyrics to Spanish and adding Latin sounds to create this music offer. The tour includes the next cities: Glasgow 25th January; Brighton 26th January; Manchester 27th January; London 28th January and Birmingham 29th January.
In addition to the concerts, on 10th February, the Mexican band Nortec Collective formed by Bostich and Fussible, will perform at Rich Mix in London. The project Nortec Collective mixes electronic music with the musical elements and instrumentation of Tambora and Norteño music, creating the nortec ("norteño" + "techno") style.
Amid the most important events, Mexican singer/songwriter Julieta Venegas, will play at the Barbican centre in her first London show in almost nine years, as part of her "Parte Mia Tour" included in the Latin Festival "La Línea 2017".