The mandate given to ProMexico is to plan, coordinate and execute strategies to attract foreign direct investment, promote Mexican exports of goods and services and encourage the internationalization of Mexican companies in order to contribute to the economic and social development of Mexico.
---

The Guide "Invest in Mexico", developed by the Ministry of the Economy offers practical information to facilitate business relations with Mexico.
This guide offers advice on the legislation that regulates foreign investment and the most important negotiations and paperwork needed to start up a new business in Mexico, as well as many other useful items of information.
---

The new Mexican Trade Catalogue to browse exports of goods and services.
---

Consult our Trade Directory of México, where you will find complete information of Mexican companies in several strategic industries that could be partners or suppliers for your company.
---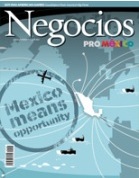 All you need to know about business and lifestyle in Mexico.
---

With this tool you will find the main drivers that make Mexico an excellent location to start-up a business or relocate production capacities to Mexico. Furthermore, information concerning Mexico's infrastructure and production base, in a variety of economic sectors, is also at reach.
---

The Secretary of Economy is the federal government institution that promotes the generation of quality Jobs and economic growth of the country, trough the promotion and implementation of public politics that translate to better competitiveness and productive inversions.
Contactos para asuntos económicos y comerciales
Para tratar asuntos comerciales favor de comunicarse con las siguientes personas:

Héctor Alcántara Palacios,
Jefe de Cancilleria
Email: Esta dirección de correo electrónico está siendo protegida contra los robots de spam. Necesita tener JavaScript habilitado para poder verlo. 

Chadi Beyrouthy
Asuntos Económicos y Comerciales
Email: Esta dirección de correo electrónico está siendo protegida contra los robots de spam. Necesita tener JavaScript habilitado para poder verlo.