OVER THE LAST FEW WEEKS, MEXICANS LIVING ABROAD HAVE ORGANIZED COUNTLESS EVENTS AROUND THE WORLD TO RAISE FUNDS AND DONATIONS FOR THOSE AFFECTED BY THE EARTHQUAKES THAT OCCURRED ON SEPTEMBER 7TH AND 19TH
The United States alone opened 160 collection centers.
We would like to share some examples of the work volunteers have enthusiastically and altruistically done to support Mexico at the moment. We sincerely thank all the people and organizations who joined these efforts as well as airlines and carriers for their support.
* For information on how to donate from abroad, click here. *
East Coast
In this region, local churches, businesses, restaurants and civil society work actively to help the victims.

Canned goods, bottled water and other basic products are donated in many collection centers that have recently opened.

Financial resources have been given and support has been provided by psychologists, engineers and architects as well as helicopters, airplanes, medical supplies and rescue equipment. In addition, concerts, events and parades are being planned.
Midwest
The Villita community and many business leaders in Chicago joined forces to carry out fundraising events. On October 1 a roundup took place in Chicago to raise funds for the most affected communities outside of Mexico City.

Many initiatives stand behind these fundraisers such as the support of the entire Latino community to support both the victims of the earthquakes in Mexico and those affected by Hurricane Maria in Puerto Rico.

The Mexican community in the Midwest made most of their donations in cash deposits, however in Illinois and South Dakota, collection centers were set up to collect in-kind donations. The collection center in South Dakota delivered its donations on Saturday, September 30 to a shelter in Morelos.

A collection center established in Illinois, led by Father José Landaverde, collected a significant amount of in-kind donations and more than 1,000 volunteers were supporting the organization. The donations will be given to communities most affected by the earthquake.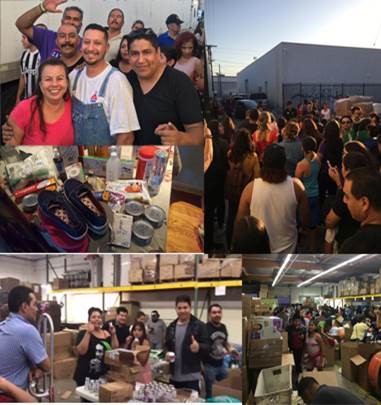 Northwest
The Catholic Church of San Cayetano collected food, water, tents and toiletries and made a submission on October 1. The destination was the Parish of the Sagrada Familia in Mexico City.

The television network, Univisión Colorado held an event an event to collect food, work tools, among other things. The donation was sent on September 26 to the municipality of Juarez, Chihuahua, for distribution to the Red Cross and DIF.

The Casa Guerrero and Fundación Mariana's collected pantries, clothes, personal hygiene items and gloves, and they were Mexico on September 28th.

The Omaha community organized two collection centers, one of which sent groceries on September 21 to Morelos, Oaxaca and Puebla, and the State of Mexico.

In Salt Lake City, two collection centers collected food. The Estafeta collection center sent 1.5 tons of food to its distribution center in Mexico City. The "Women in another language" foundation will send food and clothing to Mexico City, Morelos and Puebla.
Northeast
Eloisa Guzman, winner of the Reconocimiento Ohtli and the Mexican community in Maryland donated to the Red Cross in support of those affected by the earthquake.

The Mexican Students Association of the University of Pennsylvania (Mex@Penn), alongside the Global Network MX-Filadelfia Chapter, have raised funds which will be donated to the Red Cross.

#MexicanosEnDC developed a platform to raise funds and channel them to brigades in Mexico.

MassMex is an initiative of young Mexicans in Massachusetts that organized a collection of funds that will be donated to the Brigade of Resxate Topos Tlatelolco A.C.

Since the September 7 earthquake, the company "Redoblando Esfuerzos por México" became a collection center in the city of Passaic, New Jersey.

Mi Casa en Puebla in Passaic, New Jersey made three shipments of food they collected.
Arizona
The Government of Sonora organized collection centers in Phoenix, Mesa and Tucson. Pescadería Puerto de Guaymas was a location in both Phoenix and Mesa.

Many businesses in Tucson were collection centers such as El Herradero Carnicería, Alejandro's Tortillería, Los Portales Restaurant and Nuestra Señora de Fátima Parish.

Getsemani Baptist Church in Yuma were able to collect food and personal hygiene items.

Cochise College students organized a collection of items.

The employees of Nogales' town hall joined in the efforts and made a collection of provisions. 
Texas and New Mexico
In Albuquerque non-perishable food and personal hygiene items were collected to donate to the most damaged areas.

In Brownsville, two collection centers were opened, which shipped goods to Matamoros, Tamaulipas, with free transportation by bus and freight carriers throughout the country.

In Dallas, the Tornado truck company helped with free shipping to Mexico of food collected in the collection centers installed in the city.

In the community of Del Rio there were two collection centers that transported the collected items through the Red Cross of Ciudad Acuña.

In El Paso, 15 collection centers were registered at various points, most of which already made donations to Mexico.

In Laredo there are six collection centers, coordinated by the mayor and city firemen, who will make a joint shipment to Mexico after October 6.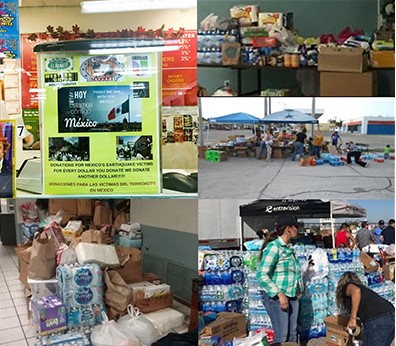 Southeast
The Jacksonville collection center secured various food and commodities with the support of NORSAN Media and César Marfil.

Events are planned to be held in Orlando and Little Rock to collect money and assets for earthquake victims in Mexico and the hurricane in Puerto Rico.

Churches and religious communities are raising money collecting donations in Atlanta and Orlando.

NORSAN Media Group collected food and clothing that will be sent to Mexico once they close the center and conclude with the preparation of the shipment.
Canada
Sixteen collection centers were set up throughout Canada.

The Mexican Community in Vancouver, with the support of other Latino communities, organized a collection of funds on October 1, collected 25,000 Canadian dollars to be delivered to Cáritas Mexico.

Members of the Mexican Students Association of McGill University conducted activities to raise funds for the Mexican Red Cross in support of those affected by earthquakes.

Canada with Mexico organized a fundraiser on October 1 in Toronto. They raised twenty thousand Canadian dollars that will be sent to the Red Cross of Tehuantepec, through the account of EXATEC Ontario PayPal.
Around the world
Mexican communities around the world and the chapters of the Global MX Network enthusiastically carried out all sorts of activities such as collecting, selling food, raffles, auctions, and concerts to support earthquake victims in Mexico. In addition, they are working on initiatives in favor of reconstruction, such as the #DeCorazónaCorazón project.