Press Release No. 004
Mexico City, January 9, 2014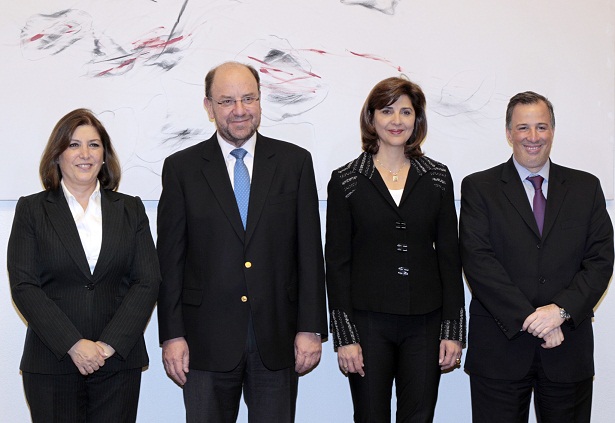 The foreign ministers of Chile, Colombia and Peru are in Mexico for a meeting of Foreign Ministers of the Pacific Alliance, and to participate in a panel on this forum in the context of the 25th Meeting of Mexican Ambassadors and Consuls.
The Ministers of Foreign Affairs of Chile, Alfredo Moreno Charme; Colombia, María Angela Holguin Cuellar; and Peru, Eda Rivas Franchini; and the Secretary of Foreign Affairs of Mexico, Jose Antonio Meade, met today to review, among other issues, preparations for the summit on the mechanism, to be held in Cartagena de Indias, Colombia, this coming February.

At the summit, the leaders of the four countries will sign the Additional Protocol to the Framework Agreement, which establishes the tariff reduction on 100% of the products: 92% to be implemented immediately, another 7% in the short and medium term, and 1% of the tariff reduction will come into effect in the long term in established periods.
The foreign ministers also reviewed actions regarding the free movement of persons and cooperation in the context of the Pacific Alliance, and the challenges faced by this mechanism in the future, such as the link with Asia and third parties, and new issues such as development of infrastructure and stimulus for small and medium enterprises.
This Friday, as part of the 25th Meeting of Ambassadors and Consuls of Mexico, the foreign ministers of Chile, Colombia and Peru, as well as Mexico's Secretary of the Economy, Ildefonso Guajardo, will participate in a panel moderated by economist Luis Street, where they will discuss the challenges and progress of the Alliance.
The Pacific Alliance was created in 2011 with the aim of enhancing convergence and economic integration among its members. It is a deep integration scheme that is open and inclusive, and that together represents 50% of Latin America's trade with the world and 35% of the region's GDP.