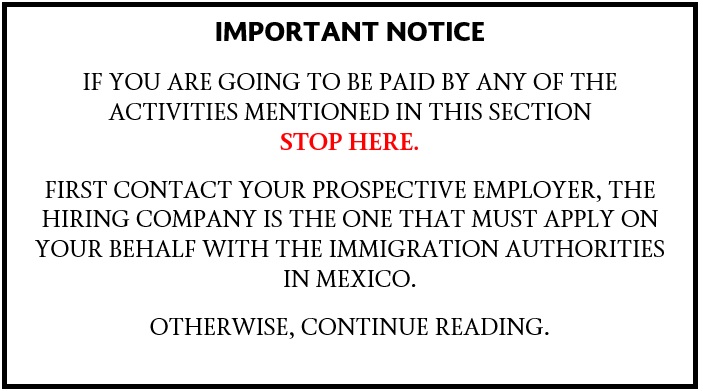 Requirements
1) Visa application
2) Copy of passport, including valid visas stamped on it
3) Copy of Residence permit from Switzerland or The Principality of Liechtenstein (only for foreigners)
4) One color passport size picture (taken no more than 30 days prior to the application), head and forehead uncovered, without glasses, no accessories, white background.
5) Original letter of invitation from the organization/institution that invites the applicant to participate in a NON-PAID activity in Mexico. The letter MUST COME FROM MEXICO and must contain ALL of the following information:
•  Applicant's full name and nationality
•  Number of registry (RFC) and object/purpose of the organization/institution
•  Address and contact information form the organization/institution
•  Detailed information about the activity that the applicant will perform while in Mexico
•  Estimated length of the activity, or date of completion
•  The organization/institution must state that they will be economically responsible for the living expenses and other expenses of the applicant while in Mexico.
6) Original monthly bank statements (with debits and credits) OF THE MEXICAN organization/institution, from the last 12 months
7) Copy of an official ID (passport or IFE) from the person who subscribes the letter of invitation. The ID must contain a signature.
8) Supporting documents of the applicant's capacity to perform the activity for what he/she has been invited to Mexico (for example, professional degrees)
9) Pay the visa fee on the day of the consular interview
IMPORTANT
IF THE INVITING MEXICAN ORGANIZATION/INSTITUTION IS NOT WILLING TO PROVIDE ECONOMIC SUPPORT FOR THE APPLICANT, AND/OR IS NOT WILLING TO PROVIDE THE BANK STATEMENTS MENTIONED IN THE REQUIREMENTS (6), THE APPLICANT MUST INCLUDE THE FOLLOWING DOCUMENTS:
i.    Letter from the employer/company stating monthly income and for how long the applicant has worked in that company (must be signed and stamped). If the applicant is an independent worker, he/she must show the registry of his/her company in the chamber of commerce of the respective canton.
ii.    Monthly salary slips from the past 6 months (must be signed and stamped).
iii.    Detailed monthly bank statements (with debits and credits) from the past 12 months.
Send ALL the above mentioned documents to the following address, via certified mail:
Embajada de México 
(Sección Consular) 
Weltpoststrasse 20, 5o piso 
CH-3015, Berna
After careful scrutiny of the documents, the Embassy will contact the applicant by email in order to make an appointment for an interview or to request further information. Therefore, it is very important to include your email in the application so the Embassy can contact you as soon as possible.
Having an appointment does NOT guarantee that the visa will be issued.