Latin America's most dynamic trade bloc will hold first E-business Roundtable in the UK
Press Release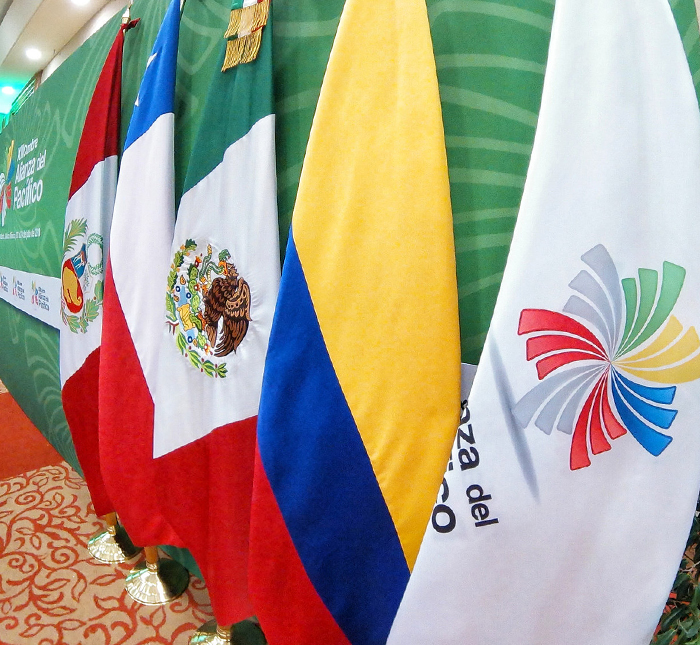 The governments of Chile, Colombia, Mexico, and Peru, members of the Pacific Alliance, will hold an E-business roundtable in the UK market, at the end of June, to allow 60 leading exporters from these four countries to meet British buyers. 
The Pacific Alliance, a trade bloc formed by these four countries, was launched in 2011 as an in-depth integration process of like-minded countries that believe in the benefits of free trade, based on greater competitiveness, greater growth and greater development. 
Given the global context, the Pacific Alliance has reinvented itself with an ambitious action plan to promote trade between its exporters and importers from different markets worldwide, moving forward with E-business Roundtables in different markets, starting with the UK. 
London, June 5th, 2020. – The trade promotion offices of Chile, Colombia, Mexico, and Peru, members of the Pacific Alliance, announced today their plans to organise a virtual matchmaking roundtable to allow leading exporters from these economies to meet and do business with buyers in the United Kingdom.
 This endeavour comes as a response to the disruption of international trade and the challenges on food supply caused by the COVID-19 pandemic, which are affecting companies (especially SMEs) and consumers worldwide. As a result, Prochile, ProColombia, Promperú and the Ministry of Economy of Mexico, have decided to transform the 8th Business Matchmaking Forum of the Pacific Alliance –which would have been held in Santiago in June this year– into three market-focused roadshows under the name: "e-Business Roundtables". These activities will reach several priority markets in Europe, Asia, and Latin America, starting with the UK in June 2020.  
Considering the huge potential of a market with over 66 million consumers undergoing significant adjustments in consumption trends and supply chains, the Pacific Alliance is partnering with strategic British stakeholders including the Confederation of British Industry, the British Retail Consortium, the Department of International Trade, Canning House and leading segment associations among others to kick off this initiative in the UK during the week of the 29th of June. This matchmaking round will allow 60 experienced exporters from the four countries in the food and drinks sector to meet with close to 30 of Britain's leading buyers in this segment, to present their offer of top quality products such as fresh and processed fruits, dry fruits, seafood, cocoa and cocoa by-products, coffee and its by-products, beverages and honey, among others. 
"We are convinced that the only way to overcome this crisis and mitigate the damage inflicted by the crisis is through our ability to innovate and be creative. As ProChile, we are leading within the bloc to adapt to the changes that the current context demands of us" said the Managing Director of ProChile, Jorge O'Ryan Schütz. 
"These activities will allow us to strengthen our economies as a bloc, particularly on the intra-regional trade and in reaching key markets, such as the UK and Asia. We will present ourselves as a single commercial force and a key ally for businesses, taking advantage of our exporting and productive potential" said Flavia Santoro, President of Procolombia. 
Sergio Silva, Head of the Global Economic Intelligence Unit at the Ministry of Economy said: "We are looking for these three e-Business Roundtables among the Pacific Alliance countries with the United Kingdom, Central America and Asia become an opportunity for Mexican companies to establish different trade relations, now that we face a new international reality". 
"This is an important initiative from the bloc to adapt to these new conditions and utilise all the tools at our disposal, to maintain our efforts to strengthen commercial ties between the bloc and our partners. Technology allows us to shorten distances and ensure we continue providing a service to our companies, whilst prioritizing the health of our clients" added Luis Torres Paz, Executive President of PromPerú. 
After the UK, the members of the Pacific Alliance will organise similar spaces in Central America, in August, and in Asia, at the end of September.
Registration and contact 
UK businesses interested in attending the Pacific Alliance's e-Business Roundtable, and meeting with exporters from Chile, Colombia, Mexico, and Peru, can register from today through to the 12th of June in the following link: https://www.prochile.gob.cl/difusion/varios/eRuedas-de-negocios-Alianza-Pacifico/. 
Equally, any doubts or requests for further details can be sent to: This email address is being protected from spambots. You need JavaScript enabled to view it..
-ooOOoo-