SECOND SESSION OF THE MEX-UK SENIOR BUSINESS GROUP (GANE)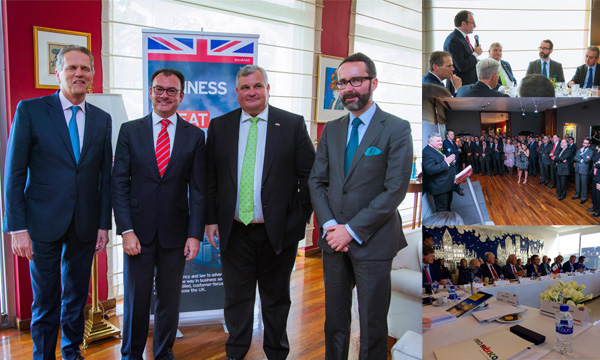 MEXICO CITY, Mexico, 8th April 2016.- In order to boost investment and business opportunities and also widen the bilateral trade exchange, the MEX-UK Senior Business Leaders Group (GANE, for its acronym in Spanish), held its second work-session with the participation of representatives from public and private sectors, as well as diplomats from both governments.
During the GANE meetings, celebrated on 6th - 7th April in this city –in one of which the Mexican Secretary of Finance, Luis Videgaray, participated- were reviewed the strengths that Mexico has to attract and generate productive investment, as well as mechanisms to boost bilateral trade, which last year duplicated from USD $ 3.5 billion to $ 7 billion (£ 4.2 billion).
In this framework it was recalled that Mexico has projected itself as an ideal investment destiny for its economic and trade dynamism, where only last year received foreign capital worth USD $ 30 billion. Currently the UK ranks as the fifth trade partner for Mexico in Europe and the 14th in the world. 
In the session headed by the Mexican Secretary of Economy, Ildefonso Guajardo and the British Trade and Investment Minister, Lord Price, and coordinated by ProMexico, were discussed opportunity areas to keep moving towards the exchange of goods and services, as well as in investment and the hydrocarbons sector.
During its participation, Ambassador of Mexico to the United Kingdom, Diego Gomez-Pickering, recalled that since the UK has distinguished as the first European nation to establish trade relations with independent Mexico, both countries have been taking advantage of their economic complementarities to promote their development and increase social security and well-fare of their peoples.
In front of his British counterpart, Duncan Taylor and representatives of the British Chamber of Commerce, the diplomat pointed out that as a proof of it, since the entry into force of the Free Trade Agreement between the EU and Mexico in 2000, trade between the UK and our country has increased 153 percent. "Another example of the growing interest in the opportunities Mexico offers is the activity of more than 1,500 British companies participating in Mexico's financial, mining and manufacturing sectors."
The MEX-UK Senior Business Leaders Group (GANE) was formed during the State visit of President Enrique Peña Nieto to the UK attending the invitation of HM The Queen, which since then brings together senior executives from leading British and Mexican companies to identify opportunities and ways to overcome barriers to trade.
The participants on the Senior Business Leaders Group –among them HSBC, BP, Diageo, Shell, GKN Plc, EY, Petrofac, ArcelorMittal Mexico, Korn Ferry, AMAFORE, Grupo Bal and Grupo Azucarero Mexicano- agreed that the coming session will be held in London in spring 2017 and will look forward to promote creative industries.
---oo000oo---