MEXICO IN THE TOP TEN OF THE WORLD'S DIGITAL DIPLOMACY RANKING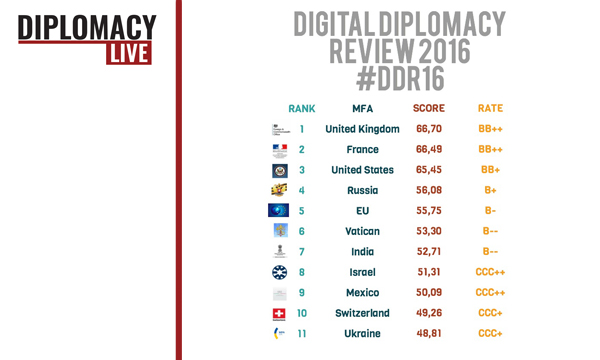 LONDON, United Kingdom, 7th April 2016. - Mexico is positioned in the top ten countries out of a total of 210, in terms of digital assets applied to diplomacy.
According to the online publication, Digital Diplomacy Live, Mexico is ranked in the ninth place worldwide based in five major digital diplomacy essential characteristics: Presence, Customization, Up-to-dateness, Engagement and Strategy. Each level is characterised by designated variables and indicators among 166 criteria selected to measure performance of digital diplomacy assets.
The review listed that 166 Ministries or Secretariats around the world have at least one Twitter account; 120 Ministries have at least one Facebook account, each one, and 77 Ministers of Foreign Affairs have an active Twitter account.
For instance, the Mexican Ministry of Foreign Affairs (SRE) has 393k followers on Twitter and more than 481k 'likes' on the official Facebook page. Likewise, the Mexican Secretary of Foreign Affairs, Claudia Ruiz Massieu has 226k followers on her official Twitter.
In the top ten of the Digital Diplomacy Review 2016, by country, the UK and France ranked as the first and second place respectively, positioning the U.S. in the third place; Russia, fourth; EU, fifth; The Vatican, sixth; India, seventh; Israel, eighth; Mexico, ninth; and Switzerland in the tenth place.
--oo000oo--