MEXICO TOURISM BOARD OFFICIAL TOURISM PARTNER OF CHAMPIONS TENNIS 2016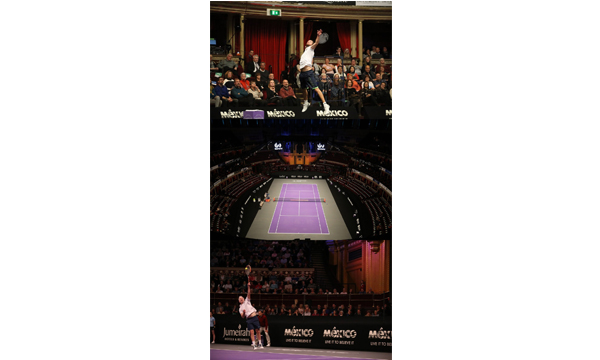 LONDON, United Kingdom, 2nd December 2016.- The Mexico Tourism Board announced today its support of the 2016 ATP Champions Tour Tennis tournament – Champions Tennis at the Royal Albert Hall in London, as the Official Tourism Partner for the showcase event.
The star-studded event, held Wednesday 30th November to Sunday 4th December, brings together former world number ones and national heroes for a dazzling display of high quality tennis and entertainment. Stars appearing at the tournament include: former British number ones Tim Henman and Greg Rusedski; former world number one and two-time US Open Champion Pat Rafter; former world number one and seven-time Grand Slam Champion John McEnroe to name a few. A full line up and schedule can be viewed on the website: http://www.royalalberthall.com/tickets/events/2016/champions-tennis/
Mexico has long been a favourite destination for golf, however the country continues to establish itself as a destination for the world's best sport, including ATP World Tour Tennis as well as F1, NFL, PGA Golf, and the World Triathlon Series.
In fact, Mexico hosts three international tennis tournaments throughout the year.  The flagship ATP Abierto Mexicano de Tenis in Acapulco will take place 27 February – 4 March and is expected to host the likes of Rafael Nadal, Milos Raonic, Marin Cilic and Juan Martín del Potro. Other key tournaments include The Monterrey Open and The Los Cabos Open, established in 2015 to replace the ATP 250 in Bogotá, Colombia.
Tennis fans visiting Mexico are recommended to head to some of Mexico's best known beach resorts, including Cancún, Los Cabos and Puerto Vallarta where hotels offer best in class tennis facilities.  
The UK is the third largest market for Mexico's tourism industry, with over 475,000 visitors in 2015, marking a 10.4 percent increase on 2014.  There are between 120 and 199 direct flights per month from airports across the UK to Mexico City, Cancun and Puerto Vallarta, by airlines including British Airways, Aeromexico, Thomas Cook, Virgin Atlantic and Thomson.
But it's not only tourism from the UK that is growing. Mexico's overall tourism industry is growing faster than the global average. While the global industry grew at 4 percent as of June 2016, according to the World Tourism Organization, Mexico grew at a massive 8.4 percent.
The last two years have seen tremendous success for Mexico in the UK fueled by initiatives including the Dual Year and release of the latest James Bond blockbuster, Spectre. This latest initiative continues to build on these activities as the country looks to welcome 830,000 UK visitors by 2021.
---oo00oo---