MEXICO AND THE UK STRENGTHEN THE ACADEMIC COOPERATION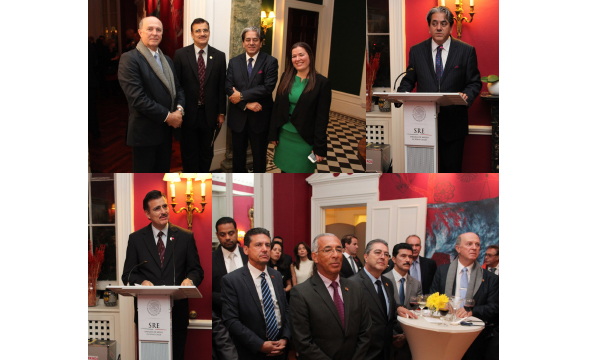 LONDON, United Kingdom, 1st November 2016.- In order to strengthen cooperation projects with different education institutions in the United Kingdom, a delegation of representatives from the University of Guadalajara (UDG, for its acronym in Spanish), is currently on a working visit from 31st October until 4th November which includes the cities London, Cambridge, Oxford.
Chaired by Izcoatl Tonatiuh Bravo Padilla, President of UDG and the Executive Vice President, Dr. Miguel Angel Navarro, the group of more than 35 representatives from metropolitan and regional university centres will participate the seminar entitled: "Experiences and Best Practices for higher Education in the UK".
As a member of the Visiting Chair initiative –which consists in an agreement between 12 universities from Mexico and 12 from the UK- the University of Guadalajara promotes the participation in academic, scientific and cultural activities in areas of common interest as well as the cooperation amongst their scholars and researchers with their British counterparts.
As part of their working visit, the UDG representatives will visit the London School of Economics and Political Science (LSE), UCL, King´s College London, Imperial College and the University of Arts London it will also include the universities of Cambridge, Oxford, Nottingham, Birmingham and Warwick.
During a welcome reception of the UDG delegation, attended by researchers, officials and scholars from Mexico and the United Kingdom, Minister David Najera, Acting Ambassador of the Embassy of Mexico in the UK, referred that this institution is considered as the second biggest and most important public university in Mexico, with a great tradition of the highest quality education and fully committed with research and innovation.
He highlighted that Mexico's investment through the National Council of Science and Technology (CONACyT) for Mexican scholarship holders "is the best asset we have in the United Kingdom since it shapes the future of the bilateral relation"  
The diplomat recalled that as part of the academic programme of the Dual Year between Mexico and the UK celebrated in 2015, the Mexican Agency of International Cooperation and Development (AMEXCID) of the Mexican Secretariat of Foreign Affairs and 12 Institutions of Higher Education from Mexico and the UK signed the Memorandum of Understanding, for the implementation of the "Visiting Chair Mexico-UK".
---oo00oo---