TOURISM AND SCUBA DIVING IN MEXICO PROMOTED IN THE UK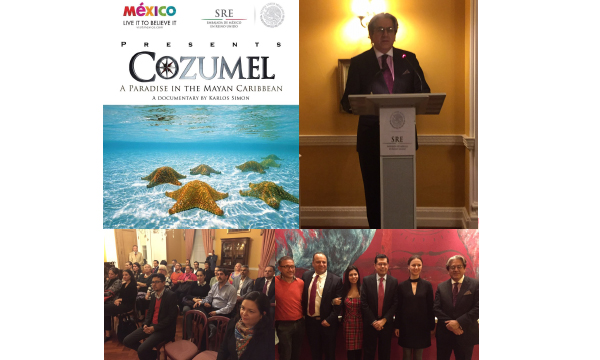 LONDON, United Kingdom, 28th October 2016. - As an effective way to promote eco-adventure tourism through scuba diving, the documentary "Cozumel: A Paradise in the Mayan Caribbean" was screened last night at the Official Residence of the Government of Mexico.
Directed by Karlos Simon, the documentary –recognised this year in the Cannes Festival and in the International Tourism Film Festival- was presented by Minister David Najera, Acting Ambassador of Mexico in the UK to an audience integrated by tour-operators, diplomats, specialised journalists in tourism and gastronomy, members of cinematography and festivals representatives.
The Mexican diplomat recalled that the international premiere of the documentary "Cozumel: A Paradise in the Mayan Caribbean" was on the 6th November 2015 at the British Film Institute in London and since then it has been awarded with different prizes.
Due to the subaquatic and aerial imagery, the production has taken the first place in different international film festivals such as Blue Ocean Film Festival, United Latino International Film Festival and Eco Film Festival, contributing to the promotion of Cozumel to European tourism considered by the famous explorer Jacques Cousteau and by the Mexican aquatic-cinematographer Ramon Bravo, as the best place to explore and study tropical maritime species.
Gilda Sigie, Director of the Scuba Fest, which will be celebrated from 4th – 8th May 2017 in Cozumel, Quintana Roo, referred the importance of the tourism sector for Mexico. Our country, has been for the last eight years the first destination for the British tourists in Latin America, having received more than 470,000 Britons in 2015, of which 70% arrived by the International Airport of Cancun, Quintana Roo.
Likewise, and with the intention of promoting leisure and business tourism, Aeroméxico initiated the last summer its sixth weekly flight frequency from Heathrow to Mexico City, confirming the night schedule, which allows its passengers to connect with other destinations in Mexico such as Cancun or Cozumel.
---oo000oo---