MEXICO'S DAY OF THE DEAD CELEBRATION IN LONDON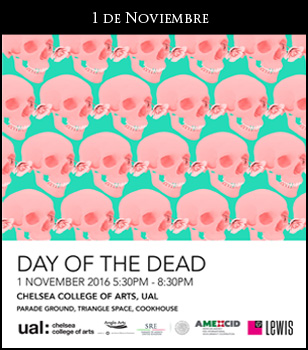 LONDON, United Kingdom, 26th October 2016.- The Embassy of Mexico cordially invites you to the celebration of the Day of the Dead at Chelsea College of Arts of the University of the Arts London (UAL) on Tuesday 1st November 2016,, where will take place from 4:00 – 8:30 PM the exhibition of a traditional Altar from Mexico, performances, conferences, a procession, workshops and face-painting (catrinas) for kids and adults.
For the first time, Europe's largest art and design university (UAL) will host the most important event about the Mexican tradition of remembering our loved ones.
In collaboration with Camberwell, Chelsea and Wimbledon Colleges of Arts and the participation of Anglo Mexican Foundation, the public will have the opportunity to admire a traditional Altar –elaborated by the Embassy's personnel-- which will be exhibited alongside the work created by students from the UAL and the National Art & Design Saturday Club in collaboration with artist Demian Flores in the "Triangle Space".
Three Mexican Artists, Mauricio Cervantes, Demian Flores and Pedro Mendoza Ortega, have been commissioned to produce the project entitled "Ancestral Voices".
An exhibition of work by Chelsea's Design Research Studio 3, BA (Hons) Interior and Spatial Design working with Colin Priest (Course Leader), Takako Hasegawa (Associate Leader) and artist Mauricio Cervantes in the Cookhouse.
The Parade Ground will host a performance created by Chelsea's 1st year BA (Hons) Interior and Spatial Design students and Chelsea's staff in collaboration with local charity Millbank Creative Works, designed and curated by artist Francis Thorburn, who will create a procession inspired by the Day of the Dead.
One of the main attractions of the event will be created by Mexican artist Tupac Martir, who will project a series of images/video-mapping inspired by the Day of the Dead on the Chelsea's building façade.
Food and drinks will be available for purchase in the Chelsea Parade Ground. Free face-painting (catrinas), courtesy of London College of Fashion students, will be available in the cafeteria.
Where? Chelsea College of Arts (16 John Islip Street,
London,
SW1P 4JU)
When? 1st of November, 2016
Web page: http://events.arts.ac.uk/event/2016/11/1/Day-of-the-Dead/
Free entrance
The altars and exhibitions at The Triangle Space, The Henry Moore Courtyard and The Cookhouse will remain open to the public until Friday the 4th of November.
Programme 16:00 – 20:30
Face Painting (for kids)
16:00 – 16:30
Where: Canteen Chelsea College of arts
Workshop Javier Calderón
16:00 – 18:00
Where: Canteen Chelsea College of arts
Food & drinks
17:30 -20:30
Where: Chelsea Parade Ground

Face Painting (for everyone)
18:00 – 20:00
Where: Canteen Chelsea College of arts
Performance (90 students) + Tupac Martir
19:00 -20:00
Where: Chelsea Parade Ground