EVOLUTION PERSPECTIVES OF THE MEXICAN ECONOMY PRESENTED IN LONDON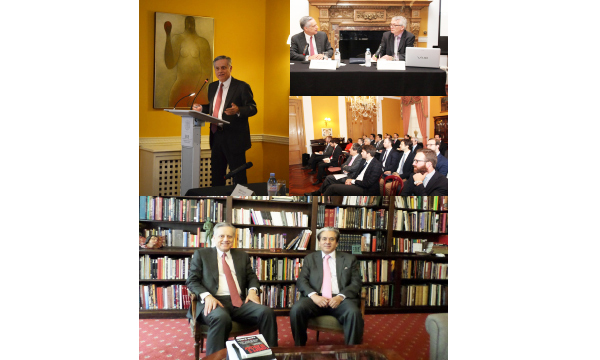 LONDON, United Kingdom, 24th October 2016.- Manuel Gonzalez Sanchez, Deputy-Governor and member of the Governing Board of the Bank of Mexico (BANXICO, for its acronym in Spanish), presented on the 21st October a conference about the evolution and perspectives of the Mexican economy to a group of representatives of financial institutions, companies and potential investors.
Accompanied by Minister David Najera, Acting Ambassador at the Embassy of Mexico in the United Kingdom and by David Marsh, Director of Official Monetary and Financial Institutions Forum (OMFIF), the Deputy Governor shared a detailed briefing on the growth prospects of Mexico's economy in the frame of an international scenario of great volatility and uncertainty, which already had a negative impact not only on the Mexican peso but also on the global currency market.
Nevertheless the Mexican representative recalled that in parallel the monetary policy has favoured a particular low inflation index (less than 3% annually) which matches a panorama of moderate economic growth of at least 2.2% for 2017.
The Deputy Governor explained that although the industrial contraction and the decrease of the global level of production, the national economy registers an advance in consumption in the private sector, maintaining the investors' confidence which is reflected in the continuous influx of foreign direct investment.
In the official residence of the Government of Mexico, with the participation of representatives of investment funds, British companies and Mexican financial institutions such as ProMexico and Nafinsa, the Deputy of BANXICO referred that Mexican manufactured exports registered a positive growth despite the significate devaluation of the national currency, specially due to external factors such as the demand decrease in developed countries. Nevertheless he has confidence that once the political scenario derived from the U.S. Presidential election is defined on 8th November, the Mexican Peso will find more stability.
Gonzalez Sanchez recalled that even with an adverse economics global scenario, and more important amongst emerging economies, Mexico is still seen as a very competitive option, with international reserves up to USD $175 billion, and also has an IMF flexible credit line.
The event was organised by the Embassy of Mexico and the OMFIF, as an organisation of independent research focused global investment policy.
 --oo000oo--