THE EMBASSY OF MEXICO RECOGNISES LIFE AND WORK OF WRITER IGNACIO PADILLA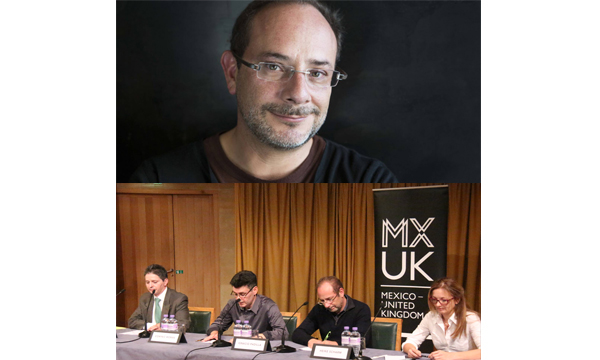 MEXICO CITY, 20th August 2016. - The story writer, novelist, essayist, professor and academic of the Spanish language, Ignacio Padilla, who distinguished amid the cultural attachés at the Embassy of Mexico in the United Kingdom (2001-2003), died aged 47 in a car accident in the city of Queretaro in Mexico.
With a PhD in Spanish Literature for the University of Salamanca and a Master´s degree in English Literature for the University of Edinburgh, Padilla participated on 9th October 2015 in a seminar to commemorate the literacy work of the Mexican writer, diplomat and intellectual Carlos Fuentes, organised by the Embassy of Mexico at Emmanuel College in Cambridge, in the framework of the Dual Year celebrated between Mexico and the United Kingdom, and of which a memoir will be published, co-edited by Mexico's Economic Culture Fund and the Secretariat of Culture. 
Graduated in the Bachelor of Communications for the Ibero-American University (Mexico) and a researcher of Miguel de Cervantes' work, it was acknowledged that Padilla was part of a generation which strove for the renovation of the Mexican literature outlook, projecting himself as a leader of the contemporary Mexican writing.
His most recent published work is "Cervantes and Company" (2016) and the novel "The Damage is not from Yesterday" (2011). In both Padilla comprised his interest to bring closer the reader with the profound reflection through language and literature.
The Embassy of Mexico recalled the success of Ignacio Padilla who achieved in life
–among other awards- the National Youth Award "Alfonso Reyes" (1989) for the book "Undergrounds"; Juan de la Cabada Award (1994) for "The bottled sea storms", and that same year Juan Rulfo First Novel National Award for "The Cathedral of the Drowned" and the Malcolm Lowry Literature Essay National Award for "The Golden Elusive: Mexican mirage of Paul Bowles".
---oo000oo---