MEXICAN ARTIST EXHIBITION IN THE LIVERPOOL BIENNIAL 2016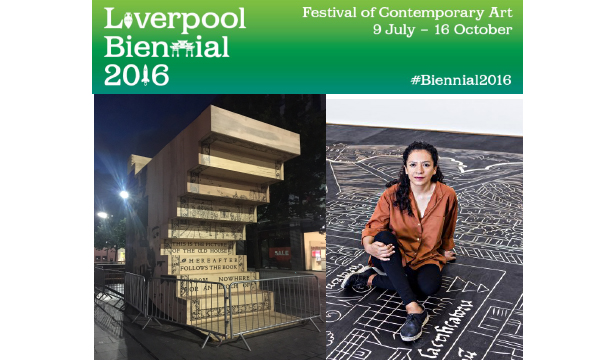 LIVERPOOL, England, 22nd July 2016.- The Mexican artist Mariana Castillo Deball is currently participating in the Liverpool Biennial 2016.
The piece entitled To-day July 9th, which comprises a newspaper publication ¾date that gives name to the piece and which coincides with the opening of the Liverpool Biennial 2016 to the public- is fed with a compilation of fictional texts and archives edited by the artist, which viewers can take freely, participating in a game of past-present-future time.
Likewise, the Mexican artist presents in the Liverpool Biennial 2016 an 'infinite modular structure' shaped as a movable staircase, where visitors can sit and read or play. aligned to her work which is characterised for creating installations, sculptures, photographs and drawings, with which she explores the role of objects in our understanding of identity and history.
Her artistic proposal focuses on the reflection of the ideologically constructed conditions in which things-objects appear in our current culture. Castillo Deball's interest on different scientific, anthropological and archaeological disciplines is reflected in her work by gathering and re-signifying elements that oppose or combine the different languages of these fields.
Among her recent solo exhibitions are included: Parergon, Hamburger Bahhof, Berlin, Germany (2014); What we caught we threw away, what we didn't catch we kept, CCA Glasgow, Scotland (2013); Unconfortable Objetcs, Zurich Art Prize, Museum Haus Knstruktiv, Zurich, Switzerland (2012). She has also participated in different biennials as: the 8th Berlin Biennial for Contemporary Art, Berlin, Germany (2014); the 54th Biennale di Venezia, Venice, Italy (2011); and the 2th Athens Biennale in Athens, Greece (2009).
Mariana Castillo's piece will be presented:
·         When: Saturday, 09 July to Sunday, 16 October, 2016
·         Where: Liverpool Biennial Liverpool ONE (Paradise Street, Liverpool, L1 8JF)
·         Website: http://www.biennial.com/2016/exhibition/artists/mariana-castillo-deball
---oo000oo---