MEXICAN PARTICIPATION AT LATIN ARTS & SPORTS FESTIVAL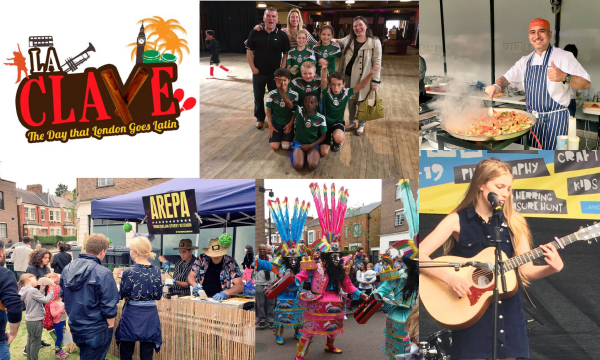 LONDON, United Kingdom, 20th June 2016.- Along the weekend the Latin Festival "La Clave" was celebrated in order to promote Latin music, dance, films, arts, theatre and sports, in which participants representing Mexico performed brilliantly particularly in literature, music and football.
La Clave Fest was celebrated in the framework of the 5th edition of the Crouch End Festival, which is considered among the best ones for entertainment of the British audience.
On Saturday the novel entitled "Days of Rage" was presented by the Mexican author Alejandro Madrigal, which tells the story of a village in Mexico where the community uses fantasy, indifference and tolerance to survive. Madrigal is a world-renowned British-Mexican academic and a multi-awarded researcher in the field of stem cell transplants.
The same day the documentary "Made in Mexico" showed the abundance of Mexican music, through various genres, enriched with pre-recorded interviews to leading personalities such as Diego Luna and Lila Downs.
Driven by the founders of Latin UK Awards (LUKAS), La Clave Fest also featured Maria Jose Hayaux, a 16 year old composer and singer, who was the first Mexican to perform at The Isle of Wight Festival, playing songs of her own creation like "Bitter Sweet".
Likewise, the Mexican plastic artist and architect Tania Lopez-Winkler invited the audience to participate in her artistic installation named "Spinning Memories", mapping the entire ground floor of this iconic landmark, until the tape forms a chain of dreams.
As part of the sports events, and to commemorate the centenary of the football championship Copa America it was celebrated FutSal, in which children of 7 local Primary Schools aged 9-11 participated, where the Embassy of Mexico donated the jerseys for the team which represented Mexico.
Furthermore it was held a session of "Lucha Britannia" in which the audience learnt about the popular sport of Mexican wrestling featuring unique masked wrestlers with a very particular style.
--oo000oo--