SYMPOSIUM OF MEXICAN STUDENTS CELEBRATED IN EDINBURGH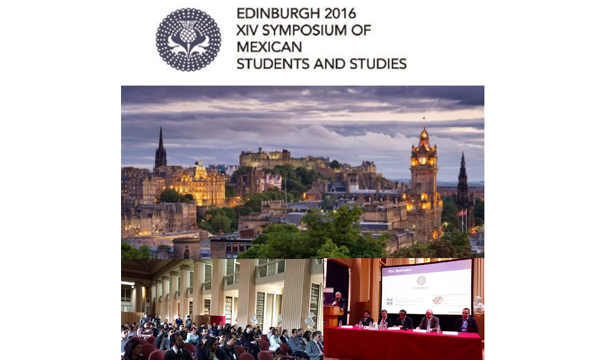 EDINBURGH, Scotland, 17th June 2016. - In order to create a space for academic collaboration, to share the results of different experiences and research, the Society of Mexican Students organised the XIV Simposium of Mexican Students and Studies at the Univeristy of Edinburgh. This year's title is "Knowledge into Solution" and for the first time ever is celebrated in Scotland.
From 16th - 18th June, academics, postgraduate students, experts and researchers exchange opinions and knowledge about science, technology, innovation, politics, society, culture, environment and health focused in the development of Mexico.
Representing the Embassy of Mexico, David Najera Rivas, Deputy Head of Mission, offered the conference entitled: "Introduction to Knowledge into Solutions, how is Mexico benefited from Students in the UK", in which he shared the facts on the growing number of Mexican scholarship holders doing postgraduate studies in the United Kingdom –which currently represents the first academic destination in the world having surpassed already the United States- and the benefits that represents having education of excellence to both Mexico and the host country.
The programme included the participation of outstanding researchers such as Prof. Arturo Reyes-Sandoval, Mexican researcher at the University of Oxford dedicated to the development of new vaccines for pandemics like malaria, zika, etc. Likewise, Prof. Will Fowler, Expert in Mexican history and politics of University of St. Andrews; Dr. Luis Duran, Director of the Centre for Mexican Studies of UNAM in the United Kingdom. Representing CONACyT, Dr. Agustin Escobar of the Social Anthropology and Higher Education Centre of Research (CIESAS, for its acronym in Spanish); Dr. Oliverio Santiago, Director of the Advanced Chemistry Research Centre (CIQA); Dr. Eder de la Rosa of the Optics Research Centre (CIO); and Pablo Rojas, Director of Scholarships at CONACyt.
During the Simposum it was exhibited a Photography Collection of the Mexican nationals Adela Murillo, Roger Alarcon and Alberto Lozano, which portrayed some of the highlights of the Dual Year Mexico-UK celebrated during 2015.
The symposium brings together since 2002 Mexican postgraduate students, most of them scholarship holders from CONACyT, who presented their research topics in thematic sessions allowing them to contact Mexicans who are experts in related topics. This year the symposium was attended by more than 160 students pursuing masters or doctorates from all areas of study such as engineering, social sciences, humanities, biological sciences, chemistry, physics, mathematics and art.
--oo000oo--