PRESENTATION OF THE BOOK "48 BELGRAVE SQUARE, THE HOUSE OF MEXICO IN THE UNITED KINGDOM"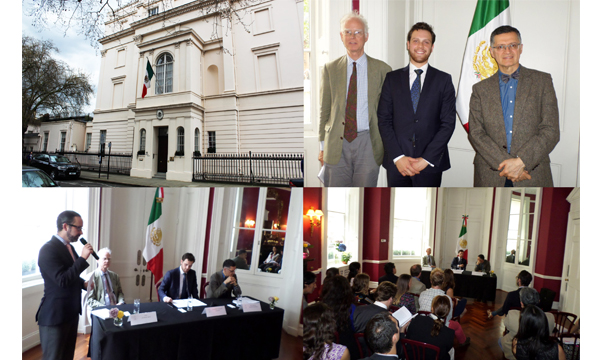 LONDON, United Kingdom, 13th June 2016.- The book "48 Belgrave Square, The House of Mexico in the United Kingdom" was officially presented to share the story of the Official Residence built in 1826, year in which the United Kingdom recognised Mexico as an independent country and in which both nations begun trading.
As current resident, the Ambassador of Mexico, Diego Gomez Pickering recalled that number 48 of Belgrave Square sounds, reads, thinks and speaks about Mexico all the time.
"The House of Mexico in the United Kingdom is the house of its colours, its flavours, its accomplishments and its magic blending of cultures", the diplomat referred it in the foreword of the book which collects 135 pages divided in five chapters.
During the presentation, the author Alejandro Gonzalez Ormerod, led the discussion panel in which also participated Prof. Andrew Saint of UCL and Dr. Alfredo Michel of UNAM, who reviewed the residence's history beginning from the arrival of the first Mexican representatives on 4th July 1921 until the date on which it was officially designated as the Residence of the Government of Mexico.
Before an audience of academics, diplomats and special guests, different historical passages occurred during the 95 years of being named the Official Residence of Mexico, were mentioned which, including a speech given at the premises by the Former Prime Minister Winston Churchill, in which he considered for the first time the possibility of winning the Second World War.
The panellists agreed that the building located at 48 Belgrave Square is much more than mortar and bricks because since it was inhabited originally by British aristocrats and entrepreneurs, later on became a place that exudes the Mexican Spirit inside and outside.
--oo000oo--