MEXICO'S NEW ENERGY MODEL OPPORTUNITIES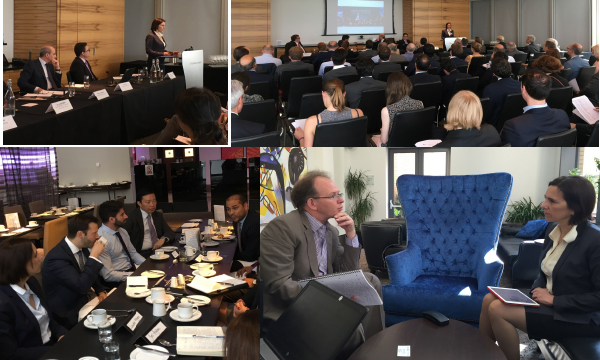 LONDON, United Kingdom, 9th June 2016. - The Undersecretary of Hydrocarbons of the Mexican Secretariat of Energy (SENER), Lourdes Melgar Palacios, achieved a working-visit in which she held meetings with institutions in charge of the oil sector as well as with companies specialised in exploration and extraction of hydrocarbons, where she explained the details of the opportunities offered by the new energy model of Mexico.
On 7th June she participated as the main speaker in the forum "Mexico: Investment Opportunities Following Reforms of the Petroleum Regime", organised by the City of London and the Geology Society of London, in which she stressed the investment opportunities in Mexico upon the Energy Reform before an audience of oil companies, finance and assurance groups.
Dr. Melgar shared the improvements in the implementation of the Reform emphasising Round 1.4 –which will bid 10 blocks for exploration and extraction of hydrocarbons in deep waters-; the Five-Year Bidding Plan for Extraction and Exploration of Hydrocarbons; and the announcement of the coming Rounds. In the forum also participated Dr. Peter Dolan, President of the Geology Society of London, William Waggoner, Executive Director of Mexico Petroleum Company, David Kotler, Associate at Access Corporate Finance and Leopoldo Olavarría, energy expert and Director in Latin-America of Norton Rose Fulbright, global law firm dedicated to corporate finance in terms of energy, health, technology, among others, who also participated organising the event.
On the same day, Undersecretary Melgar, accompanied by Lic. Layla Vargas, Director General of Oil Contracts of SENER, held a working meeting with Gordon Ballard, Executive Director of the International Association of Oil & Gas Producers (IOGP), which represents the main oil companies in the world, independent operators as well as national and international organisations.
The Undersecretary also met with Dra. Karen Russ, Director of Science and Commerce at Health and Safety Executive (HSE), institution responsible of the regulation features of inspection and prevention of incidents in the oil and gas industry and also participated with Dr. Aldo Flores Quiroga, Secretary-General of the International Energy Forum, talking about the improvement and implementation of the Energy Reform in Mexico, particularly on the process of the Fourth Bid of Round One.
At the closing of her working-visit to London on 8th June, Undersecretary of Hydrocarbons met with a group of British entrepreneurs in Mexico, organised by the Mexican Chamber of Commerce in Great Britain (MexCC), in which she highlighted the investment opportunities in the hydrocarbon sector.
---oo000oo---