EXHIBITION AND LECTURES OF PRE-HISPANIC CODEX'S IN OXFORD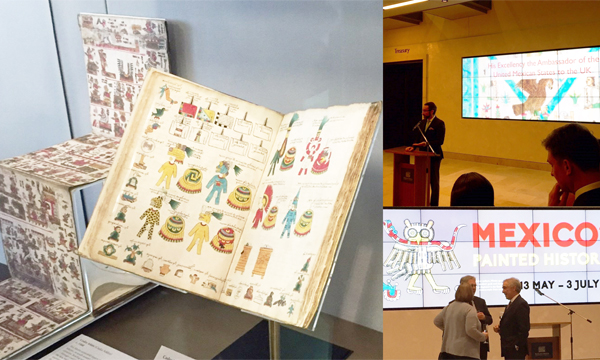 OXFORD, England, 27th May 2016. - The exhibition "Mexico's Painted Histories" had a successful opening at the Bodleian Library in the University of Oxford.
Until 3rd July 2016, the five codex property of the University of Oxford: Codex Laud Codex Bodley, Codex Selden, Codex Mendoza, and recently renamed The Roll of the New Fire (also known as The Selden Roll) will be displayed.
These Mesoamerican manuscripts and the ones from the early years of the Spaniard colony, considered as unique treasures, are part of a group of 16 old manuscripts with a pictorial language which combines great beauty and complexity, surviving since the times of the colonisation of America.
In order to celebrate the beginning of this exhibition, on 25th May a reception and a dinner were organised in which the Ambassador of Mexico in the United Kingdom, Diego Gomez-Pickering and Richard Ovenden, Bodley's Librarian, agreed in recognising the relevance of these unique pieces which exhibition shows the excellent relation between the government of Mexico and the University of Oxford.
The event, co organised by The Mexican Chamber of Commerce in Great Britain (MexCC), had the participation of some of its patrons as well as representatives of the University led by Prof. Nick Rawlins, Pro-Vice-Chancellor (Development and External Affairs) and by Virginia Lladó-Buisán, Head of Conservation & Collection Care.
At the same time of the exhibition it will also take place a conference' cycle entitled "Mesoamerican Manuscripts: Scientific Approaches and Interpretations", from 31st until 2md June, in which a group of academics and experts in Mesoamerican studies will participate, which full programme could be checked online in this website: http://bit.ly/24aUQzk.
In addition, these conferences can be heard live or livestream them by accessing the following link: http://bit.ly/1UhvNbl, which will present for the first time ever the results of the research on the codex's, - restricted until recently due to the fragility of the materials and the composition of the manuscripts - through the use of new non-invasive methods (MOLAB), applied thanks to the funds obtained by the Bodleian Libraries.
Information will be presented regarding the manufacture and the historical significance of the pictorial images, placing them in the context of pre-Columbian and colonial societies that produced. The conference will also include a workshop on how to read Mixtec manuscripts, which provides an introduction to the ancient Mexican historiography, which used a sophisticated form of pictorial language to narrate centuries of conquering dynasties, time, religion and prediction.
---oo000oo---