MEXICO ENDORSES ITS COMMITMENT WITH NUCLEAR DISARMAMENT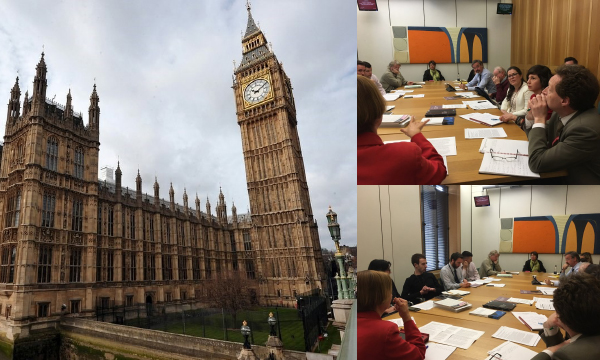 LONDON, United Kingdom, 25th May 2016.- Mexico participated in a roundtable at the Parliament where reaffirmed its commitment –as actor with global responsibility- with the main goal of reaching a world free of nuclear weapons.
The discussion was led by Nia Griffith, Labour Member of Parliament for Llanelli, Wales and also Chair of the All Party Parliamentary Group on Weapons and the Protection of Civilians, and organised in collaboration with the British Chapter of the International Campaign to Abolish Nuclear Weapons – ICAN.
The roundtable was a space to share information about the most recent session of the Open-ended Working Group on Nuclear Disarmament (OEWG), celebrated in Geneva earlier this month. The group was created in accordance with resolution 70/33 "Taking forward multilateral nuclear disarmament negotiations" presented by Mexico and adopted by the General Assembly.
During the session, a representative of the Embassy of Mexico in the United Kingdom endorsed the importance that nuclear disarmament has in the multilateral agenda of Mexico; she expressed Mexico's congratulation for the deliberations adopted by the Open-ended Working Group on Nuclear Disarmament focused in the possibility to create a new treaty to ban nuclear weapons; and referred to the approach on the humanitarian impact of nuclear weapons, including the Second Conference celebrated in Nayarit in 2014.
In addition to the MP and the Mexican diplomat, it also had the participation of Beyza Unal, Researcher Fellow at the International Security Department of Chatham House; Thomas Nash, Representative of the organisation Article 36; and Rebecca Sharkey, Coordinator of the International Campaign to Abolish Nuclear Weapons in the UK.
In 2017, the Treaty of Tlatelolco will celebrate its 50th anniversary, the corner-stone of Latin American and Caribbean contribution to the nuclear disarmament. With this treaty this region consolidated the first vast populated area free of nuclear weapons, awarding the Mexican diplomat Alfonso Garcia-Robles with the Nobel Peace Prize in 1982.
By participating in the Parliament, Mexico reinforced its commitment as an actor with global responsibility in order to achieve and preserve a world free of nuclear weapons.
--oo000oo--