COLLABORATION WITH THE UNIVERSITY OF LINCOLN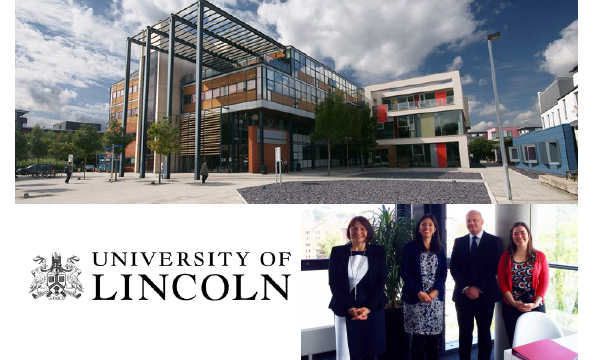 LINCOLN, England, 16th May 2016. - In order to promote academic cooperation links and explore areas of collaboration, representatives of the Embassy of Mexico accomplished a visit to the University of Lincoln.
On behalf of the Ambassador Diego Gomez Pickering, the heads of the education and cultural departments of the diplomatic mission held a meeting with Prof. Scott Davidson, Vice-Chancellor of the University – which origins trace back to 1861 – before whom they recalled the importance of academic exchange programmes in an institution which has been recognised by its good rankings in sectors such as computer science, tourism, agriculture and forestry.
In company of the International Regional Manager of the campus, Ellie Langton, it was discussed the education challenge encountered by Mexican students who study abroad, particularly in the United Kingdom, positioned as the first academic destination for postgraduate students of Mexico, having surpassed the UU.SS. in 2015.
As part of the working-visit they also had the opportunity to exchange points of view with Prof. Duncan French, Head of Lincoln Law School, and also toured the campus facilities, which includes the three main Colleges of Art, Science and Social Science. Afterwards, they had lunch with scholars and Mexican students, including a workshop about the history of the Magna Carta.
The campus of the University of Lincoln is located in the city which carries the same name and which foundation goes as far back as the Iron Age, preferred by the Romans and Vikings for its inland marina and its ideal location for transport and trade.
---oo000oo---