MEXICAN BLACK-NOVEL GENRE IS PROMOTED IN THE UK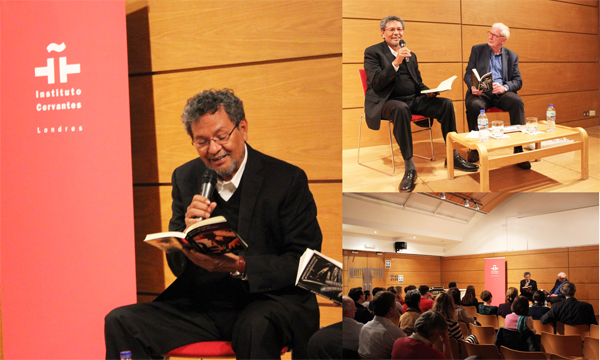 LONDON, United Kingdom, 5th May 2016.- The Instituto Cervantes London presented last night the first English version of the crime fiction novel "Silver Bullets" (Balas de Plata), of Mexican novelist, Elmer Mendoza, promoted by Cristopher Maclehose.
Before dozens of people, the author, journalist and translator Nick Caistor held a Q&A session about Mendoza's four novels - and a fifth one in process -, in which the main character "lefty Mendieta" is a detective and plays a key-role in its endings.
The also playwright and short-story writer, follower of Mexican authors such as Juan Rulfo and Fernando del Paso, said he is focused in promoting quality literature with aesthetic elements and defined himself as influenced and inspired by the Irish novelist James Joyce, in his research for an "undefeatable line" that the reader, both in Mexico and in the United Kingdom, could remember forever.
He explained that the translation of this novel and the upcoming one "The Acid Test" (La prueba del ácido), allow the British public to get-to-know the literary work of "black-genre" from Mexico, which establishes a linguistic and thematic territory and privileges the treatment of anxiety feelings of a murderer, for example, and not only of the victim.
Born and raised in Culiacan, with engineering and literature studies, Mendoza mentioned how reality on the border of Mexico with the United States represents additional material to tell interesting stories around rivers, deserts, mountains and cities, about frustrated dreams, crime and violence.
However he said that in most cases fiction and literature are distanced from reality, as the press melodramatically portrayed the Mexican city of Culiacan as the place of origin of all drug lords and kingpins.
---oo000oo---