Day of the Dead Festival 2017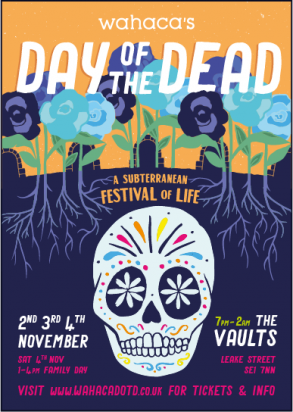 Following the huge success of Day of the Dead celebrations at the British Museum and Chelsea College of Art, this year the Embassy of Mexico is proud to join "Wahaca" restaurants in bringing once again this wonderful Mexican tradition to the UK. The Day of the Dead is one of Mexico's most representative cultural expressions, highlighting its unique interaction with life and death, in a celebration combining mysticism, tradition, colours and flavours.

The Day of the Dead Festival will take place on the 2nd- 4th November and invites everyone to come together to celebrate life and remember those who've gone, in  an event full of Mexican music, art and culture over three days in Waterloo's underground Vaults.

Open from 7pm-2am each night on the 2nd, 3rd & 4thNovember, with a special family event on Saturday 4 from 1pm-4pm.
Day of the Dead Festival at The Vaults
2nd – 4th November
The Vaults, Leake Street, SE17NN
7 pm - 2 am 
Inspired by the traditional Día de Muertos celebrated across Mexico, the festival will encompass different aspects of Day of The Dead, from rituals and prayer to dance and theatrics, all brought together in the underground tunnels of London's Waterloo.

There will be live music, Mexican performers and art.  The festival's labyrinth of tunnels will play host to a Mayan jungle by Mandinga Arts, and then into a re-creation of the Cemetery "Panteon General de Oaxaca" , with performances of poetry and songs where guests will be encouraged to pay their respects to the loved ones they've lost.

A traditional "Altar de Muertos" created by Mexican artists Javier Calderon and Katapixia will be exhibited on site.
FAMILY DAY, Saturday 4th November, 1pm

On the Family Day the public is invited to discover the true spirit of the Day of the Dead through storytelling by Canela Fina, performance by Mandinga Arts, DJ and dancefloor fun by Big Fish Little Fish, hands-on workshops and professional face painting (Catrinas).

A colourful Day of the Dead procession will be led by the Voodoo Love Orchestra to the main stage for a grand finale screening of The Book of Life.
NOTE: All of Wahaca's profits from the festival will go directly to the charities supporting those affected by the earthquakes in Mexico.