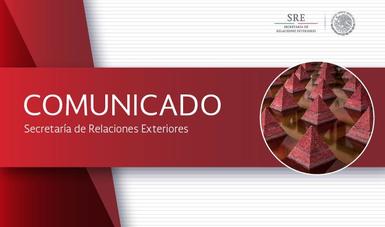 THE GOVERNMENT OF MEXICO CONDEMNS TERRORIST ATTACK IN MANCHESTER
Mexico City, 23th May 2017. – The Government of Mexico, through its Secretariat of Foreign Affairs, strongly condemns yesterday's terrorist attack at the Manchester Arena, where until this moment 22 people are reported dead and 59 injured.
The Government of Mexico expresses its deepest condolences to the people and Government of the United Kingdom and its solidarity with the families of the victims of these unacceptable act of violence.
The Embassy of Mexico in the United Kingdom immediately activated its emergency consular protection protocol and contacted the relevant authorities. Up to now, there is no report of Mexican nationals among the victims.
The Embassy is monitoring developments in order to provide consular assistance if needed. For this purpose, its Consular Section has set-up the following emergency telephone numbers: 07743742888 and 02079079498 (for calls from the United Kingdom), or 00447743742888 and 00442079079498 (for calls from Mexico).
http://www.gob.mx/sre/prensa/el-gobierno-de-mexico-condena-ataque-terrorista-en-manchester-inglaterra
---oo000oo---