INCREASING NUMBER OF INTERNATIONAL TOURISTS TO MEXICO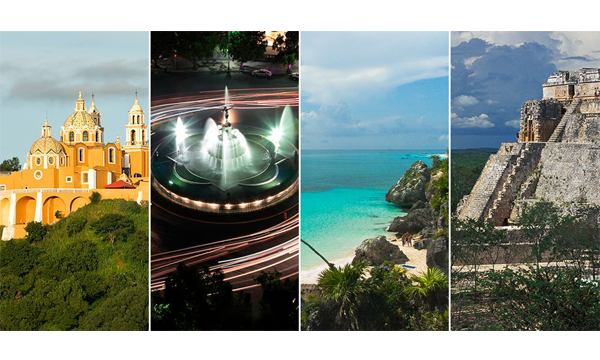 MEXICO CITY, 10th February 2017. - The Mexican Secretariat of Tourism (SECTUR, for its acronym in Spanish) estimates that once the total has been counted, Mexico will have received about 35 million international tourists in 2016, having the opportunity to remain –or improve- the 9th place in the list of countries with the highest number of visitors worldwide.
"By the end of 2016, Mexico will be near to reach the figure of 35 million international tourists, that is, 11.6 million more than in 2012, the equivalent of the tourists that Brazil and Argentina are receiving together," explained the Mexican Secretary of Tourism Enrique De la Madrid Cordero.
Thus, for the fourth consecutive year (2013-2016), Mexico will have achieved historic results in the international tourism. In 2015, results positioned it as the ninth most visited country in the world, when in 2013 ranked 15th overall.
The Secretary said that "This means an increase of 50 percent in the arrival of international tourists to destinations in the country in the first four years of this administration, which means three times more than the global trending in the same period."
The Mexican representative said that tourism represents many advantages for Mexico: "in just four years the number of foreign tourists increased by 11 million; the country received about USD $ 19.5 billion and now it generates about 9 million direct and indirect jobs."
According to Mexico's Tourism Board (CPTM), Mexico's global air connectivity continues to grow at a record pace, with airlines around the world adding new routes, additional flights on existing routes and upgrading the latest aircraft models with larger capacities in order to meet the impressive demand for travel to Mexico. As of January 2007, airlines partners have announced the addition of more than one million new seats scheduled in 2017 on international direct flights to Mexico from more than 20 countries.
It is noteworthy to recall that according to estimates, during 2016 the number of British tourists who travelled to Mexico will surpass 505,000, representing an increase of 6 percent over the previous year's figure (477,300) and maintains the UK as the third most important tourist market for Mexico and the largest in Europe.
For more information please visit this website: http://bit.ly/2kbfKle
--oo000oo--