NEW PUBLICATION OF MEXICAN DIPLOMATIC ACCOMPLISHMENT DURING SPANISH CIVIL WAR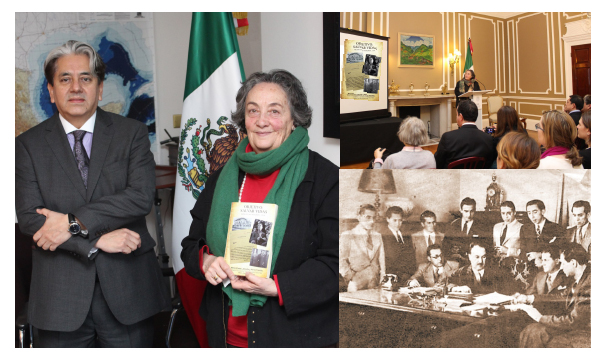 LONDON, United Kingdom, 17th January 2017.- The book: 'Objective: Save Lives, Mexico in Madrid, 1936', written by Maria Elena Laborde, was officially presented last night in this capital city. The book is focused in the times during which General Manuel Perez Treviño, former Ambassador of Mexico in Spain, protected and gave asylum to 1,200 people from the Spanish Civil War.
According to the author, on July 1936 the diplomat opened the doors of the two buildings of the Embassy, located at Hermanos Becquer and de Fortuny streets, in Madrid, to thousands of people whose lives were in danger, despite their religion, class or political preference.
During six months the diplomatic mission gave protection to Mexicans, but it also provided unconditional asylum to hundreds of Spanish who ask for it, amongst them were between 70 or 90 children, and also republican politicians such as the former mayor of Madrid, Pedro Rico and Luis Carrero Blanco, who would later become President of the Government of General Francisco Franco.
Official data of the Spanish government states that around 800 people managed to be evacuated safe and sound from the Mexican Embassy in 1937, as a result of the diplomatic protection action led by the Ambassador Manuel Perez Treviño, who decided to stay behind, although having received the instruction of going back to Mexico, and for that reason, in 1946 he was recognised by the Spanish government with the Black and White distinction, which was received by his wife Esther González Pemoulié, for being a post mortem distinction.
At the Official Residence of the Government of Mexico in the UK and before an audience composed by distinguished members of the Mexican community in London, Latin American diplomats, special guests and media representatives, the author of the book recalled that the humanitarian effort of Ambassador Manuel Perez Treviño represented the first chapter of this kind in the history of Mexican diplomacy, which preceded to the one of Consul Gilberto Bosques in France during World War II, as well as to the one of Ambassadors Vicente Muñiz Arroyo (Uruguay 1970) and Gonzalo Martínez Corbala (Chile 1973).
Accompanied by Minister David Najera, Acting Ambassador at the Embassy of Mexico, the author Maria Elena Laborde, grand-daughter of Ambassador Perez Treviño, recalled that she carried out an extensive genealogical and history research which included the historic archive Genaro Estrada of the Secretariat of Foreign Affairs in order to support the production of her second novel 'Objective: Save Lives, Mexico in Madrid, 1936'.
The book contains copies of official communications and photos of General Perez Treviño, who after having declined as a pre-candidate in favour of General Lazaro Cardenas, was appointed in February 1935, as Ambassador of Mexico in Spain, concurrently accredited to Turkey and Portugal.
The book can also be purchased on Amazon, (On Demand Publishing), Kindle and in bookstore Barnes & Noble.
--oo00oo--