THE HOLY WEEK OR EASTER WHICH INCLUDES PALM SUNDAY AND THE DAY WHEN "JUDAS IS BURNT", IS CELEBRATED IN MEXICO WITH SERIOUS DEVOTION. HERE ARE FIVE UNKNOWN FACTS ABOUT THIS POPULAR FESTIVAL!
The Holy Week, which coincides with the month of Hueytozoztli according to the ancient indigenous calendar, when the gods of the corn, Centéotl and Chicomecóatl - symbolizing the masculine and feminine duality -, were honoured and to whom the Mexicans offered corncobs of the previous year to turn them into seed.

Palm Sunday is celebrated in various parts of Mexico with palm leaves, which are blessed and then burned to use their ashes on Ash Wednesday of the following year. Although, it is also customary to hang them behind the front door "as a defence" to allow only the passage of "positive energy".

Previously, it was customary to wet anyone by the holy water who crossed Mexico during the Holy Saturday, a tradition that today is forbidden because of the sometimes unconscious waste of the vital liquid.

The Holy Week is usually closed by the traditional Burning of Judas (a kind of devil or ridiculous character made by paper). This is an original custom of Spain that symbolizes the purification of the body through fire, as well as, the arrival of the planting season and the spring. In Mexico, the "Judas" has become a special handicraft made by reed, grass, paper or cardboard, its design can vary according to the region where it is elaborated.

The date of the Holy Week changes each year because, as it is established by the clergy, Easter Sunday must coincide with the Sunday coming immediately after the first full Moon next to the spring equinox. Thus, the celebration of the Holy Week always ranges between March 22 and April 25.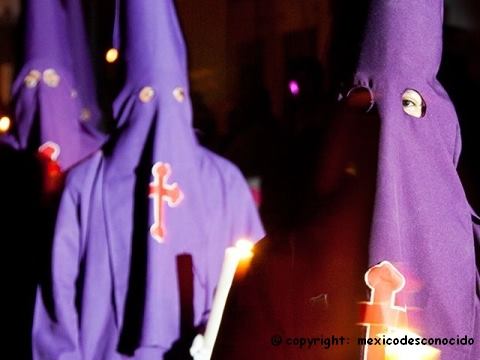 © México Desconocido 2018