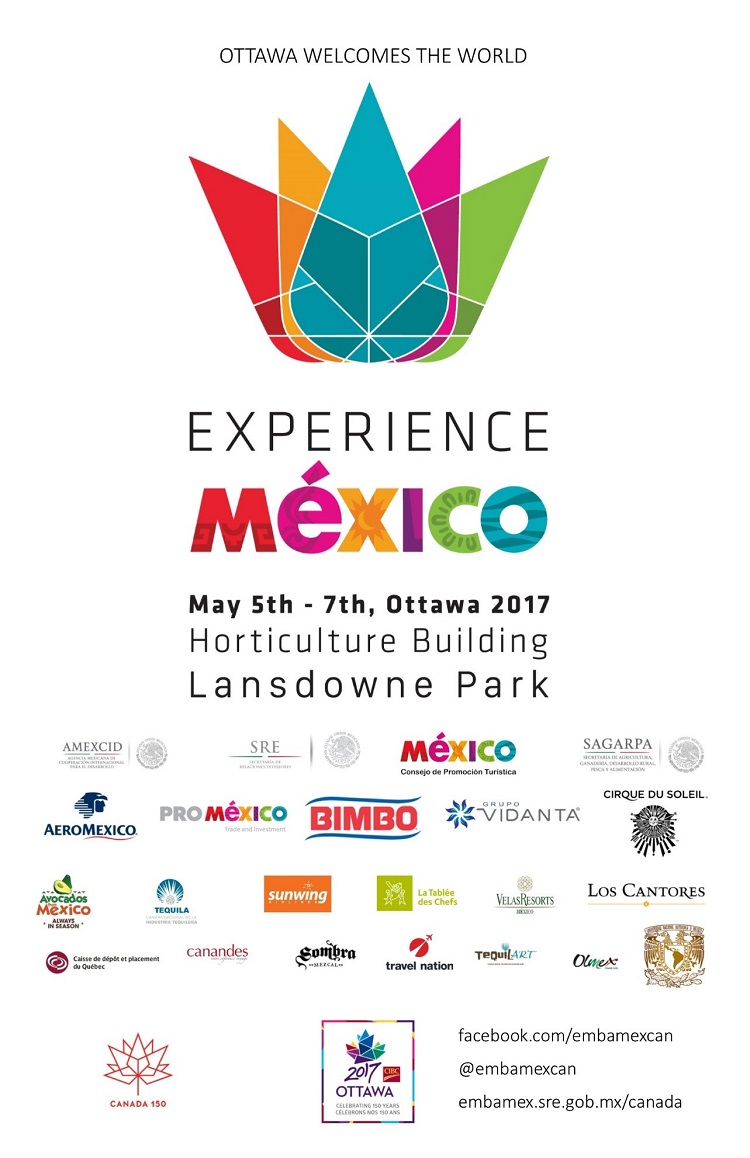 From May 5-7 enjoy the festivities Mexico is organizing to celebrate Canada's commemoration of its 150th anniversary as a nation. In the framework of the "Ottawa welcomes the world" celebration, Mexico has organized a huge fiesta called "Experience Mexico". We have developed a very attractive and diverse program that features five main themes: Tourism, Products and services; Education, Gastronomy and Culture.
The many attractions include performances by Cirque du Soleil and the talented singer Morganna Love directly from San Miguel de Allende, one of the favorite destinations of our Canadian friends. There will also be talks by distinguished writer Guadalupe Loaeza, a student minstrel group from the Autonomous University of Querétaro and many other events that that can be consulted in the Stage Program and in the Pavilion's permanent exhibitions.
Visitors to the Pavilion can enjoy the following exhibitions during the three days:
Photographic exhibit of birds of Colima
Photographic exhibit "Tiempo de Danzón" by Cristina Kahlo
Photographic exhibit from Campeche: "Calakmul, in the heart of the jungle"
Expo on Puebla's textile art, its evolution and incorporation into contemporary fashion
Virtual Reality Exhibition, Los Cabos
Volkswagen Huichol
Mexico-Canada Time-Chart
Exhibition of photography related to the UNAM-Canada
Displays and sale by local artists
Many tourist destinations will be participating with artistic performances and displays, dances, handicrafts, gastronomy, informative talks and activities for children of all ages. Participating destinations are: Puebla, Colima, Oaxaca, Guerrero, Querétaro, Puerto Vallarta, Riviera Nayarit, San Miguel de Allende, Los Cabos, Campeche and Ixtapa Zihuatanejo.
We will also have the privilege to feature outstanding local artists exhibiting their work. Participating artists include:
Dinorah Catzalco
Dulce Tapp
Virginia Montenegro
Marcela Tendilla
Gilda Pontbriand
Belen Mosqueda
Aztlán Folkloric Ballet
"Viva México" Group
The culinary component will be enhanced by the presence of local suppliers that are highly recognized by the Ottawa community. You can find the following suppliers during the three days of the event:
Mercado Latino
Panchos Bakery
Chorizo La Abuela
Passport Café
The Cupcake Lounge
Rebozos Restaurant
Burrito Borracho
Bar Tequilart
STAGE PROGRAM "EXPERIENCE MEXICO", OTTAWA 2017

Friday, May 5
Saturday, May 6
Sunday, May 7
10:00 Pavilion opens
10:00 Pavilion opens
10:00 Pavilion opens

10:00-10:45 Talk: Colima - The Little Big State by Manuel Grosselet.

"A more sustainable destination" by Dr. César Castañeda

10:15-10:45 Talk: Colima - The Little Big State. Colima "A more sustainable destination" by Manuel Grosselet
10:15-11:15 Talk on Los Cabos Presentation of the destination

11:00-11:30 Estudiantina (Minstrel Group) from the Autonomous University of Queretaro

11:00-11:30 "Viva México" Group
11:30-12:00 Show by the Aztlán Folkloric Ballet
11:30-12:00 Estudiantina from the Autonomous University of Queretaro

11:30 Official inauguration of "EXPERIENCE MEXICO"

12:30-1:00pm Special performance by Cirque du Soleil inspired by Luzia A waking dream of Mexico
12:30-1:00pm Talk "Migration and the Monarch Butterfly sanctuary" by Georgina O'Farril

12:30-1:00pm Concert: "El Venado Azul"

1:30–2:00pm Talk on Puebla and textile art
1:00-1:30pm Estudiantina from the Autonomous University of Queretaro
1:00-1:30pm Los Cabos - Mixology show, Rodrigo Mónaco. Sampling Room
1:20-2:20pm Piñata-making workshop for children
2:00-2:30pm Cooking classes / Ixtapa Zihuatanejo / Chef Patricia Vélez & Carmelita's Cafe. Sampling Room
1:30-2:00pm Talk on Oaxaca - Natural Paint and Alebrijes (folk sculptures) by Jacobo Ángeles.
2:00-9:00pm Various activities on the Pavilion's esplanade. Display by many tourism destinations in Mexico, as well as typical food and drink from Mexico
2:30–3:30pm Talk by Cristina Kahlo on " Tiempos de Danzón" and dance performance
2:00-2:30pm Cooking Class – Puerto Vallarta / Chef Patricia Vélez. Sampling Room
2:30-3:00pm Performance by Baroque Duo "La Sfera Armoniosa"
4:00–4:30pm Concert: "El Venado Azul"
3:30–4:00pm Guerrero - Performance/show by Agustín Lara with Guadalupe Loaeza and Pavel Granados
5:00-5:30pm Performance by Baroque Duo "La Sfera Armoniosa"
4:30-5:00pm Danzón dance demonstration
6:00-6:30pm Special performance by Cirque du Soleil inspired by Luzia A waking dream of Mexico
5:15pm Raffle for an All-expenses-paid Trip for Two to Mexico

6:30-7:00pm Tequila & Mezcal Tasting  (Sampling Bar)

6:30-7:00pm Riviera Nayarit, Tasting with Mixologist Israel Díaz (Sampling Room)

5:30-6:30pm Concert by Morganna Love with Mauro Ledesma
9:00pm  Pavilion closes
7:00-8:00pm Performance by Agustín Lara with Guadalupe Loaeza, Pavel Granados and music by Morganna Love and Mauro Ledesma
7:00pm Pavilion closes
8:30-9:00pm Walking serenade by the Estudiantina from the Autonomous University of Queretaro / Pavilion closes