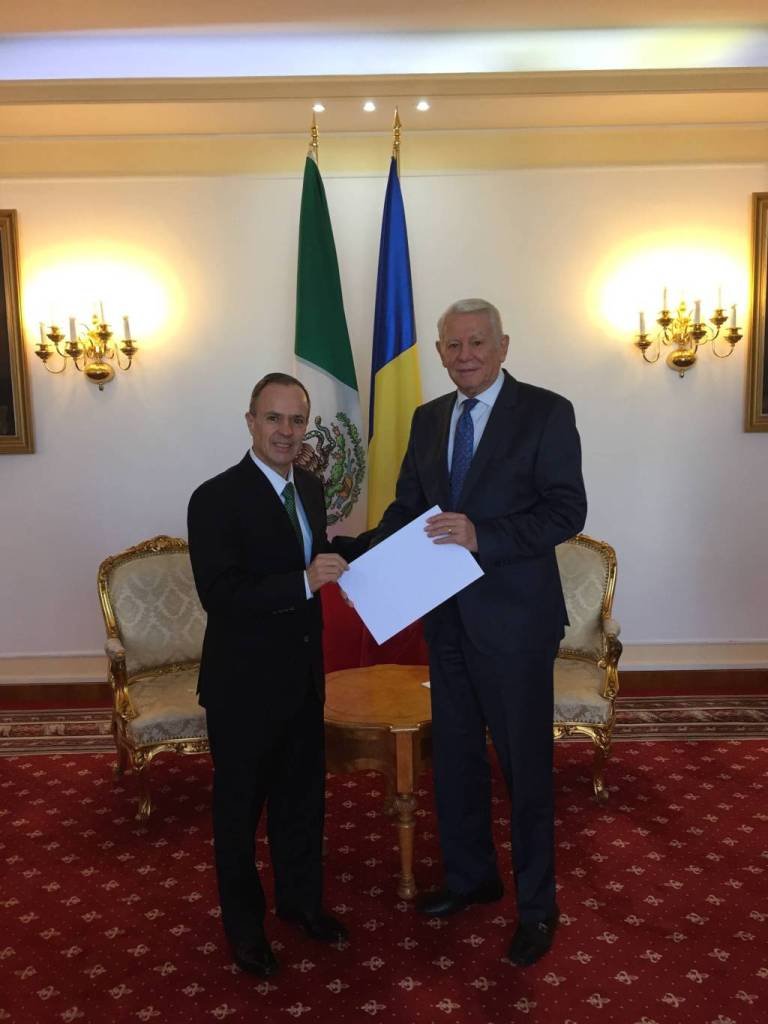 The Ambassador appointed by President Enrique Peña Nieto to represent Mexico in Romania, H.E. Guillermo Ordorica R., arrived in Bucharest on Monday, November 21st, and the following day presented the copies of his credential letters to the Minister of Foreign Affairs, Teodor Meleșcanu.
In an atmosphere of cordiality and friendship, the interlocutors referred to the positive state of the bilateral relationship and discussed the importance of continuing to actively promote the interparliamentary, economic and cooperation ties. They also highlighted the relevance of identifying collaborative projects within the framework of the Pacific Alliance, a mechanism to which Romania was incorporated as an observer country in July 2016.
Minister Meleșcanu congratulated Ambassador Ordorica and wished him good luck in fulfilling his mission, assuring him of all the support of the Ministry of Foreign Affairs in order to promote the bilateral agenda. For his part, Ambassador Ordorica thanked the Chancellor for his hospitality and reiterated Mexico's interest in continuing to build contacts between the two countries.
Ambassador Ordorica will present in the upcoming weeks the original of his Credential Letters to the President of Romania, H.E. Klaus W. Iohannis.
 Currículum Vitae of the Ambassador