MEXICO AND THE UK INCRESASE TRADE AND TECHNOLOGY EXCHANGE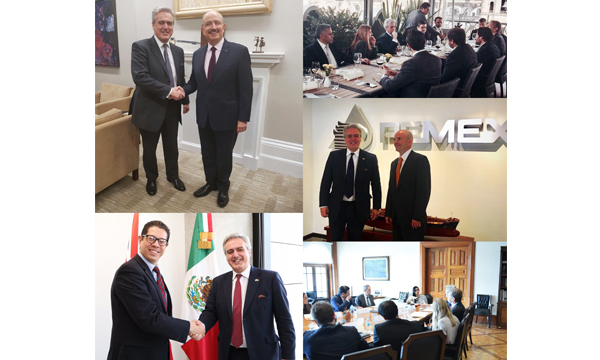 MEXICO CITY, 17th February 2017.- Mexico and the United Kingdom endorsed their commitment to strengthen trade exchange, explore new investment opportunities, as well as expand cooperation in Financial Technology also known as Fin Tech.
Following the interview held –in this capital city- by the Undersecretary of Foreign Affairs of Mexico, Carlos de Icaza and Parliamentary Undersecretary of State at the Department for International Trade, Mark Garnier, on 25th January, to strengthen the presence of Mexico with one of our main partners in Europe and thus help to diversify political, economic and cooperation links, Garnier achieved an important work agenda in Mexico City.
On 13th February, Undersecretary Garnier was received by the Mexican Undersecretary of International Trade for the Secretariat of Economy, Juan Carlos Baker, to increase trade between the two countries, which has increased from 2014 to 2016 from USD $3.5 billion to USD $5.3 billion.
Both representatives recalled that in the last 17 years (1999-2016) trade between Mexico and the UK has increased 184.8% maintaining the United Kingdom as the 5th trading partner of Mexico amongst European countries and its 15th worldwide.
Baker said that from 1999 to September 2016, UK Foreign Direct Investment in Mexico totalised US $ 10.161 billion.
The next day, the British representative met with the Director General of Pemex, Jose Antonio Gonzalez Anaya, who detailed Pemex's business plan 2017-21, as well as the launch of €4.25 billion in Eurobonds in the international capital market in three reference bonds 4.5, 7 and 11 years as part of Pemex's 2017 Annual Financing Programme and its strategy to diversify funding sources.
On that same day, the Parliamentary Undersecretary of State at the Department for International Trade held a meeting with the Mexican Undersecretary of Finance and Public Credit, Vanessa Rubio, to discuss bilateral economic and financial relations on issues of common interest in international financial fora, such as FinTech and financial inclusion.
Both undersecretaries agreed that collaboration and exchange of experiences between the UK and Mexico have been key-stone in the development of the initiative for the Law of Financial Technology. The United Kingdom is a reference for Mexico, since it has one of the most advanced legislation regarding the FinTech industry.
Undersecretary Mark Garnier acknowledged Mexico's initiative to offer a strong FinTech ecosystem, as it will create a suitable environment for various companies to compete in the national market.
Currently, in Mexico there are about 160 companies related to the development of financial technologies, which mainly create innovations related to payments and collective funding also known as "crowdfunding".
--oo000oo--