Camaradas 2019-2020: Art Competition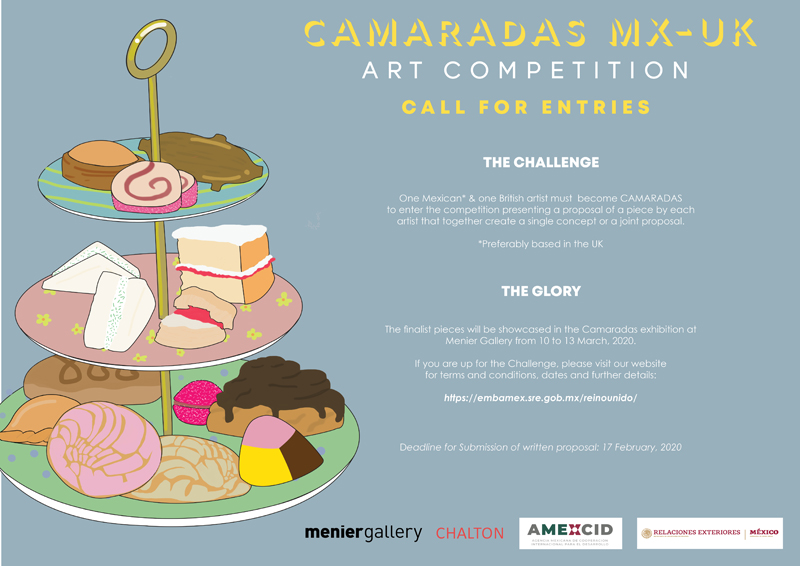 Following the success of its previous six editions, the Embassy of Mexico presents "Camaradas: UK – Mexico Art Competition", an opportunity for emerging artists, from both countries, to work and learn from each other and to discover unsuspected coincidences they might share.
The winning partners will showcase their work at the Menier Gallery from the 10th – 13th of March 2020, allowing great visibility and promotion for the winners amongst the British contemporary art scene.
Guidelines and Stages of the competition
1st Stage: Entering the competition
One British* and one Mexican artist must become Camaradas and form a partnership. Each partnership must submit a proposal (200-700 words) of a piece by each artist, or a joint proposal. The art piece must engage in a dialogue on a subject or idea of their choosing.
Works can range across painting, photography, video, sculpture, performance, or any other visual art form. (Example: A partnership chooses the subject of "time" and presents a proposal in which the Mexican artist will make a sculpture on the subject, whilst the British artist will do a painting on it.)
Each partnership must fill in a registration form and submit a selection from their portfolio of work. Click here to download the registration form.
The proposal, registration form, and portfolio must be sent via email to:

This email address is being protected from spambots. You need JavaScript enabled to view it.

The closing date for submissions is the 17th of February, 2020.
By submitting your proposal, the Embassy of Mexico assume you accept the terms and conditions.
* Upon request, non-British nationals residing in the UK can also participate.
2nd Stage: The first elimination round
The best partnership proposals will be notified on the 24th of February if they made it through to the next round.
The selected Camaradas must create/complete the art piece and present it to the Menier Gallery on the 9th of March 2020 for installation. Artists should be available to assist the Curator in setting up the exhibition.
3rd Stage: The final elimination round and the glory
The art works will be presented in the Camaradas Exhibition 2018 at the Menier Gallery from the 10th – 13th of March, 2020.
A panel of judges comprised by leading figures in the art world will select the winning Camaradas which will be announced on the Private View on 11th of March, 2020.
  Terms & Conditions
This competition is open for British artists and Mexican artists. *Upon request, non-British nationals residing in the UK can also participate.
The information detailing how to enter this competition are part of the terms and conditions. All rules must be accepted as final and the contestant must agree to abide by these rules. By submitting an entry the contestant agrees to these terms and conditions.
All entries should be submitted no later than on the 17th of February 2020 at 11:59pm London time (GMT + 0).
Artworks must be an original creation of the individual summiting it and must not have been published elsewhere or have won any prize in any other competition. This does not apply for pieces comprising the portfolio.
The entries must not be otherwise be obscene, defamatory or in breach of any applicable legislation or regulations.
All contestants must register for this competition by entering their name, email, and mailing address, and agreeing to the terms and conditions.
The winners will be chosen by a panel of judges appointed by the Embassy of Mexico who reserves the right to add or substitute any of the given members of the panel without previous notification.
By submitting their portfolio and artworks, the contestants declare that he/she own all rights over said portfolio or piece. By entering this competition, each contestant consents to the use of his/her name, artwork and portfolio in any merchandise, advertisements, educational materials, or publicity carried out or produced by the Embassy of Mexico as well as to be published on the Embassy's website, social media and newsletter without further notice or compensation. The Embassy of Mexico can publish or decline to publish, or use or decline to use, any submitted artwork at its sole discretion. In turn, the contestant will still retain property rights as well as rights to use and publish their artwork.
The contestants must cover any related transportation costs for their work and for themselves. The Embassy of Mexico will not be responsible for any damage and/or loss of the art pieces throughout the entire duration of the competition.
The Embassy of Mexico's rulings are final and without appeal in all matters related to this competition and the awarding prizes.
The Embassy of Mexico assumes no responsibility for any lost, stolen, delayed or damaged artworks. Neither for illegible, incomplete, garbled or misdirected entries. The Embassy will not accept responsibility for entries submitted through illicit means or for those not received on time due to technical malfunctions of the telephone network, computer systems, servers, access providers, equipment, and software, internet's traffic congestion, or any combination of the aforementioned.
The Embassy is not liable for any injury suffered as a result of the installation or de-installation of the exhibition. By entering this competition, the contestants agree to release and hold harmless to The Embassy of Mexico and its employees, officers, directors, agents, representatives, successors, assigns, from liability for personal injuries, death or property damage.
The personal data collected from contestants by the Mexican Embassy will not be used for any other purposes to those mentioned in these T&C, with the exception of information on similar activities and open calls which might be relevant, unless explicit permission is granted for other extraordinary and unforeseen circumstances as indicated on the entry form. The Embassy of Mexico compiles such information with the purpose of registration, evaluation, and to keep contestants updated on the competition.
The Embassy of Mexico keeps its right to modify, cancel or suspend this competition without notice upon external circumstances which are beyond the reasonable control of the Embassy.
The Embassy of Mexico is not responsible for any errors or omissions in printing or advertising this competition.
Contestants must comply with these rules, and will be deemed to have received and understood the rules if they participate.
For further information please send a note to

This email address is being protected from spambots. You need JavaScript enabled to view it.

.