AMBASSADOR OF MEXICO AWARDED AS DIPLOMAT OF THE YEAR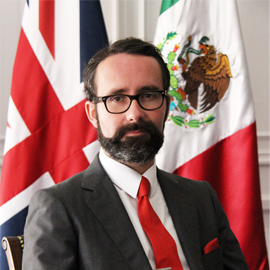 LONDON, United Kingdom, 12th April 2016.- The British magazine DIPLOMAT, specialised in foreign affairs and diplomacy, granted to the Ambassador of Mexico to the United Kingdom, Diego Gomez-Pickering, the Award as the Diplomat of the Year of North America and the Caribbean, for his outstanding performance in the UK.
During the eighth edition of the annual awarding ceremony, it was recalled that the Mexican diplomat headed the successful agenda of the Dual Year celebrated between Mexico and the United Kingdom in 2015, in which 230 events took place, from artistic exhibitions, concerts, seminars, workshops, gastronomy festivals, research projects, academic discussion panels, touristic promotion, business meetings, up to a State Visit conducted by the Mexican President Enrique Peña Nieto attending an invitation by HM The Queen.

Ambassador Gomez-Pickering was appointed as Ambassador Extraordinary and Plenipotentiary of Mexico to the United Kingdom of Great Britain and Northern Ireland in December 2013. He is a career diplomat as well as a writer and journalist, prior to his arrival in London he was the Director for Foreign Media at the Presidential Office in Mexico City. He holds a B.A. in International Relations from ITAM, an M.A. on Cultural Development from the University of Columbia and a Postgraduate degree in Journalism from the Indian Institute of Mass Communication at Jawaharlal Nehru University in New Delhi, India. Between 2008 and 2011 he worked as an advisor at the office for the United Nations Relief and Works Agency for Palestine Refugees in the Near East (UNRWA) in Damascus, Syria. Moreover, he has worked as a consultant for different UN agencies such as UNESCO, the United Nations' Public-Private Alliance for Rural Development, the International Labour Organisation (ILO), the Office for Humanitarian Affairs Coordination (OCHA) and the Committee for the Elimination of Discrimination against Women (CEDAW). In 2007 he was based in Kenya after being appointed as cultural attaché at the Mexican Embassy in Nairobi. The Diplomatic Mission represented Mexico to six neighbouring countries and was the focal point of Mexico to the United Nations' Human Settlements Programme: HABITAT and to the United Nations Environmental Program.
The Mexican diplomat thanked for the distinction of this award and underpinned the important achievements as a result of the Year of Mexico in the UK, mentioning that the Embassy has done an outstanding performance in representing Mexico in the UK of Great Britain.
As part of this celebration, where Heads of Mission, diplomats, government and media representatives were present, other recognitions were awarded to fine Members of the diplomatic Missions and consulates in the UK.
--oo000oo--