MEXICAN ARTIST EXHIBITS SCULPTURES IN THE UNITED KINGDOM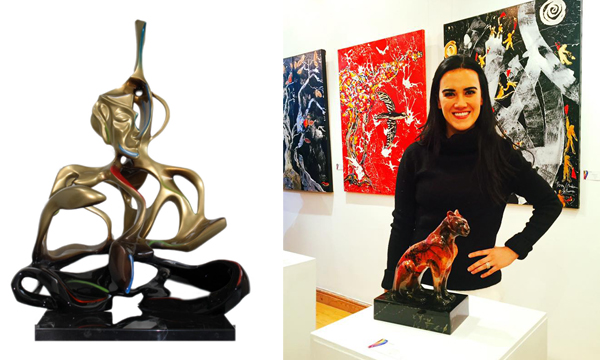 LONDON, United Kingdom, 5th April 2016.- Mexican plastic artist, July Martiz, shows some pieces from her sculptural work in the "Sounds of Colours" exhibition, presenting at the Royal Opera Arcade gallery, in the busy London Arts and Cultural Centre.
From 4th – 9th April, the Mexican artist will be exhibiting two sculptures entitled, "Golden Budha" and "Bastet, the Egyptian cat" from the Constellations series, both made from bronze, wax, lacquer and varnish, the artist captures surreal artworks with mystical charge that speak for themselves with magnanimous elements of universal culture, and history of life.
The international contemporary art exhibition "Sounds of Colours", presents paintings, sculptures, digital art works, hand-made jewellery and decorative lamps, produced by a group of selected artists from ten countries including: Denmark, France, Germany, UK, Switzerland, USA and for the first time Mexico.
Mexican artist, July Martiz, born in 1982, started studying sculpture at 13 years old, specialising in human figure modelling and management of abstractions and figurative elements, she is currently working in Madrid, Spain, where she looks forward to expand her career around the world.
--oo000oo--